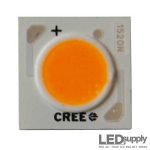 The new Cree chip-on-board (COB) high-density (HD) LEDs can pack more than 100 die onto the light emitting surface (LES), making this family of LEDs the only 9mm package able to replace ceramic metal-halide (CMH) PAR30 sockets; over 40,000-cd center beam candle power (CBCP) is required of a replacement lamp for PAR30 CMH sockets.
Thoughts from a Lighting Designer
Mark Groenke, vice president of engineering at ConTech Lighting, said in this LEDs Magazine article "The CXA1520 LED array enables ConTech Lighting's newest LED fixtures to exceed the efficiency and life of our ceramic metal-halide fixture offerings while maintaining intensity and color quality. The new CXA1520 LED array delivers an impressive amount of light from a very small source. I have not seen another integrated array that can match this level of lumen density."
Cree is the Leader
LEDSupplys' largest selection of LEDs are Cree LEDs as Cree continues to lead the industry by offering this new array that offers double the lumen output of competitors' products and prior Cree products with the same LES. Cree has the the largest portfolio of integrated LED arrays and the only portfolio of HD LED arrays. Having multiple size and lumen-output options from the extended CXA product family helps address a wide range of lighting applications from small-form-factor halogen and CMH, to sports, stadium lighting and directional accent lighting. list of domains Lighting manufacturers can also take advantage of the CXA's ability to increase light output without increasing size.
Before & After
Before now, you could achieve the CMH replacement using the 19-mm CXA2530 LEDs, albeit at a much higher power level and with less ability to control the beam. Cree built a reference design that demonstrates 40,000-cd levels in the center of a beam with the LED delivering only 2000 lm at 22W; and if previous designs used the CXA1507 and CXA1512 LED array the new CXA1520 LED array shares the same light-emitting size as the CXA1507 and CXA1512 LED arrays, allowing lighting designers to address very high output applications without changing the optics.
Shop Options on LEDSupply.com
Offering the industry's best color consistency for designs that use only one LED, Cree XLamp CXA LED Arrays are characterized and binned at 85°C, available from us in ANSI White color temperatures 2700 K and 5000 K with a CRI of 75 or 80. Shop the warm-white 2700K 1520 CXA or Shop the cool-white 5000K 1520 CXA.
Shop the Cree 1520 family CXA LEDs, which is currently in-stock and available to purchase. The 1520 measures 35V at 500mA with a maximum drive current of 900mA and lumen output range of 2000 to 4000. The smaller 6mm 1310 series Cree CXA is coming soon.
Product Support
Whether you're thinking about buying or you've already made a purchase, our Sales and Tech Team is here to help. We're always eager to find you the perfect product and answer any questions you have. We are always adding new products; here are a few categories you may want to browse: