AC Plug & Play LED Strip Lights
3 item(s)
White Color Temperature
 , IP Rating
 , Power Source
 , Narrow your choices
The AC powered LED strip lights come with a power cord and wall receptacle so they can be plugged right in and are ready to go. These strips are held in a heavy duty flexible rubber housing and are offered with 5050 or 3528 SMD LEDs. Offered in a variety of whites and colors.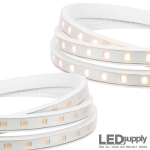 AC powered (110V AC Receptacle) LED Flex Strips with super bright SMD 5050 directional LEDs for indoor/outdoor use - available in white & a variety of colors and can be run in continuous lengths up to 150-feet.
PART #: LS-AC50-XX-XXX
$18.69
Sale Price:
$16.99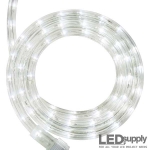 Indoor/Outdoor LED Rope Lighting ideal for accent lighting with vibrant LEDs inside a clear UV resistant PVC 1/2" diameter housing - available in custom lengths and colors.
PART #: LS-ROPE-XX-XXX
$14.29
Sale Price:
$12.99
Plug-n-Play 20-Inch (1/2-Meter) long LED light strip kit designed for task/accent lighting with a professional appearance, but a quick, easy and low cost installation.
PART #: LS-AC50-KIT
$19.99
Sale Price:
$14.99