24 Volt High-Lumen LED Strip Lights
3 item(s)
Color
 , White Color Temperature
 , Applications
 , Board Type
 , Narrow your choices
For linear LED lighting applications seaking high-brigtness, we offer a the Duo, LuxStrip and ElaraStrip. These LED Strips typically come on rigid, foot-long circuit boards with on board drivers. They require 12-24V to run and are able to be connected and cut down to size. High power strips are significantly brighter than LED flex strips and are perfect for those linear applications needing more light.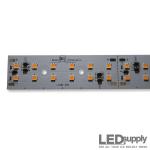 The LE201 Duo is a modular constant voltage 24V LED strip light engine featuring Nichia 757 mid-power LEDs in a double-linear array. Offered in full CCT range as well as Horticulture options!
PART #: I033-N758xx-SO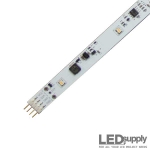 The 7011 series ElaraStrip from LUXdrive is a dimmable linear 12-inch LED strip powered from 12Vdc with (9) high power Nichia LEDs.
PART #: 7011-XX
$27.48
Sale Price:
$24.98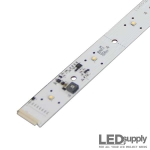 The 9005 series LUXstrip II from LUXdrive is a dimmable linear 12-inch end-to-end connectable LED strip powered from 24Vdc with (6) high power Cree of Luxeon LEDs.
PART #: 9008
$49.49
Sale Price:
$44.99