12V LED Flexible Strip Lights

Low voltage, LED flex strip lights are a great place to start for DIY accent and task lighting around the home. Flexible LED strips are great for many applications including under cabinet lighting, cove lighting, shelf lighting, handrail lighting and so much more. The strips are offered in both waterproof and non-waterproof options and come in a high density (60 LEDs/m) or standard density (30 LEDS/m) setup. They come with double-sided 3M adhesive tape, for easy installation. Powered from 12VDC! To learn more about installing 12V LED Flex strips, follow our guide, 7 Things to Know before Buying and Installing LED Flex Strips.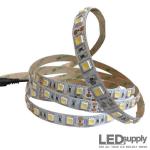 12V non-waterproof IP20 5050 SMD LED strip light. Available options include: 30 LEDs/M or 60 LEDs/M, RGB, Ultra Violet (UV) & white color temperatures. Available in custom lengths!
Product ID : R60x0-IP20-xx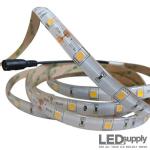 12V LED strip (5050SMD) with silicone seal for protection from water & dust. Unique options include: 30LED/M or 60LED/M in Multi-color RGB, Single Colors, Ultra Violet (UV) and White (3000K - 6500K). Custom lengths available from 3 ft. to 16.4 ft. (full reel).
Product ID : R60x0AA-xxx