1 Meter LED Strip Kit
VOLUME DISCOUNTS
PCS
% OFF
10 - 49
5%
50 - 99
7.5%
100 - 249
15%
250 - 499
20%
First Class
FREE
Fedex 2-Day
$11.99
FedEx Ground
$10.99
UPS Ground
$11.99
FedEx Express
CALC
Purchase
TEMPORARILY OUT OF STOCK
ORDER BY 3PM EST FOR
SAME DAY SHIPPING
Plug and Play LED Strip fixture!
Remote Control Dimmer Option
Powerful Warm White 3000K
Product Details
| | |
| --- | --- |
| LENGTH: 1 Meter (39.37-inches) | COLOR TEMPERATURE: Bright Warm-White |
| Over 1,000 Lumens! | Great for Undercabinet & Task Lighting |
| INCLUDES: 60-LED/M Strip, Track/Lens & Power | CONTROL OPTIONS: On-Off Switch and/or RF Dimming |
| MOUNTING: Track includes mounting clips | TRACK OPTIONS: Flat or Angle Track available |
Description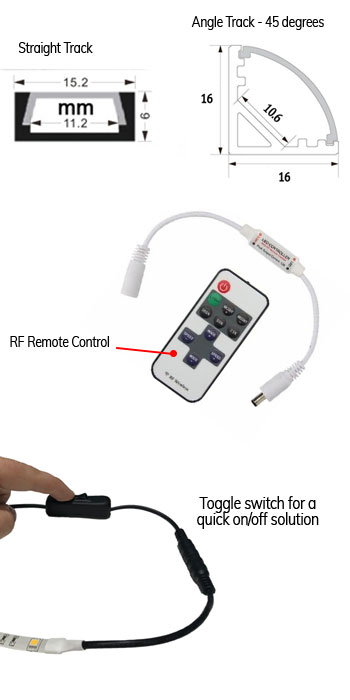 This LED strip kit is a 1 Meter long fixture that can be mounted under cabinets or to any surface desired. The kit comes as a finished fixture, only set-up needed is to mount wherever desired and plug into the nearest wall receptacle.
Improve your light: High Quality LEDs
This linear fixture uses a high-density LED strip with 60 LEDs along the Meter run. The tightly packed LEDs not only boost Lumens over 1000, but also help provide a constant, smooth light along the entire run.
Aluminum Track Options
There are two options when it comes to the aluminum extrusion: Straight or angle track. The size differences are to the right, but basically this will determine if your light is facing straight in one direction or if it faces at an angle.
The track options both come with 2 mounting clips for easy mounting. Screw the clips an equal distance apart along where the strip should be mounted and the track will then clip right in.
Easy control of your light
This kit comes with a 12V wall mount power supply. This will easily plug into any standard wall outlet and then plug into the fixture on the other end with a 2.1mm barrel plug. This power supply could go to a switched outlet that you simply turn on/off or unplugging the device might work for you if this is a simple work light.
However, we know that ease of control with lights is important so we offered some other options that you can choose from:
1. Remote Control Dimmer – Control your lights with the click of a button. Remote receiver is super small and plugs in easily between power supply and light.
2. Toggle on/off Switch – This small switch can be plugged in between your power supply and strip. It will provide an easy push switch to turn the lights on and off when desired.
3. These options can be combined so you can switch power off completely with the switch at times or use the remote controller as well.

Questions
Browse 20 questions and 20 answers.