Dynamic 10 Watt LED Light Module Kit
VOLUME DISCOUNTS
PCS
% OFF
10 - 49
5%
50 - 99
7.5%
100 - 249
15%
250 - 499
20%
First Class
FREE
Fedex 2-Day
$11.99
FedEx Ground
$10.99
UPS Ground
$11.99
FedEx Express
CALC
Purchase
ORDER BY 3PM EST FOR
SAME DAY SHIPPING
LED light engine kit
Choose your kit options
We will build it for you or DIY!
Product Details
| | |
| --- | --- |
| Fits 3-Up Star LED @ 1000mA & Optic | End Cap: 1/2" NPT Threaded Hole |
| Fits 1-Up Star LED @ up to 3000mA & Optic | NEW Design: 3-piece threaded housing for easy changeover |
| Internally Holds Wired BuckPuck or BuckBlock Driver | Dimensions: 1.5" O.D. & 4.25" Tall |
Description
The 10 Watt LED Module is a complete LED light kit. The LED kit consists of: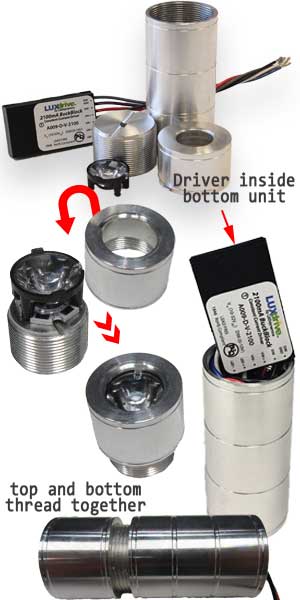 LEDSupply's 10 Watt Dynamic LED light engine housing

(1) LED of your choice

(1) LED Optic (Spot, Medium, Wide, Oval)

(1) Optic Holder (not needed for 3-Up Kits)

(1) Luxdrive 03023-D-E-XXX or 0A009-D-V-XXXX LED Driver
The LED kit includes a driver so that all the user needs is a constant voltage power supply, preferably 12VDC to power the light engine and make the kit complete. The LED light engine will come pre-assembled with wires coming out the back of the housing. Simply connect constant voltage DC power and it is good to go!
The Heatsink Housing
The heatsink housing is our dynamic LED light engine housing. This is a three piece, 6061-T6 billet aluminum housing. The heatsink will safely house your LED, optic and driver but doubles as a heatsink due to us assembling the unit for you with Arctic Silver thermal grease. The exact dimensions of the heatsink are: 1.5" Outside Diameter, 4.25" Tall.
The LED
The LED light kit can be purchased with either a 1-up or 3-up 20mm board from any of our Cree or Luxeon offerings. Choose the LED type and color from the drop downs in order to have that specific LED built into the custom LED module.
LED Optic
What type of light output is needed? Spot, Medium, Wide, or Oval throw? Choose from these choices to choose how focused the LED light output will be.
Constant Current LED Driver
For each LED light kit we will include a Wired LuxDrive driver. This driver will make sure the LED runs at a safe drive current while outputting the most possible light. Typical power for the kit will be 9-10 Watts! This is a dimmable driver as well so you can pair with a potentiometer or 0-10V dimmer in order to adjust the light output. The power and dimming wires will come out the back of the unit upon purchase where all you will need is a constant 12VDC to run the unit.
Need a smaller option? Check out the 5 Watt LED Light Engine. This heatsink is a smaller version of the 10 Watt kit that can't handle as much output but can fit in smaller spaces.
Full Documentation
10 Watt Housing Assembly
Accessories
LED Light Housing Accessories
DC power connectors, 2.1mm or 2.5mm center positive barrel plug connection
PART #: DC-PJ-XX
Red, black, blue, green, orange, yellow & white 20-24 gauge stranded AWG wire
PART #: xAWG-x
Liquid tight cord connector, 1/2" NPT conduit, 1-cord connector, nylon 6 material
PART #: CORDGRIP-1
Questions
Browse 3 questions and 3 answers.