Enclosed or Caged Power Supplies
2 item(s)
Style
 , Dimming
 , Input Voltage
 , Output Voltage
 , Wattage
 , Narrow your choices
Also sometimes called 'Open Power Supplies' because of the caged style enclosure that allows for passive cooling so the unit does not overheat. These power supplies are extremely easy to work with as they have screw-in terminal connections and can easily be mounted wherever needed.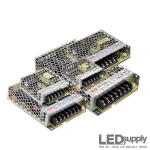 85 ~ 264VAC input, 35~350W enclosed style switching power supply with constant voltage output from Mean Well.
PART #: LRS
$13.19
Sale Price:
$11.99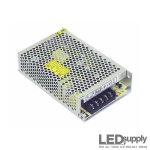 The #24VDC45A is a 100-watt open-frame power-supply that accepts 110Vac and outputs 24Vdc at 4.5-amps.
PART #: 24VDC45A
$16.49
Sale Price:
$14.99
Product is out of stock