BuckTitan DC High-Output LED Driver
VOLUME DISCOUNTS
PCS
% OFF
10 - 49
5%
50 - 99
7.5%
100 - 249
15%
250 - 499
20%
First Class
FREE
Fedex 2-Day
$11.99
FedEx Ground
$10.99
UPS Ground
$11.99
FedEx Express
CALC
Purchase
ORDER BY 3PM EST FOR
SAME DAY SHIPPING
Up to 3A Output
Compatible with Meanwell LDD-H/L
5V PWM Dimming
Product Details
| | |
| --- | --- |
| Output Current (mA): 1500, 2000, 2500 & 3000mA | Input Voltage Range (DC): 6.0-30VDC |
| Connection Options:10 Pin or 6" 18AWG Wires | Compatible with Meanwell LDD Pin Out |
| Dimming: 5V PWM (0-100% intensity) | Compliant: ROHS |
| Protection: Reverse Polarity with Polarifet Technology | Output Protection: Short and Open Circuit |
| Efficiency: 90% | Small Form Factor: 1.75"(L) X 1.13"(W) X 0.38"(H) |
Description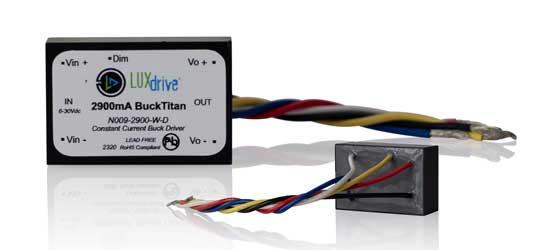 Discover the LuxDrive™ N009 series BuckTitan LED power modules, the ultimate solution for high-output current applications demanding 1500mA up to 3A. Unleash the full potential of your LEDs with this cutting-edge technology.
Connection & Mounting
Engineered for durability and convenience, the BuckTitan™ is fully potted to withstand the elements and environmental challenges. Choose between six-inch 18AWG colored leads or SIP pins, ensuring seamless integration into your project. The pinned version of BuckTitan™ works harmoniously with MeanWell LDD drivers, streamlining the installation process into existing applications.

Control & Dimming
Equipped with a fast response current-sensing circuit, the BuckTitan empowers you to create mesmerizing light effects with flashing or strobing LEDs. Take control of your lighting setup with external dimming via 5V PWM for precise adjustments.
Technical Documentation
N009 BuckTitan Product Selection
Part
Number
DC Input (VDC)
Output
PWM
Dimming
Connection
Type
Dimensions
(L x W x H)
(mm)
Min.
Max.
Input
Margin
Current
mA
Tolerance
(±)
Efficiency
(%)
Voltage
0N009-1500-P-D
6.5
30
2.0
1500
10%
90%
Vin- 2.0V
5V
10-Pin SIP
1.75" X 1.13" X 0.38"
0N009-2000-P-D
2000
0N009-2500-P-D
2500
0N009-2900-P-D
3000
0N009-1500-W-D
1500
6" 18AWG Wires
0N009-2000-W-D
2000
0N009-2500-W-D
2500
0N009-2900-W-D
3000
Absolute Maximum Ratings
| Parameter | Maximum Performance |
| --- | --- |
| Input Voltage | 30VDC |
| Output Voltage | 28VDC |
| Control Pin Voltage | 5VDC |
| Control Pin Frequency | 2000Hz |
Questions
Browse 1 questions and 1 answers.