LED Housing Heatsinks
Machined from 6063 billet aluminum to create an enclosed LED housing and heatsink.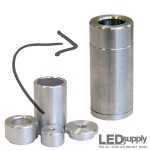 LED light engine aluminum heat sink enclosure for housing an LED star, optic and LED driver.
Product ID : ALK-LH-xW
$12.38
Sale Price:
$11.25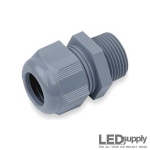 Liquid tight cord connector, 1/2" NPT conduit, 1-cord connector, nylon 6 material
Product ID : CORDGRIP-1
Aluminum LED heat sink that screws together holding a 1-Up LED and 26mm Carclo optic.
Product ID : DLH-26MM-EH
$16.49
Sale Price:
$14.99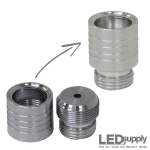 Two piece LED heat sink housing for 1-Up or 3-Up LED and optic that assembles and disassembles by screwing together.
Product ID : DLH-xUP-EH
Sleek aluminum 5W LED heat sink housing that quickly screws together safely holding a high-power LED, optic and driver.
Product ID : DLH-5W-xUPHS
$21.99
Sale Price:
$19.99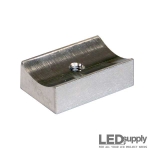 Concave base for mounting an LED Light Housing with a 1/4" X 20 thread
Product ID : ALK-BASE