Cyan LEDs - High Power LEDs
2 item(s)
Luxeon LED type
 , Color
 , Board Type
 , Max Drive Current
 , Narrow your choices
High Power LEDs in
Cyan
. Some will call this aqua or teal but this Cyan is a mix between blue and green that falls in the 490-520nm wavelengths. This color is currently only offered in a Luxeon Rebel but Luxeon does a terrific job with their colors so you will not be disappointed.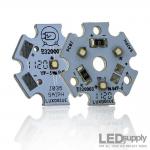 Luxeon C Color line has top quality color output and is ideal for color mixing applications. Available in 1-Up and 3-Up Star Boards in Red, Red-Orange, Amber, PC Amber, Lime, Green, Cyan, Royal Blue, Blue & Violet.
PART #: J03x-L1C1xxx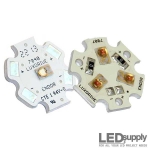 Color Luxeon Rebel LED(s) re-flowed on a hexagonal LUXdrive™ Endor Star single (1-Up) or triple (3-Up) MCPCB.
PART #: 070xx-Px000-x