LED Strip Housing & Lens
Here we offer aluminum channel and diffuser lenses to help give your LED strip projects a more professional appearance. The aluminum channel or track keeps the strips hidden and provides a protective lens that shines an even light. Typically these LED strip housings are one meter long (39.4" L) and come with a UV lens, end-caps, and mounting options.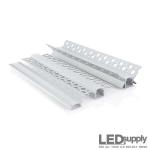 Professional grade aluminum track for 12V LED strip lights. Track comes with diffused lens, end-caps, mounting clips and your choice of 1M length or half meter length. Fits 10mm wide strips.
Product ID : LO-TRACK-xM