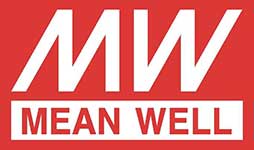 When looking for a Mean Well power supply for LED lighting it is easy to get lost in the many different options available. First, it is a good idea to know the specific needs of your project. Often, power supplies are wrongly chosen for an LED project which leads to failure. In order to cut out any issues use the quick checklist below when looking for an LED power Supply.
What to consider before selecting a power supply:
How will I connect my power supply?

A simple outlet plug or directly wiring into AC lines?

Will the power supply fit in the desired space?

Make sure to check the size of the unit to make sure you have room for it.

Can I use a power supply outdoors or in a damp area?

Luckily there are many Waterproof power supplies and drivers, just look for the IP65 rating!

Do I want to be able to dim my LED lights?

If dimming is needed, make sure to choose a power source that has dimming capabilities.

Lastly, does my application require any other functions?

Examples: PFC, Over voltage protection, Over temperature protection, UL recognized, etc.
If you are unfamiliar with how LED power supplies operate and their specifications, the best place to start is at our first post in this series – LED Power Supplies 101.
When looking for both an LED driver and power supply brand to trust, look no further than Mean Well. With a failure rate at less than .02% in 2016, Mean Well has continued to make some of the most reliable power supplies in the world. After completing the checklist above and knowing what you are looking for, check out the options below!
Mean Well Power Supply and Driver Catalog
This quick selection guide will go through the many categories and options offered by Mean Well. If you are still unsure about your LEDs properties then you need to check the power input that your LED needs. If there is any confusion it is good to backtrack and find your LEDs properties and whether you need constant voltage or constant current supply.
LED Constant Voltage Power Supplies
Does your LED require 12 volts DC or an alternate DC voltage? Are you unsure of how to power your LEDs when common household electricity is AC voltage? What you will need is a standard AC to DC switching power supply, taking AC line voltage and outputting a constant DC voltage. There are power supplies that plug straight into a wall receptacle or units that wire directly into the main AC lines. Mean Well offers a variety of output voltages, so when working with a pre-built LED lamp that needs a certain constant voltage, look for the rated input power needed and you are good to go. A good example of a product needing a constant DC voltage would be our 12V LED flex strips.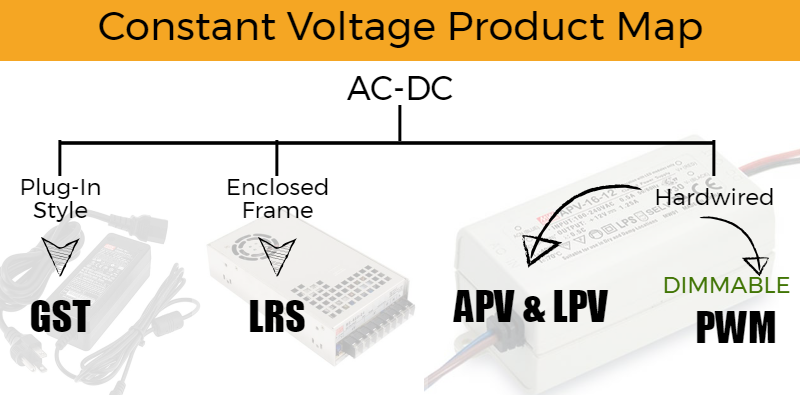 Mean Well GST: Plug-In Style Power Adapter
This is a standard desktop power supply adapter. They are sometimes referred to as computer power supplies because they are mainly used in powering computers or other consumer electronics. The Mean Well GST series 18W to 90W green adapters comply with the newest energy efficiency regulations (EISA 2007 and DoE Level VI). This is a highly efficient AC to DC switching power supply that features no load power consumption, improving upon the older designs.
This is the preferred power supply if you would like to simply plug into a standard wall outlet. The GST uses a 3-pole design to plug into common household receptacles and then lead into a 2.1mm output connector. A perfect plug-in option for LED flex strips, it is as simple as connecting the parts together.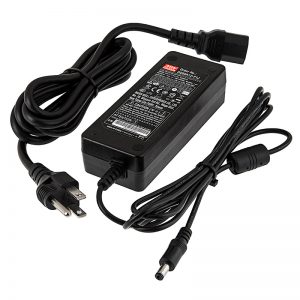 Input Power: 90-264VAC
Output Voltage: 2, 7, 9, 12, 15, 18, 24, 48VDC
Wattage: 18-90 Watt Models
90% Efficiency
Casing: 94V-0 flame retardant case
Connections: Wall receptacle input to 2.1mm male plug output
LRS Enclosed Power Supply
The Mean Well LRS series is an enclosed style power supply. This is a style that holds the switching AC-DC circuitry within a metal mesh frame where connections are made via screw-in terminals. This is the easiest power source to hook up outside of the GST series. These power supplies can be hardwired or can work with a simple power cord connecting from the input terminals to plug in the wall.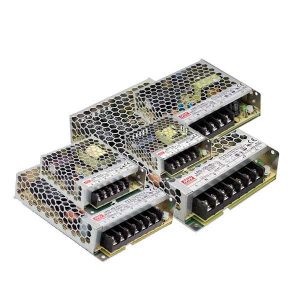 The LRS switching AC/DC power supplies are single-output transformers that are packed into a low-profile design sitting at only 30mm tall (1.18"). They deliver very low no load power consumption, allowing the end LED system to easily meet the worldwide energy requirement. The LRS delivers the best price-to-performance solution on our site while having a full range of protection functions.
HIGH WATTAGE: UP to 350 Watts!
Input Power: 90-264VAC
Output Voltage: 5, 12, 15, 24, 36, 48VDC
Highly Efficient & Reliable
Connections: Screw-in Terminals
Hard Wired Constant Voltage Supplies
Mean Well's large selection of single output hardwired power supplies feature short circuit and over-voltage protection. The hardwired designs are encased in fully isolated plastic cases with stranded 14-20 AWG Wire leads for input and output connections. With power sizes ranging from 8-600 Watts the Class 2 hardwired supplies have many options for the increasing demands of LED lighting.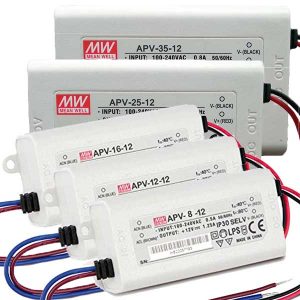 Mean Well APV Power Supply
The smallest and cheapest unit available. This small device is held in a fully isolated plastic case. It is not rated for outdoor use but is perfect for small indoor lighting applications.
Input: 90-264VAC
Output Voltage: 5, 12, 15, 24, 36
Wattage: 8-35
IP42 rated case
Connections: 18-20 AWG wire connections
Mean Well LPV Power Supply
This hardwired power supply is like the APV but can handle larger wattage loads. It is also held in a fully isolated, waterproof case so it can be used outdoors in architectural and landscape lighting.
Input: 90-264VAC
Output Voltage: 5, 12, 15, 24, 36, 48VDC
Wattage: 20-100Watts
IP67 Rated
Connections: UL Rated 14-18 AWG Wire
PWM Dimmable Power Supply
Mean Well designed the PWM series to be the go to dimmable AC/DC class 2 power supply. The PWM features a constant voltage output PWM mode engineered to keep LED color and brightness consistent and dimmable from 0-100%. The unit offers Mean Well's 3-in-1 dimming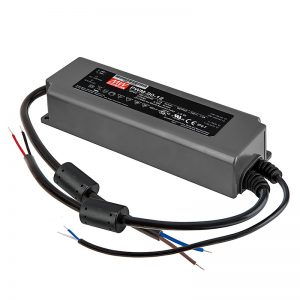 function: use 0-10V, PWM or resistance to vary the duty cycle of the output.
The rugged IP67 design adds to the quality of this power supply. Backed by a 5 year warranty it is ideal for LED Strip lighting. The PWM can be paired with our popular 0-10V dimmer to dim the LED strips 2-100%.
Input Voltage: 90-305VAC
Output Voltage: 12, 24, 36, 48VDC
Wattage: 40-120 Watts
3-in-1 Dimming Function – Adjust PWM output
IP67 Waterproof design
UL Rated AWG Wire Connections
ODLV Constant Voltage, PWM Mode Output with Auxiliary
The ODLV-45 series is a 45 Watt AC/DC LED driver with constant voltage PWM style output. The ODLV operates from 90-295VAC input and offers models with different rated output voltages between 12V and 60VDC.
The power supply offers 2-in-1 dimming which works with 0~10VDC and 10V PWM signal. The dimming functions vary the duty cycle of the PWM style output, like the PWM model above. The other cool part of the ODLV is that it offers an auxiliary output (12V/50mA) which can power a small fan to help ensure optimal operating temperatures for both the power supply and LED lights.
The Mean Well ODLV is an Isolation class II power unit suitable for LED lighting applications in both wet and dry locations (thanks to the IP67 ingress protection). Mean Well added short circuit protection and a 3 year Warranty, making this an extremely reliable power supply for LED strip lighting and much more.
Constant Current LED Drivers
As you may know, LEDs need constant current to run. When building LED systems on your own it is crucial to remember an LED driver that drives the LEDs at this constant current. Mean Well manufacturers LED drivers for AC or DC input. Like their power supplies, the constant current drivers are loaded with safety regulations and are built to last.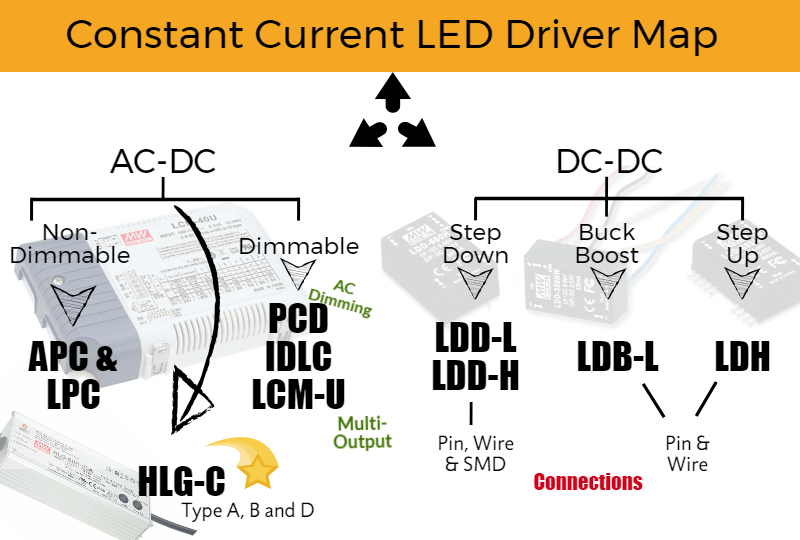 AC/DC LED Drivers
AC to DC switching LED drivers have it all as they switch your line voltage to a constant DC current, suitable for high power LEDs. Mean Well's driver catalog comes with a variety of options (dimming, multi-output, PFC, etc.) so you can find just what you're looking for. The units are wired into line voltage. When choosing an AC to DC LED driver just make sure the output current is safe for your LED and that your LED voltage load (total Vf of the system) is within the operating DC voltage range of the driver. You can read here to find out how AC to DC drivers can be better for large, general lighting applications.
When designing the LED system, the builder gets to decide the lights features. One key feature is to offer dimming or not. LED drivers of all kinds are either made to be dimmable or made to be non-dimmable. Non-Dimming drivers are fairly straight forward whereas dimming drivers may have different dimming functions that you need to keep track of.
Non-Dimming LED Drivers
The APC and LPC will look very similar as they mirror their constant voltage counterparts (APV and LPV). The APC handles lower loads whereas the LPC is a larger driver that can handle more LEDs at a time and operate outdoors as it is IP67 Waterproof rated.
To choose the correct output:
Decide the ideal/safe drive current for your LEDs.
Add up the total voltage of the LEDs you will be running in series.
Select the driver from the table that has the current output and DC voltage range you need!
Dimming LED Drivers
The dimmable drivers come in a few different models offering alternate kinds of dimming. Mean Well has a great 3-in-1 dimming function on many of their dimmable drivers that can be controlled via 0-10V or PWM signal. The PCD is the exception that can be dimmed with AC, phase cut dimmers.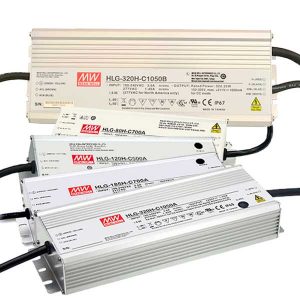 HLG-C – Metal Case Premium Constant Current Driver
The HLG-C is the Holy Grail of Mean Well LED drivers. The AC/DC LED drivers, housed in aluminum, range in power from 60 to 320 Watts! They output strictly constant current ranging from 350mA all the way up to 3500mA! With a leading 7-year warranty, full safety and regulatory agency approvals and an IP65-67 rating, these LED drivers are the most robust and reliable solution for driving high-intensity LEDs.
The biggest selling points for the HLG-C are first, how much it can handle. The 320 Watt model that can drive up to 3500mA is much more robust than anything we have ever offered. Secondly, the metal casing really adds to the durability. Mean Well plastic case models are very reliable but metal casing helps improve on durability and temperature control making for a very efficient and reliable LED power source.
The Mean Well HLG family is typically used in grow lighting, pendants and recessed lighting. The HLG-C offers three different variations to the power supply. All three have their own specialties and unique features that help solve complications for your application:
A Type – Adjustable Current and Voltage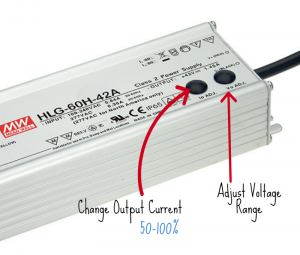 The HLG-C A type are IP65 rated and include two on-board potentiometers that can adjust the output voltage and current. The potentiometers are found under the two black caps on the face of the power supply. The DC Voltage range can be adjusted ±10% whereas the current output can be adjusted from around 50%-100% of the current rating.
B Type – 3-in-1 Dimming
The B type HLG-C offers Mean Well's dimming that can be controlled via 0-10V, 10V PWM Signal or Resistance.
D Type – Timer Dimming
Mean Well offers this D model that you can specially request from us. This model allows for the driver to be programmed, allowing for several different light outputs depending on the time of day.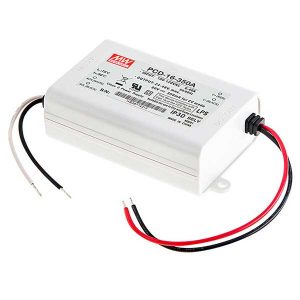 PCD – AC Dimmable Driver
Mean Well designed the PCD as a hardwired driver that could be controlled using common residential dimming setups. This low profile driver can fit within a custom built fixture and any of the compatible dimmers listed on the data sheet.
Input Voltage: 115-230VAC
Output Current: 350mA-1400mA
Fully Isolated IP42 Case
Wattage: 16 and 25 Watt models
Dimming: AC phase-cut dimming, leading and trailing edge TRIAC dimming
Mean Well IDLC Driver with PFC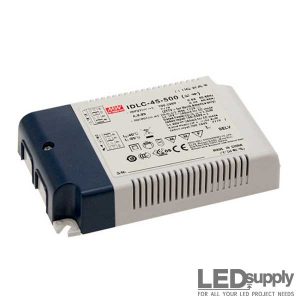 Mean Well's IDLC is a 45-watt AC/DC LED driver with a constant current output and flicker free design. The highly efficient driver has push-terminal connections and a fanless design that can easily be hidden. The Driver offers 2-in-1 dimming, working with both 0-10V and PWM dimmers.
Input Power: 90-295VAC
Output Current: 350mA-1400mA
Wattage: 45W
IP20 Isolated Case
Dimming: 2-in-1 PWM or 0-10V
LCM-U – Multi-Output LED Driver
Mean Well designed a pretty awesome LED driver that allows the user to switch the output current. The AC/DC driver has a series of switches (dip switch) that can be switched around to output different constant current levels. This is a way to adjust the total brightness of your LED system and is great for testing LEDs and brightness. The driver also uses the 3-in-1 dimming function for use with PWM, 0-10V or resistance.
Input Power: 90-132VAC
Output Current: 350-1400mA
Casing: IP20 Isolated case
Wattage: 40 and 60 Watts
Dimming: PWM, 0-10V or Resistance
Dual Mode Power Supplies: CC + CV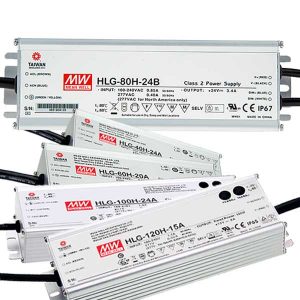 We have seen the difference between constant current and constant voltage power sources, along with Mean Well's large offering for both kinds. Now it is time to tell you that Mean Well manufacturers a few models that posses both constant voltage and constant current characteristics.
During initial startup, the power supplies operate in constant voltage mode, suitable for lights with internal drivers or in-series resistors (i.e. LED strip lights). Once output current requirement exceeds rated current of the power supply and the voltage reaches the constant current region, the unit will output constant current and be able to directly drive LEDs.
These dual output power supplies are mainly used for constant voltage, as there are constant current models available if that is what you need. Constant current modes are used in many LED systems, however, and this can definitely add a lot of flexibility to your LED set up.
HLG: Aluminum IP65-67 CC+CV LED power supply
Mean Well's HLG dual output mode power supply is the same as the HLG-C, but offers constant voltage outputs. The HLG is housed in a quality aluminum casing that is IP65/IP67 rated. This is the flagship constant voltage power source from Mean Well. It takes 90~305VAC input and comes in models ranging from 40 to 600 watts with output voltages rated at 12-54VDC.
Each model comes in a select wattage and voltage. The voltage output is important when you have an LED system needing a certain DC voltage. Select the voltage you need and you are good to go.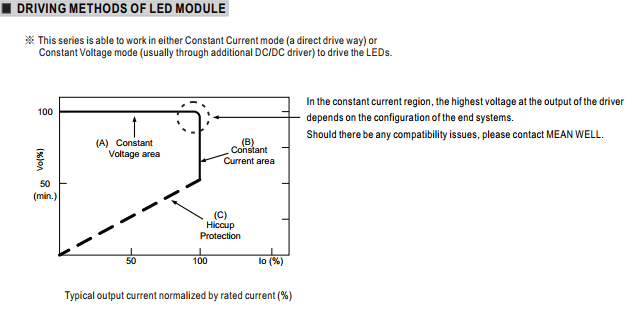 In the above graph you can see that there is a 'constant current region'. This means that if you have LEDs operating within this range the power supply can directly drive these LEDs. Just make sure you look at the current rating of the power supply as some of them can be high, too high for some LEDs.
Like the HLG-C the Mean Well HLG has 3 different types that we offer:
Blank Type – This model has no special features, just offers the HLG with input and output cables.
A Type – This model has two internal potentiometers where you can slightly change output voltage and can also change output current from 50-100%.
B Type – This model offers 3-in-1 dimming. There are output and input connections along with dimming wires that can help adjust brightness of LED lights with resistance, PWM or 0-10V Dimming systems.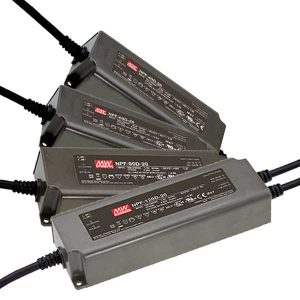 Mean Well NPF: Constant Voltage Power Supply with Constant Current Mode
The Mean Well NPF-D series is another AC/DC LED switching power supply that offers dimming as well as a dual output function. Housed in an IP67 plastic rectangular case, these drivers are built with PFC and qualify for Isolation Class II power supply no F.G.
The NPF works in constant voltage mode, outputting the voltage marked on each model. However, like the HLG, the NPF has a constant current region (i.e. 7.2-12VDEC for NPF-40D-12) that will allow the driver to directly drive high power LEDs at the constant current listed.
To control the output, the NPF features 3-in-1 dimming: 0~10V, 10V PWM and resistance. The NPF is IP67 rated for use in damp and wet locations. There are also mounting holes on each side for easy mounting wherever you need. This flexibility helps greatly in designing LED lighting systems and the NPF comes with a 5-year warranty that gives the end-user a reliable driver that is built to last.
DC/DC Constant Current Drivers
Mean Well offers some awesome low voltage LED drivers with multiple constant current output options. These DC to DC converters are super compact, making them great for small lamps, flashlights, or any space limited application. Rather than take AC line voltage, they take a low DC voltage, typically around 9-36VDC and output a constant current to your high-power LEDs.
DC drivers are ideal when you are powering with a battery or are looking to build a light fixture that can have a constant voltage input power. With a DC driver built within a light circuit, the light could work with 12 volts and run properly as the Mean Well DC driver regulates the current.
Step-Down Drivers
Step-Down LED drivers, also referred to as Buck Drivers, are ideal for applications when the source voltage is greater than the LED voltage. Take for example if you are trying to run a 3v LED from a standard car battery which fluctuates around 12 volts. Buck LED drivers offer the highest efficiency out of LED drivers and typically come in the smallest footprints. Mean Well has two types of DC step down drivers, the LDD-L and LDD-H.
Both drivers offer remote PWM dimming and ON/OFF functions. They come in three styles for whatever connections needed: Wired, Pinned, and SMD style. They both pretty much operate the same with a high efficiency of 97%. The minor difference is the LDD-H can handle more LEDs at once than the LDD-L. See their specs below.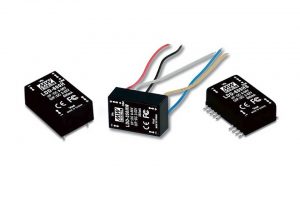 Mean Well LDD-L
Input Voltage: 6~36VDC
Output Current: 300-1500mA
PWM Dimming
Mean Well LDD-H
9~56VDC
Output Current: 300-1500mA
PWM Dimming
Buck-Boost LED Driver
Mean Well also offers the low voltage LDB-L LED driver featuring buck-boost output mode. This means that the driver can work within the circuit whether the LED voltage is slightly higher or slightly lower than the input voltage. This is ideal in applications using a Li-Ion battery where the battery might drain and input less voltage than when fully charged. The LDB-L would still be able to run the LED until it dropped below the input threshold of the driver.
The LDB-L offers PWM dimming and remote on/off function like the buck drivers but only comes in a Pin and Wired style, no surface mount device style.
Input Voltage: 9~36VDC
Output Current: 300mA-600mA
91% Efficiency
PWM Dimming
Step-Up Drivers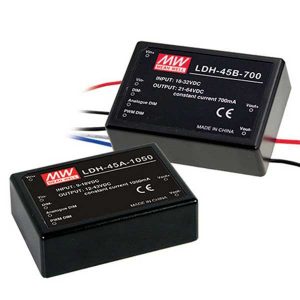 Step-Up LED drivers, also referred to as boost drivers, can handle the high voltages required by running multiple LEDs in series. The boost drivers, as you might assume, can create these voltages even if the source voltage is below what is needed for the LED lights. Mean Well's LDH step-up driver can drive the LEDs in series while keeping them at a steady current and brightness.
The LDH can handle up to 45 Watts of LEDs that can be controlled via PWM signal. The LDH can be purchased in a pinned or wired style. There is an A and B series that varies the input and output voltage. The A series handles lower input voltages whereas the B series handles slightly higher DC voltage.
Input: A series: 9-18VDC B Series: 18-32VDC
Output Current: 350-1050mA
PWM Dimming
95% Efficiency
Mean Well Trouble Shooting and Support
With a wide range of new products and variations, we expect that you will have more questions. As I said earlier, we have a full team of tech and sales associates that are well trained on Mean Well products and would be happy to guide you to the one for your lighting setup. What's even better is you can call, order, and it will be on the way to you all within a day. Let us be your helpful and speedy Mean Well LED power solutions provider.