Nichia LEDs
LUXdrive™ offers the popular mid-power Nichia® 157 and 757 emitters mounted to a PCD board. The 157 board includes two push-pin connectors for a solder free connection, along with solder pads if that connection type is preferred. The 12V DynaSquare features 3 Nichia 757 LEDs with on-board drivers designed for simple constant voltage applications.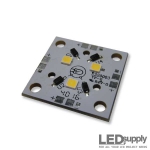 The LE202 Dynasquare is a compact 12V constant voltage LED light engine featuring 3 Nichia 757 mid power LEDs.
Product ID : LE202-R013xx12
The LE201 Duo is a modular constant voltage 24V LED strip light engine featuring Nichia 757 mid-power LEDs in a double-linear array. Offered in full CCT range as well as Horticulture options!
Product ID : LE201-R12A8x40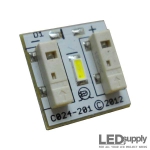 White Nichia 157 LED re-flowed on a 1/2" square LUXdrive™ FR4 board; available in a variety of white correlated color temperatures (CCT).
Product ID : C024-FWxxx-xxC