Completing an LED Flex Strip installation does not have to be hard, make it simple with LEDSupply's strip accessories!
LED strip lights are the most popular do-it-yourself option for many residential applications. The discrete, self-adhered strips are easy and safe to run for under cabinet lighting, cove lighting and various accent lighting applications that have become popular with the continued growth of LED strip light technology. The best part… there are a wide range of accessories that make 12V LED strip lights user friendly and make installation a breeze!
The LED Strip Lights
First and foremost, it is important to familiarize yourself with the LED strip options and all the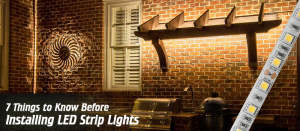 basics of using them. LEDSupply offers LED strips for both indoor and outdoor use in a variety of whites, colors or even strips with a color changing effect (also known as RGB strip lights).  Our last blog installment offers a great intro to 12V LED strip lights that is a great starting point for any newbies to the LED strip light world.
How To Power
LEDSupply's flex strips require 12VDC to run properly. For in home use this requires a 12V power supply. There are Plug in LED light power adapters or 12V transformers that directly wire into common household AC line voltage. Learn how to power LED strip lights right here.
Dimming and Controlling LED Strip Lights
As is the case with most light sources, users want control over their light. With LED strip lights, there are many ways to dim and control. The most common option is using an in-line dimming controller. The 12V LED strip dimmers use PWM mode output to alter the light coming from the strip. RGB strip lights need a 3-channel controller that helps mix the different colors, giving it the color changing effect that many want for accent lighting.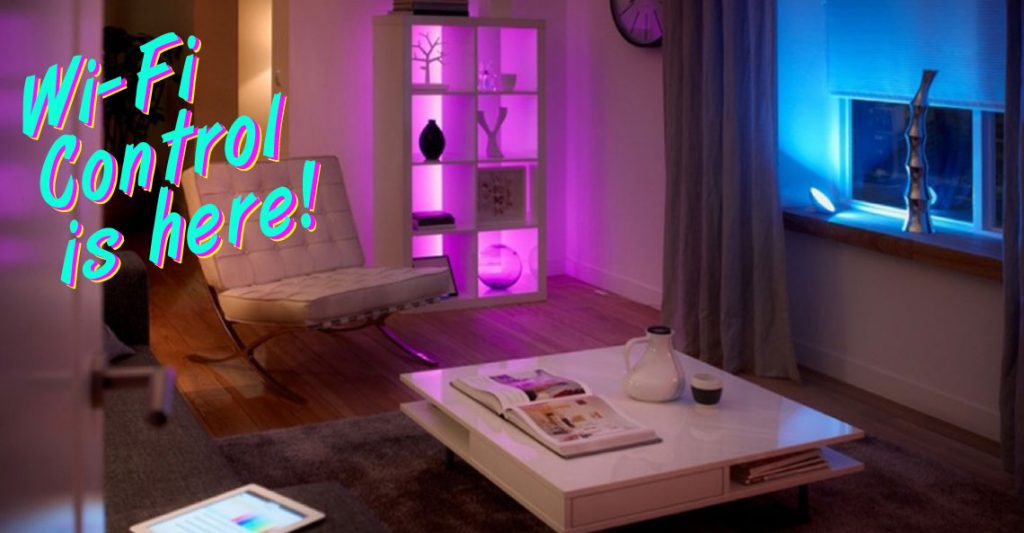 Wi-Fi LED controllers are becoming the most popular way to dim LED strips as it gives you the option to control straight from your smartphone or voice assistant. These dimmers are packed with features and are the best option if you are controlling multiple lights all around your home. The Wi-Fi Smart controllers are available in single color or RGB options.
If your home has a dimming setup with a common residential dimmer then you will want to use a dimmable LED power supply.
LED Strip Light with On/Off Switch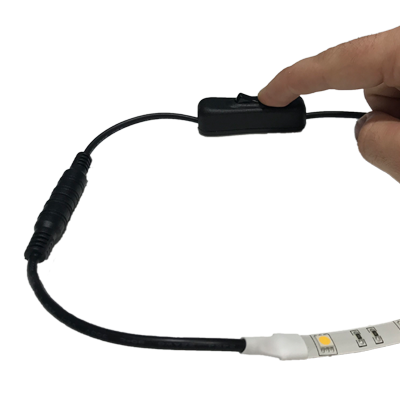 Adding an on off switch to LED strips is easy with the LED Strip toggle switch. Just as most people want to control their light, turning that light on and off with a simple switch is a must for many projects both large and small. The toggle switch is in line with a 12-inch cable with 2.1mm male and female ends, perfect for using with 12V strips and a plug-in power adapter.
To use, simply plug the power supply into the female end of the cable and plug the opposite end into your strip. Just like that you have an LED light strip with switch that can be toggled on and off whenever you would like.
LED Strip Connector Accessories
In almost every LED strip light project there comes the need to connect LED strips together. The most common LED strip connections are:
End-to-End: Extend the light strip a little further by inserting a gapless strip-to-strip connector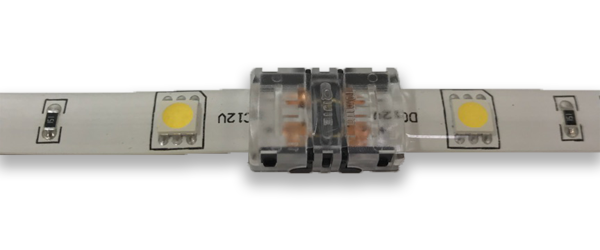 or
LED Strip-to-wire Connector: Connect a strip to wire to go across a distance where light is not needed and then connect to the next piece of strip light. For example, if you are running under cabinet lighting and have a small break in the cabinets where the stove sits but then need to continue the run of LED strip lights on the other side.

These types of connections are easily made with EZ click tight LED strip connectors. The LED strip connectors work with 20-22 Gauge stranded wire and come in 2 pin connectors for single color strips or 4 pin LED strip connectors for RGB strips. Follow this full tutorial on how to use them for your project.
LED Strip Splitters
Have you ever wondered how to connect multiple strips to one power source? That is where LED light strip splitters are extremely useful. The splitters are commonly referred to as Y splitters or Y cables because of their ability to split off in two different directions.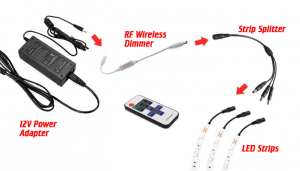 LED strip splitters come in 2, 3 or 4 way splitters making it possible to connect as many as 4 strips seamlessly to one power adapter! This is extremely handy in running strips in two different directions or running LED strips in parallel.
LEDSupply offers 4 pin RGB splitters and single color LED splitter cables. For more information on using LED splitters to complete your LED Strip runs, look at this helpful guide.
LED Strip Jumpers – LED strip light extension
Strip jumpers are basically LED light strip extension cables. The jumpers can jump between strips but their main use is to run a gap between your LED power supply to the start of your strip light run. Like other strip accessories, the jumper cables come in both single color and RGB LED strip options.
The Single-Color LED strips need a 2 pin LED extension cable. The cables themselves finish off at either end with common 2.1mm size barrel plug adapters that are used with all single-color strips and dimming controllers. The jumpers have a female 2.1mm connector on the start that will easily plug into a 12V power supply adapter. The opposite end has a male 2.1mm connector that plugs directly into you strip lights.

The single-color jumpers come in 1 Meter (3.28 ft.), 2 Meter (6.56 ft.) and 3 Meter (9.84 ft.).
RGB strips need a 4 pin RGB extension cable jumper to work. RGB strips feature a 4-pin design that is unique to the color changing strips. The RGB jumpers feature the same 4-pin adapter to make for a seamless connection. RGB jumpers come with a 4-pin male adapter to connect in between the 4-pin female connectors and then connect to the next run of RGB strips.
RGB strip light jumpers are offered in 30 cm, 50 cm, 1 Meter, 2 Meter, 3 Meter, 5 Meter and 10 Meter lengths.
LED Strip Jumpers are best used to run as extension cables from the LED power source to the LED strips themselves. They can also be used to jump in between two reels of LED strips, just make sure you aren't exceeding the maximum run length of your strip. They are most useful for working hand in hand with LED strip splitters as you might need to run an extender from the original power supply to one of the other runs of strip lights. This is handy for running parallel lines of LED strips in longer run lengths.
LED Strip Wire
LED strip jumpers are useful but they only come in specified lengths, which might not work for everyone as each LED strip project is unique. In these situations, you need to cut down LED strips and run custom 'jumpers' with LED lighting wire in between the separate runs. Instead of running separate wires it is easiest to use parallel bonded wires to make for a clean looking setup.
LEDSupply offers 22-gauge stranded wire, parallel bonded for just this type of case:

2 conductor wire – 22 Gauge stranded wire for single color strips. This red and black bonded wire makes it easy to run a single run in between strip lights. They work seamlessly with the 2-pin LED strip to wire connectors.

4 conductor LED wire – 22 Gauge stranded wire for RGB LED Strips. The 4 parallel bonded wires work for connections between RGB strips and work perfect with 4-pin LED strip to wire connectors.
The LED strip power wire comes in very handy in many wiring situations, each wire is color coded so it is easy to keep your wires straight and not mix up the connections.
When working with wire, sometimes you will have two wires that you need to splice together. This can be done with common wire nuts, lever nuts or electrical tape. We offer a simple butt splice connector that works fantastic and offers a clean, seamless look as shown below. Use these wire connectors for anywhere you need to make a wire to wire connection.
Another handy wire connector to have are the "T" tap Wire splice connectors. These make it super simple to splice in new parallel wires for a separate run. The splice connectors work with 20-24 AWG wire and the insulation does not need to be stripped away!

Tying it all together
I just listed a lot of different accessories which I hope didn't confuse you on your journey to setting up your own LED strip lighting. If you are feeling overwhelmed follow the helpful steps below and you will be well on your way to success:
Familiarize yourself with LED strip lights. '7 tips and tricks for 12V LED Strips' is a great place to start.
Find out how long your strips need to be as well as how many you will be running.
Find the ideal power supply placement and how far you will need to run to each LED strip light run
And finally, find the LED strips and accessories that will accomplish this in the easiest and smartest way!