Working with LED lighting does not have to be hard. You have probably thought of a cool lighting idea that you have not attempted to build in the past. Why not? I believe most people, like you, feel they are not educated or skilled enough to create the LED lighting idea on their own.
Well I have news for you… Stop, leave that 'but I can't' thought behind. In this post, I will show you just how easy LED lighting can be to set up with the right products!
What is needed to Create an LED Light
With the growing popularity of LED lighting, many have researched and contacted me asking how to create small LED lights, LED lamps, LED panel lights, downlights…you name it. This would start a discussion about the different components needed to complete an LED setup:
Surface mount device (SMD) LEDs or LED Modules
Constant Current Drivers
AC/DC Power Supplies
Heatsinks

This list can understandably confuse a newcomer and make that cool lighting project seem like a headache. Before tossing the project in the 'Save for Later/Someone Else' pile, you should know there is a way around using all these components for one simple light. LED light engines only need a power source and a bit of imagination to create LED lights for both small and large applications.
User-Friendly LEDs – 'LED Light Engines'
What is an LED light engine? It is the LED equivalent of a conventional lamp. A light engine usually consists of a light emitting diode (LED) mounted on a circuit board that has electrical and mechanical fixings, meaning it is ready to be fixed in the luminaire.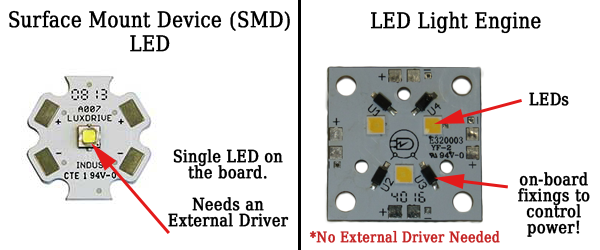 Our LED light engines are designed to take the list of components above and combine them into a single package. This eliminates the barriers to entry for people, just like you, who want to design an LED light system without getting in over their heads. Sound too good to be true? Come look at how we designed these LED lights.
Designing All-in-One LED Lights
After fielding many calls and inquiries here at LEDSupply, I realized we needed more LED light engines that could take a constant 12-24VDC input and light up. LED flex strips are great for use like this, but sometimes a more compact, direct and high quality light is needed.
I started collaborating with LuxDrive to create an LED light that would work in this way. In our collaboration, there were 4 major features that I wanted our new products to have.
On-Board Drivers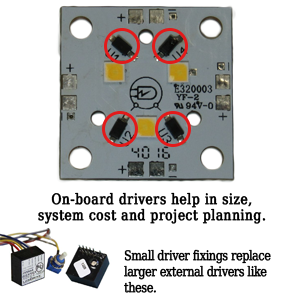 When working with SMD LED lights, a constant current driver or current limiting resistor is needed. LED lights electrical properties change as they heat up, a driver will make sure the LED stays at a safe current instead of drawing too much and ultimately burning out.
Instead of using an external driver, the goal was to build small on-board drivers onto the LED board. These small drivers act as variable resistors on the board so that you can input a constant DC voltage (such as 12 volts) and the devices will limit the current allowed to flow through the board.
This helps you in three major ways:
On-board drivers mean no need for an external driver that can cost around $10-$15.
On-board drivers are much smaller, making for a more compact and discrete setup.
Takes away the stress of matching up a driver with your LED circuit.
No Heatsink Needed
Heatsinking LEDs is another area that is confusing as you start to work with LED lighting. LEDs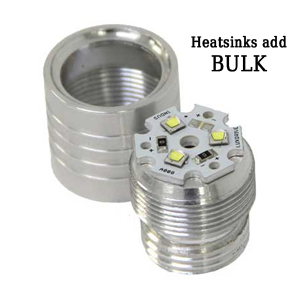 typically have a good amount of power flowing through a very small source, allowing heat to build up. A heatsink is needed to dissipate the heat, moving it away from the LED to avoid permanent damage.
Heatsinking is always a good idea, but the goal was to create small LED lights that needed nothing more than a power source. Heatsinks tend to be bulky and add a good amount of size to your setup. As LuxDrive designed the LED board we made sure to test the temperature and make sure that these LED light engines could run without any heatsink at all.
Easy LED Connection
'How do I connect multiple LEDs together?' This is a common question I get each day. With SMD LED lights there are methods to wire in series or parallel circuits. These two different wiring schemes will act very different from each other electronically.
Our goal was to create an LED that could simply be daisy chained together. This makes the connecting part easy as all you need to worry about is wattage and making sure your power source will provide enough power to the system.
Quality Light Output at an Affordable Cost
Lastly, it was very important to have an efficient, bright LED that would keep the LED light engine affordable. This last step took the most time as we had to find a diode that was efficient enough to output a bright light while not overpowering the system.
Most of LEDSupply's stock is high power LEDs like the Cree XP family and Luxeon Rebel LEDs. These LEDs pack a ton of light but also would not work for our desired product because:
Too much power (heat) – The high-power LEds run on higher drive currents of 350mA and up. The high current requires larger drivers, causing the LED module to heat up too much and require an LED heatsink.
High cost – High Power LEDs cost more and require expensive parts to build a complete LED light engine. This will make the price too high, especially for those wanting to use multiple lights.
The Conclusion: Using Mid Power LEDs
High power LEDs are out of the question because of higher current resulting in too much heat and the overall cost. This brought us to look for a low current LED that was more affordable. Our search brought us to mid power LEDs.
Mid power LEDs operate at lower drive currents: a max of 180mA compared to the max of 1000+mA for that of high power diodes. The LEDs are also about 1/10 of the price! Mid power LEDs are not as bright but their low power and cost made it possible to add multiple diodes on a board to make them comparable to high power LEDs output.
Nichia 757 – The LED to make it all happen
The Nichia 757 is the mid power LED that was most attractive. The Light output was outstanding considering the price and low power restraints. LuxDrive started testing the mid power diodes built on PCB boards with on-board drivers.
The testing brought back positive results that successfully accomplished all our goals. This resulted in two ground breaking new products for LEDSupply. The LED light engines below have all four of our required features. These help create a user-friendly LED: on-board drivers, no heatsinking required, easily connectable and quality light output.
The DynaSquare
The DynaSquare is a discrete 12 volt LED light that is extremely easy to use. The 1" square PCB holds 3 Nichia 757 mid power LEDs. The use of multiple mid power diodes boosts the light output up to 150 Lumens, comparable to that of a high power 1-Up LED. The DynaSquare is perfect for lamp and luminaire applications as well as LED panels and display lighting.
The DynaSquare is offered in White colors with CCT ranging from 2700K-6500K. Colors are available in Red, Yellow, Blue and Green. Perhaps the most exciting options are the Horticulture 3000K and 5000K DynaSquares. The Horticulture DynaSquares utilize a die that has a very broad spectrum, perfect for growing plants. Be sure to check this light out for small grow applications.
Connecting Multiple LEDs together – Create your own Circuit!
The DynaSquare is designed to allow easy connection between boards. The square board has solder pads at each of the four sides. This allows you to input power into one side of the DynaSquare and then daisy chain multiple LEDs off any of the 3 sides, as shown below. This provides the flexibility of moving the boards around wherever needed for your application. Please contact us at LEDSupply before chaining more than 20 DynaSquares together.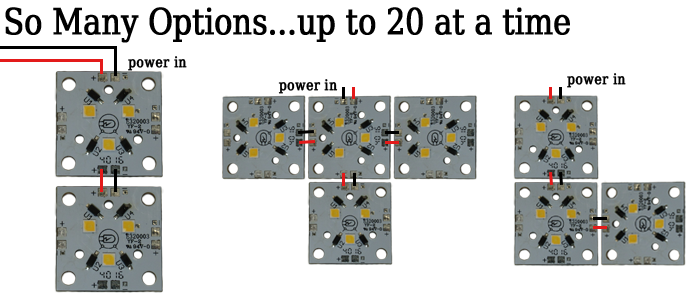 The DynaSquare can also be wired in parallel, connected to your power source as shown below. In parallel there is no limit to how many you can connect off one power supply.

Power
The DynaSquare is typically powered at 12 volts but will accept 11-15VDC. This allows you the option to power from a simple AC/DC power supply or even a battery! A single DynaSquare runs at 1.5 Watts. With an output of 150 Lumens this is a High Efficacy LED at around 100 Lumens per Watt!
To find a power source just make sure your wattage is covered. For one DynaSquare this will be easy. If you are connecting multiple LEDs, whether daisy chained or in parallel, be sure the wattage of your power source will meet the requirements. (1.5 Watts per DynaSquare used)
Dimming
The DynaSquare is PWM dimmable. This works with our PWM wireless dimmer or can work with other PWM output signals, just see the data sheet here.
The Duo – High Brightness LED Strip
The DUO is a 24V LED light strip which is the brightest LED strip on our site, boasting over 100 Lumens per Watt! The Duo uses the newest technology in mid-power LEDs by housing 48 Nichia 757 diodes on a 12" rigid strip. The double row LED strip outputs 870 Lumens per foot with high LED density so the light comes out as a smooth, high quality linear output.
The DUO LED strip is offered in White colors with CCT ranging from 2700K-6500K. Colors are available in Red, Yellow, Blue and Green. Perhaps the most exciting options are the Horticulture 3000K and 5000K strips. The Horticulture options utilize Nichia 757 diodes that have a very broad output spectrum. This broad spectrum is ideal for growing plants and this is a perfect light for starting your seedlings and growing plants indoors.
Modular Design
The Duo comes in a 12" long piece, sitting at .95" wide. The modular strip design allows you to cut it into smaller sections. Every 3" there is a black dotted line where you can cut it to make multiple LED light engines from one piece.
When cutting the strip yourself, be careful to cut along the dotted line. Rugged scissors, paper cutter or large wire cutters usually works best. If you want to leave the cutting to us, we do offer the strip in 3, 6, and 9 inch pieces in addition to the standard 12" strip.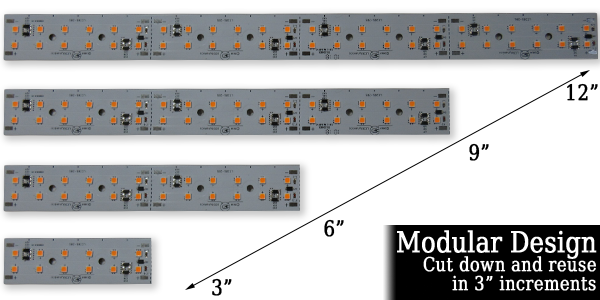 Connecting LED Strips
The Duo is made so that multiple strips can be daisy chained together. The number of LED strips daisy chained together should not exceed 8 full, 12" boards. In other words, do not connect more than 8 feet of strips together.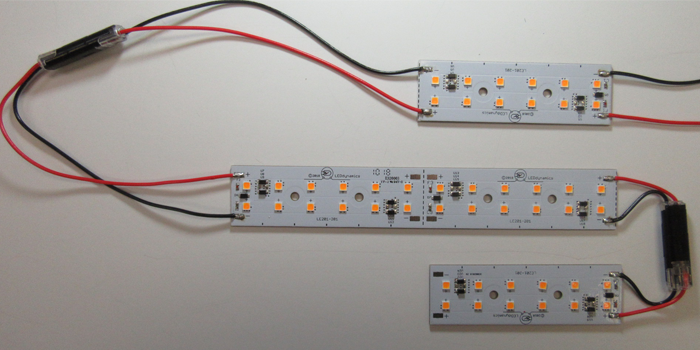 Power
The Duo takes 24V input which can come from an AC/DC power supply or a battery source. A 12" piece is 7.68 Watts (1.92W per 3" piece). At this wattage, the strip will output 870 Lumens…that is 113 Lumens/Watt! This high brightness strip offers the highest efficacy (Lumens/Watt) out of the complete line of LEDSupply Strip lights.
When finding a power supply, make sure the source is outputting 24VDC and make sure total Wattage is accounted for.
Professional Mounting
With Aluminum LED Strip Channel, these strips turn into a finished light fixture. We have 1-inch wide strip track in a square or beveled style that work perfectly with the DUO strip. Each track comes with a frosted poly-carbonate lens to protect the strips and distribute the light evenly. Check them out here.
In Conclusion
With these two new products, you can see just how easy LED setups can be. Simply find a 12 or 24V source and start finishing that cool lighting idea that you have been putting off. If you need any help from me, feel free to call LEDSupply or email at sales@ledsupply.com.
As always, send us your creations with these products. We always love to see what our readers are doing to take advantage of the power of LED lights!