White - High Power LEDs
2 item(s)
XLamp Class
 , Color
 , White Color Temperature
 , Board Type
 , Max Drive Current
 , Narrow your choices
High power (350mA and greater) LEDs, sorted in various shades of white (such as warm-white, cool-white, neutral-white, etc.).
4 Cree XP-G3 LEDs can pair with Khatod optics for desired throw; available in a variety of color temperatures.
PART #: J016
$13.19
Sale Price:
$11.99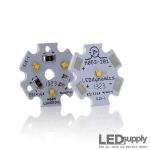 The Pulsar utlizes the Cree XE-G to offer 17 different color option on a 1-Up and 3-Up star MCPCB.
PART #: 0X0XX-CEGXXXXXX