300 Lumen - Super Bright LEDs
2 item(s)
XLamp Class
 , Luxeon LED type
 , Color
 , White Color Temperature
 , Board Type
 , Max Drive Current
 , Narrow your choices
300 lumens or greater super bright LEDs.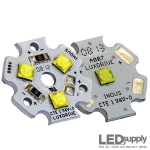 White Cree XT-E XLamp emitter LED(s) re-flowed on a hexagonal shape LUXdrive™ Indus Star single (1-Up) or triple (3-Up) star MCPCB; available in cool-white and warm-white.
PART #: CREEXTE-XXXX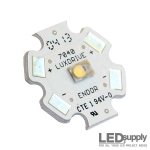 Neutral-White Luxeon R High Flux LED emitter re-flowed to a LUXdrive metal core printed circuit board (MCPCB) '1-Up LED Star'.
PART #: 07040-LXA7-40