Ultraviolet (UV-A & UV-C) High Power LEDs
3 item(s)
Color
 , Narrow your choices
High Power LEDs in Ultraviolet (UV) wavelengths! UV LEDs are great for curating, skin therapy and many other applications. We carry UV-A LEDs in the 400-420nm range and UV-C at 275nm.
SemiLEDs high-power UV-A 400nm-420nm LED(s) re-flowed on a hexagonal shape LUXdrive™ MCPCB.
PART #: A00X-UV4XX-XX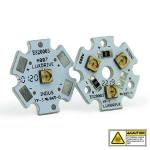 Ultraviolet UV-C 275nm high-power Seoul Viosys LED designed for air, water, and surface sterilization.
PART #: A00x-EGBF27508
$21.99
Sale Price:
$19.99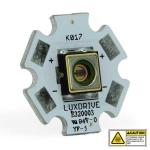 World's highest quality UV-C 280nm Nichia LED Module
PART #: K017-N33428032
$109.99
Sale Price:
$99.99