Why Would I need an LED Strip Splitter?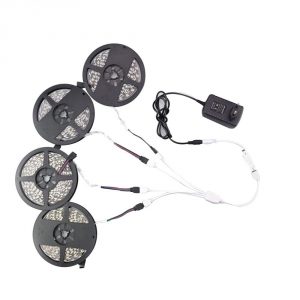 LED strip projects typically require multiple runs of strips that need to be connected in a planned circuit so that they are all receiving 12VDC from an AC/DC transformer or 12-volt battery source. They can be run in series (end-to-end) up to their max run length; however, projects often require more and will require parallel strips running from the power supply.
This is where LED strip splitters come in, allowing you to install and use more light strip reels where you might normally only be able to run a single strip. This allows you to run strips in opposite directions if needed, side by side, or help connect parallel lines back to the main power source.
What is a DC Splitter or a 4-Pin Y-Splitter?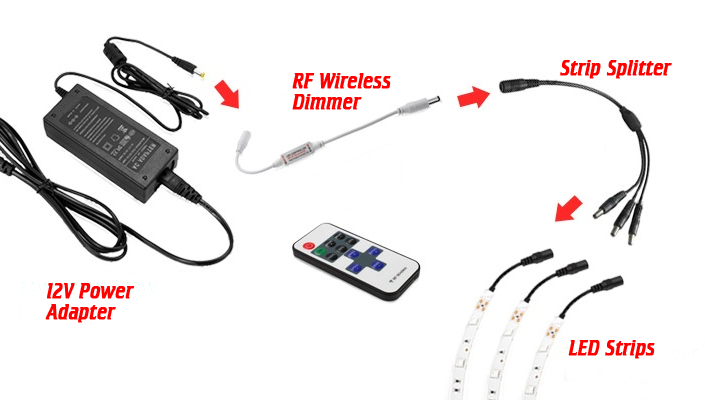 There are many different names for these splitters, but typically a DC splitter would be what we call a Single Color Splitter, as it is used for our white or single-color strip lights. The single-color splitter is designed with standard 2.1mm plugs. This makes it plug-and-play with power adapters with a 2.1mm output plug (or our single color dimming controller). The multiple male plugs can then be fed into the female 2.1mm jack on the strips.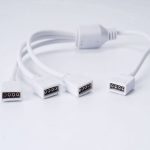 Sometimes people use the term Y-splitter to specify RGB LED splitters. Here at LEDSupply, we will call them RGB or 4-pin LED splitters. These splitters are made specifically for RGB (color-changing) strips. The RGB splitters require a 4-pin connection type used as the standard for RGB LED flex strips.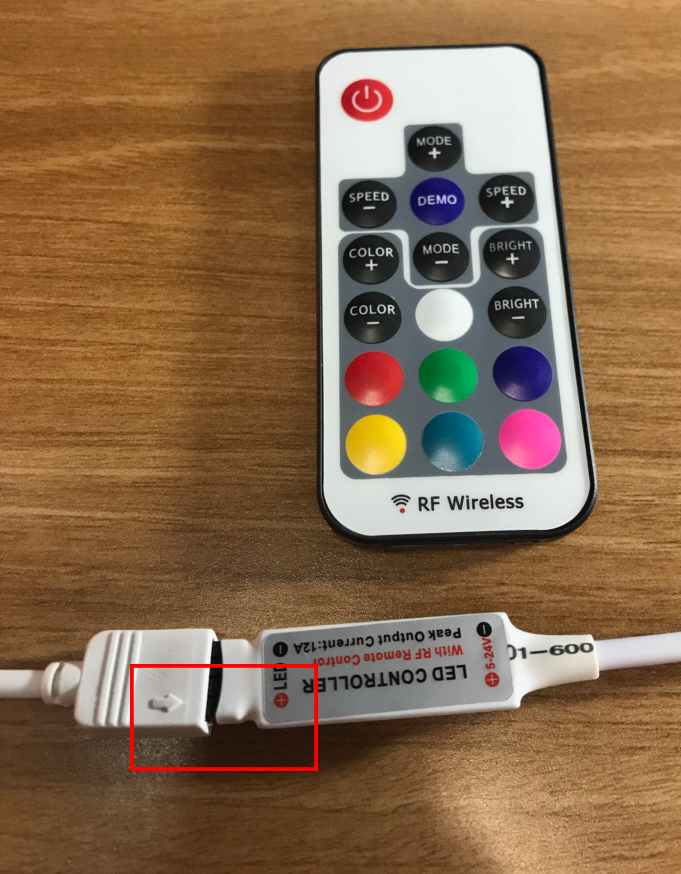 When connecting 4-pin RGB components, always align the arrows as in the pictures.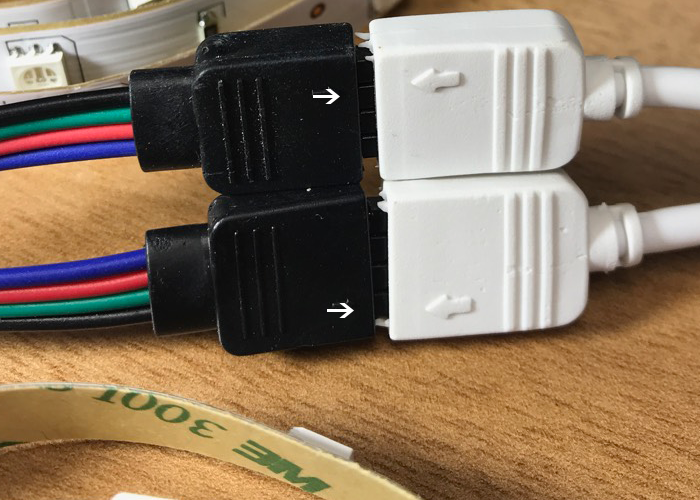 The Benefits of LED Strip Splitters
The trick to running LED strip lights is staying under the max run length limitations of your strip while using as few power supplies as possible. This can mean running wire to your following strip location, but with the LED strip splitters, all your power connections will be seamless.
Make setting up light strips around a room easy!
Say you have a few reels of Standard Density 5050 LED strips that you want to run around the perimeter of a room from one single outlet. If you didn't have a splitter, you would need to run another power supply for the third strip or splice in a parallel line which could be a pain.
With an LED strip splitter, you can run lights in either direction from the source to easily cover the entire room without running a ton of extra wire! Please keep in mind that you still need to account for the wattage of all your strip lights and make sure you find a power supply strong enough to power them.
Split one light strip into two!
In many cases, splitters are thought of at the beginning of a circuit to branch many strips off a central source. However, they can also be used at the end of an LED strip if you need to branch it in two different directions, almost like a T-Connector. With this method, make sure you aren't adding more than the maximum run length at the end of the first strip.
Run up to 4 strips from one source!
The LED strip splitters are offered with 2, 3, or 4 output connections. This makes it simple to tie parallel strings across a room or house into one common transformer or controller. For larger projects, splitters are a must and help make for a simple and clean project.