At LEDSupply one of our main goals is to give customers relevant information about LED lighting so that they can be empowered to set up their own lighting when needed. Our LED strip lighting guide has helped many plan our their projects and become LED Strip light pros.
We made this new LED Strip light tool for you, the customer, who needs a little extra push in the right direction. These questions will help us understand your LED project better so that we can make accurate recommendations that will provide just what you need.
Please first fill out personal information so we can reach back out to you with your customized LED strip recommendations.
After please answer questions #1-8 to the best of your ability.
After completion our talented technical team will be in contact to show you the products you need
*if any of the questions are confusing there is more information and pictures below.
---
LED Strip Information and Glossary
Not sure on some of the questions? We provide a little extra information below to help you fill out your LED Strip Project Form.
Total Length of LED Strip Light
For this question, please only measure the amount of lighted area needed. Have a gap in your application? Omit the length with no light from the total length of LED Strip light needed. If you do have large gaps in your application please mention them in Question 1. For Question 2, all you need is the length of light strip you actually need. This helps determine system wattage, wiring setup, as well as which product in itself to use. 12V strip lights are typically better for shorter lengths whereas AC5050 Strip lights are better for longer lengths (>60).
---
Accent Lighting vs. Task Lighting
This will help determine the brightness of the strip needed. Many strip applications are purely for aesthetics but some are used for direct means of lighting. Task lighting will need brighter strips whereas accent lighting will be ok, and in some cases actually prefer, strips with lower light output.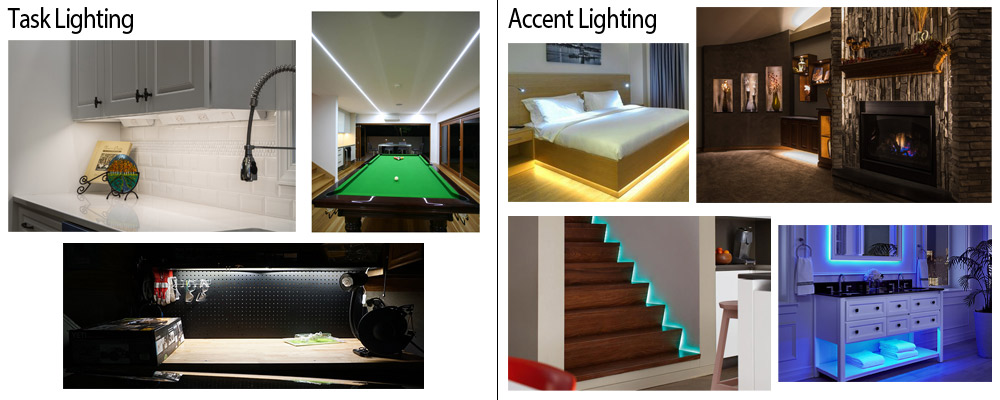 ---
LED Strip Color Temperature
Colors are pretty self explanatory but not everyone is well versed in color temperatures. Color temperature is listed on a temperature scale, measured in degrees kelvin (K). Warm color temperatures are typically on the lower side (2700-3500K) and give off a natural candle like, orange light. Cool color temperatures are on the higher end (5000-6500K) and give off a bluish hue like those new car headlights that blind you while driving at night. The area in between (around 4000K) is known as neutral or natural white. Color temperatures are typically dependent on user preference but color temp can alter the feel and ambience of a room.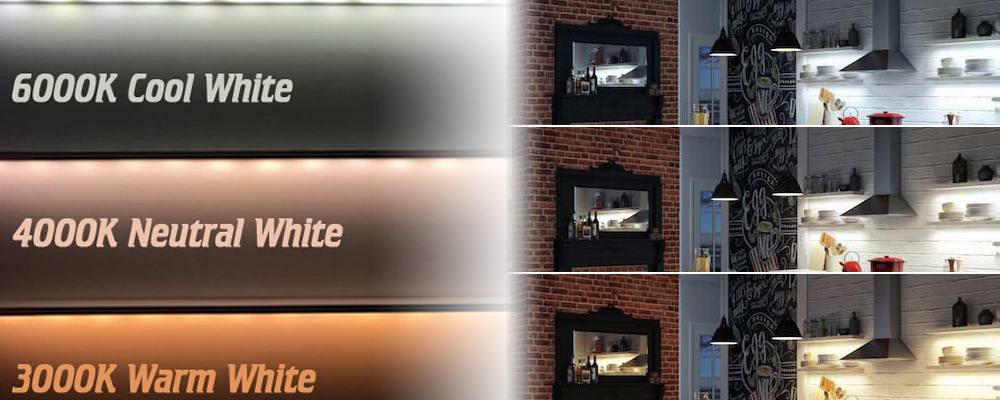 Power supply options – how will you connect to power?
---
Dimming LEDs
LED strips are usually controlled with simple PWM remote dimmers. These will have a small receiver unit that goes in between your power source and LED strips, that is controlled by a remote. If you would rather dim from a common household dimmer you will need a dimmable power supply.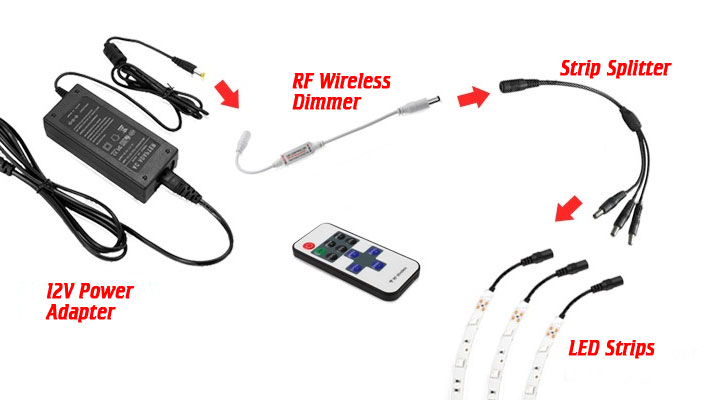 ---
Fill out the above form to hear from our Tech team for your customized project recommendation. If you want a simple all-in-one Kit, we have that too!