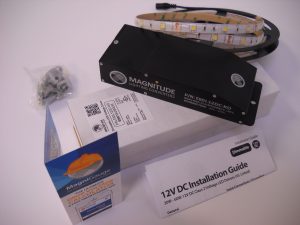 Every LED lighting set up will come down to finding a power source adequate for your set up. The planning and research process is a bit more difficult with LED lighting as you first need to decide whether your LEDs need a constant current or constant voltage source. We are constantly adding to our LED drivers line which drive constant current to high power LEDs, but noticed we were lacking in constant voltage power supplies. We have many wall mount and desktop power supplies that plug into a standard outlet, but few that could be hardwired for LED strips and such that need a 12VDC source. In an attempt to expand our LED strip power supply line and make setting up projects easier for our customers we have brought Magnitude constant voltage power supplies into our power supply family. These power sources work great in hard wiring to junction boxes, making for safe, up to code LED lighting circuits. These dimmable LED transformers are going to be huge for your LED strip projects in the future. Now usually I like to show the benefits at the end of a post but I'm too excited about these products to not show you the game changing abilities they have. Magnitude 12VDC power supplies will offer:
Fully water resistant landscape lighting transformers (for indoor use as well)
TRIAC dimming – dimming your LED strip lights from a standard incandescent dimmer!
More Power! More options for hard wired LED strip lighting – up to 300 WATTS!
Low-Profile power solutions for discrete under cabinet lighting.
Magnitude has been in the lighting converter business since 2008 and have developed a great line of LED lighting transformers or constant voltage drivers as they call them. Magnitude remains dedicated to new technologies and ease-of-use for the consumer which has led to the ground breaking LED lighting transformers below.
In this post we will focus on using these 12V dimmable transformers for LED flex strips but they can actually be used for any LED light or fixture that needs a 12VDC input: Puck lights, 12VDC fixtures, other linear lighting types, etc.
Magnitude 12VDC Magnetic Power Supplies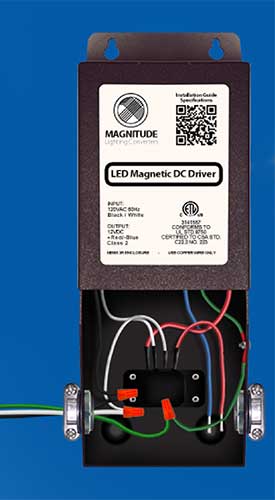 Magnitude originally started by making magnetic power supplies. This line is well known as a
workhorse around the industry, it uses a magnetic transformer core and can be dimmed via any MLV TRIAC dimmer. Magnitude practices dual protection with two auto-reset breakers: one on the input and one on the output to protect the load and power supply. This original line is pretty heavy and robust, but you should take into account that it comes with a built in NEMA 3R junction box. The junction box has a removable plate to set up your wiring along with two punch outs for easy installation, see right.
This line comes in 4 different enclosure types depending on the wattage you choose. The magnetic driver line comes in 20 Watt all the way up to 300 Watt versions! See below for the junction box size for each design.
The magnetic power supplies can handle a lot of power, but they only qualify as a Class 2 circuit up to the 60 Watt version. Once you go beyond that, there is too much wattage per line and your circuit will not qualify as Class 2. This is because Class 2 power circuits have a maximum of 30VAC and 60VDC per line.


Need a Class 2 Circuit?
If you are in need of more power than 60 Watts and need a class 2 circuit (sometimes buildings will be required to) then you are in luck because Magnitude has not forgotten you. Magnitude has created a  high power class 2 magnetic constant voltage driver. It works just like the first except that it offers multiple ports so that you stick under the 60VDC per line. It also has push-to-reset circuit breakers for driver and load protection. Check out the 120, 180 and 300 Watt power supplies and port counts below.

Magnitude E-Series
Magnitude came out with a new electronic power supply series about a year ago. This line is new and improved, coming in two different designs that are much smaller than the magnetic power supplies. They come in aluminum cases and are dimmable with any standard MLV or Incandescent TRIAC (leading edge) dimmer. This whole line is under Class 2 specifications and come in 20, 40 and 60 Watt sizes. Depending on your inspectors requirements you can choose between the UL listed version that has it's own junction box similar to the magnetic line, or the UL recognized super compact 12VDC power supply.
12VDC Dimmable Power Supply – UL Listed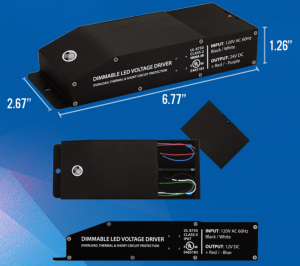 These dimmable constant voltage power supplies are encased in a low profile aluminum Nema 3R enclosure that can be used for outdoor or indoor use. This version is about half the size as the bulky magnetic models and still comes with a built in junction box and two punch outs for easy installation. The electrical specification includes Auto Reset for over current and short circuit protection. They offer efficiency of over 90% which allows the driver to operate at low temperatures.
UL listed is pretty important as with many projects you will have inspectors come and make sure it is up to code. This is satisfactory as it is a UL listed power supply and junction box, all in one. Usually inspectors will want a UL listed power source or a UL recognized power supply inside of a UL listed box. This is your stand alone power supply/junction box option but if you would like an even more compact option, check out Magnitude's UL recognized LED strip transformer.
Aluminum Case 12VDC Dimmable Power Supply – UL Recognized
This Class 2 dimmable voltage LED driver comes in a super low profile aluminum case, making it the perfect choice for under cabinet lights, flex strip lights, and various LED fixture installations. This holds all the same electrical specs as the UL listed model: TRIAC (leading edge) dimmer compatibility, Auto Reset, and 90%+ efficiency. It is IP67 rated, so it can withstand wet and salty conditions, making it perfectly okay to put outside. Keep in mind if you have an inspector requiring a UL listed junction box you will have to find one to put it in.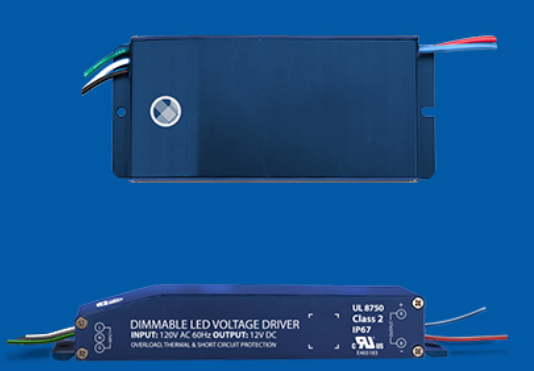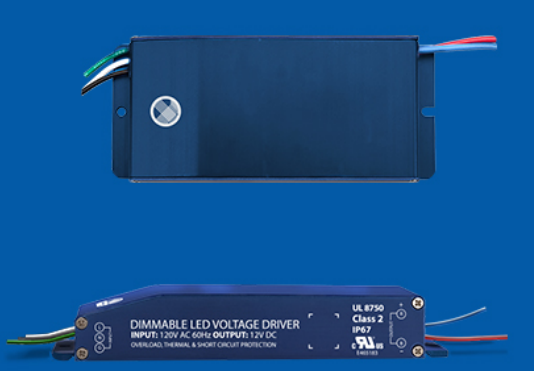 Your Safe, Compact Power Supply Option
This super compact case sits at just .77″ tall! This makes it easy to hide up in counters or mount inside any unit you need. The small size of this is pretty impressive and will be a great power source for those LED strip applications where you need to hide the power supply up in a tight spot. The high efficiency and low operating temperatures make it so you can actually safely hide this away as well, without worrying about heat buildup!
Plenty of Dimming Options for LED Strips
The biggest advantage of these drivers is they are able to be used with TRIAC (leading edge) dimmers. This is a pretty big step as previously all our LED strips had to be dimmed via PWM (pulse width modulation), or in-line dimming. This means that the dimmer goes in between your 12VDC power supply and strips. This could be a big problem for in-home projects as you would have to wire from your 12VDC source, up to your wall dimmer, then back down to where your strips are (visual below).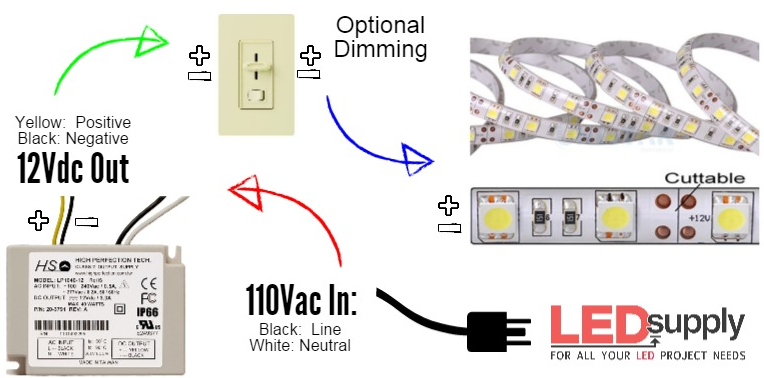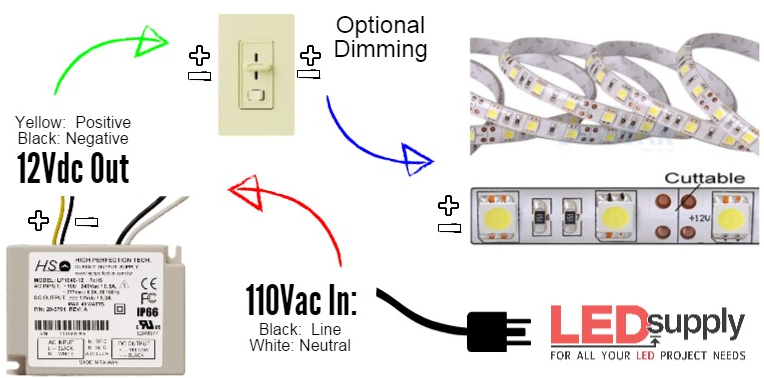 This extra wiring will be a pain to setup not to mention you could experience voltage loss across your wires if you run too long of lengths. Imagine if you could just dim from the line voltage end so you wouldn't have to worry about wires running everywhere…well now you can!
Magnitude is compatible with most TRIAC (leading edge) MLV/Incandescent dimmers. I can't tell you how many customers have said no to LED strips because there is no way to dim from the dimmers they already have in their house. With Magnitude 12VDC LED drivers it is now easy to source TRIAC dimmers from well established manufacturers such as Lutron, Leviton and Legrand. On top of this, the wiring setup is much more simple and safe.


The wiring setup will look more like this now, you can see how this will make it easier as you can just have one run going to your dimmer and then your strips will be running straight from the power source, with no dimmer in between. This means less wiring and less of a chance of a voltage drop that could screw your whole system up. Here is a list of compatible dimmers.
Dimmable LED Power Supplies You Can Trust
Magnitude Power Supplies are built to last. They took their time in designing their aluminum enclosures that are rated for outdoor or indoor use. Just from holding the transformers in your hand you can feel that they are robust and built to withstand the elements. Magnitude stuck with simple designs but added all you need for an easy set up.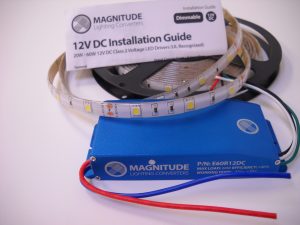 Mounting holes for screwing down your power source.
Two punch outs on enclosed, Junction box models for easy wiring and installation.
Junction Box Connectors included for safe, up to code wiring.
Full list of specs and installation guide included in each.
Magnitude also has an actual installation video using their UL Listed Electronic 12V LED Driver for you to use as a resource right here.
Conclusion
If I have any LED source that needs a 12V constant source then I am using these switching transformers. As we have discussed throughout the post they will be great power sources for LED strip lighting as they can handle more of a load and are compatible with common household dimmers!
Magnitude has improved upon the LED lighting transformers in a way that cancels out a lot of the drawbacks of using LED strip lights or puck lights for under cabinet lighting. This line will make all your strip and DIY home LED projects easier and I am proud to offer them here at LEDSupply.