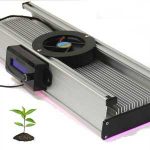 When LEDs became powerful, circa 2006, we started getting requests from customers to help them use our LEDs for growing (horticulture). Before giving out too much information, we researched photosynthesis and did an internal grow test using shorter wavelength blue and longer wavelength red LEDs. After the success of that first test, we decided to develop a high-quality LED grow light kit; something that used name brand and reliable LEDs and components. At that time, all the LED grow products we were seeing on the market seemed to have vague specifications, outlandish claims, looked cheaply built and used unreliable components. Of course our kit started small in-scale, but now almost 10-years later our LED grow light kits have gone through many different upgrades. Our latest multi-spectrum grow kits have just been lowered in cost, increased in quality and have been made easier to build with detailed video instruction. So, in light of these recent changes we decided to put together a post that would highlight all the new features and show how easy it is to build one yourself (DIY).

First, if you have ever been interested in this subject before (using LEDs to grow), then you know there is a lot of information on LEDs versus High Intensity Discharge (HID). Should you want more information on growing with LEDs, we do have a post more appropriate to that subject: 5-Steps to Super Yields with LEDs. For us, being an LED company, the choice to develop a high-power LED grow light with LEDs was an easy one. Like our customers, we appreciate sustainability and were willing to live through the growing pains along the way. Obviously, much of the available resources when starting were only on HID lights, so the learning curve was longer, but we had excellent customers that were willing to help test and improve the product along the way.
Ok, lets start with an overview:
The general idea for this product was to give all skill levels of customers affordable access to the best LED components, in a package that could be easily set-up and customized to their specifications without expensive or difficult to use tools. However, because it does require some DIY, we have provided simple step-by-step instructions and a video guide to help with assembly. Don't let the DIY part scare you away, this kit is easier to put together than your kids legos. Just wait for the video to see how…
These kits are all scalable, because everyone is different we offer varying lengths, which allow for more or less LEDs on one heat sink (more on this later). The prepackaged options range from as little as 75-watts to as much as 300+ watts. In our experience these combination cover most applications, but should you need a variation, we can help to customize the kit (more on customization later).
The DIY MakersLED Heat Sink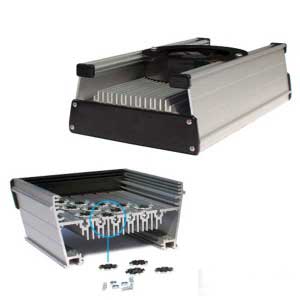 With most people we find they consider heat sinks to be the least sexy talking point of an LED project, but actually the heat sink we use here is kinda cool. It's a professional grade DIY MakersLED Original Heat Sink that looks more like a finished fixture. More importantly than the appearance, its function…Without the correct heat sink, all the LEDs would overheat and significantly drop in light-output and dramatically lose lifetime hours.
The MakersLED Original Heat Sink is a 6.45-inch by 3.5-inch extruded aluminum anodized heat sink that can be as long as 4-feet and cut down to as short as you want. It comes with a cooling fan(s), LED mounting hardware, end-caps/plugs, multiple mounting options and a clear acrylic lens to cover and protect your LEDs.
Remember that the LEDs are replacing extremely hot/powerful HID grow lights, so despite what you may have heard or read, the LEDs are going to need to be run at max power and will get very hot, thus the need for such a significant heat sink. We have calculated that a one-foot section of the heat sink is capable of handling around 100-watts of LEDs. That is a lot. But, the heat is quickly moved away from the LEDs and the plants via the heat sink and small cooling fans. This contrasts with HID lights as the heat from that type of light is projected down at the plants, often requiring extra power and products to help cool the area, making the grow process more difficult.
For a closer look at the MakersLED heat sink we have an image above and a short video here.
Heat Sink Hanging Kit
One of the advantages of LED grow lights is you can get the light extremely close to the plants for maximum light penetration. The MakersLED heat sink can include a hanging kit accessory which allows the heat sink to hang from cables at whatever distance from the plants you prefer.
The LEDs for the Grow Light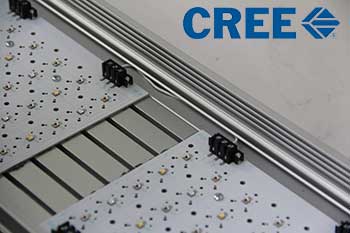 The fun part is the LEDs, which is where we have experimented the most. As mentioned earlier, the first test we did was just with blue and red LEDs. Once LED manufactures like Cree and Luxeon started coming out with Deep-Red or Photo-Red (660nm), we then began trying that wavelength along with Royal-Blue and Blue. From our research on plants and Photosynthesis we concluded that the main wavelengths the plants needed were 450nm Royal-Blue and 660nm Deep-Red/Photo-Red. However, in our attempt to replicated the sun, we knew we needed more. So we began adding more Reds, Red-Orange, Far-Red/Infrared, and warm-whites. The 3000K white helped peak the wavelength in the right areas (blue & red), but also added some useful light in the middle and lower ends of the spectrum. Having this wide range of wavelength has helped to improve flowering and keep plants on a normal schedule. Without these spectrum's we have seen weaker yields and longer flowering cycles.
For ease of assembly we have upgraded the grow kit from individually mountable LEDs to a board of 30 LEDs (image below) that is designed to mount into the heat sink. The board has five rows of six LEDs, each row of LEDs are in-series. Below we have an image showing the board layout and configuration of the LEDs listing their peak wavelength. Our kits can have anywhere from 1 board to 4 boards mounted to the same heat sink. In a later section we will go over the wattage of each kit. Worth noting is the ratio of blues/whites to red. We have 10 blues/white and 20 reds.
The main manufacture of LEDs for our grow kits has been Cree. We have experimented with others, but found that the efficiency, power and reliability of Cree has stood out above the rest. All LEDs are not made equal and this is one area that helps our grow light kits perform and last better/longer than others. We use a combination of the different Cree Xlamp packages. This helps get the best output from each spectrum. For example, the royal-blue LEDs are XT-E, the Reds are XP-E2 and the White's are XP-G2.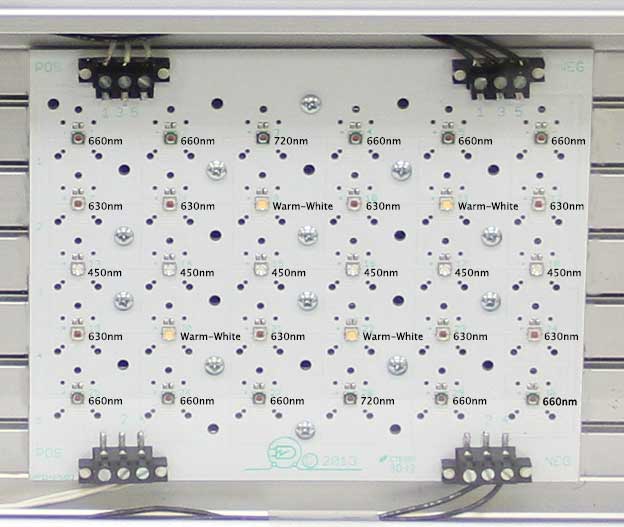 Powering LEDs for growing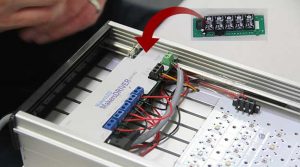 The five channels of LEDs are each powered by a designated constant current source on the MakersLED 5Up PRO. The 5-Up PRO driver is designed to slide into the heat sink and holds 5 separate Mean Well LDD constant current LED drivers. These driver channels are labeled 1 through 5 and correspond the LED channels on the board we described earlier. For example the center row of Royal-Blue LEDs on the board is channel 3 and is wired to the 3rd channel on the driver. The surrounding rows, numbered 2 & 4, are mixed with Red and White LEDs and the two outside rows, 1 & 5, are mixed with far-red and infrared.
The Deep-Red/Photo-Red and Far-Red/Infrared LEDs are driven at their maximum rated current of 700mA, while the other LEDs can be driven slightly higher at 1000mA. We figure the wattage by multiplying the forward voltage by the current. The total wattage is 75-watts per board of 30 LEDs.
The MakersLED 5-Up PRO driver receives power from an external 48V switching power supply, which also powers the fan and optional controller. The fan is a small 12v unit that comes with the heat sink and mounts above the fins to help actively cool the heat sink. The driver conveniently includes a 12v terminal to connect the fan wires to. Additionally the driver can power the MakersLED Controller.
Controller for Timing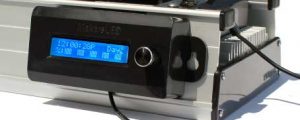 To properly simulate the sun cycle a grow light needs to be on at timer. The optional MakersLED Controller allows you to easily set the time-of-day and control when the light turns on and off. The controller also can ramp up and ramp down the light at both ends of the day to simulate sunrise and sunset. The controller has a digital LCD display that is easily controlled by a turn style knob. As seen in the image, this unit mounts beautifully to the side of the MakersLED heat sink.
Customize your kit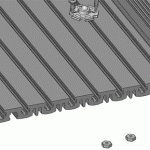 In general we always can do something to help make your kit to the way you want, just ask. For example, in the past we have configured LEDs differently, cut the heat sink to a different length or assembled the kit your you. Of course the basic differences depend on your grow area, how many plants you have and or what coverage area you need. The kits can be customized to different lengths and wattages, but if there is a configuration we don't offer please contact us and we can consider altering it for you.
If you watched the MakersLED heat sink video then you know that the heat has t-slots for mounting individual star LEDs, so we also could customize the kits with individual star LEDs instead of the standard LED board. Keep in mind that mounting every LED individually does take a lot of extra time and requires advanced wiring and soldering techniques.
Do it Yourself (DIY)
Our kits include all the items needed, however it does require assembly. Take a look here at this time-lapse video below detailing the construction of a 150-watt LED grow kit. Also, on the LED grow kit product page is a PDF of step-by-step instructions and wiring diagram.