'How do you dim LED Strips?'
This is a common question we receive multiple times a day. Simple 12V LED systems (like the flex strips) can be dimmed, but it requires the right power supply and setup. Through the years working with LED strips there were two options: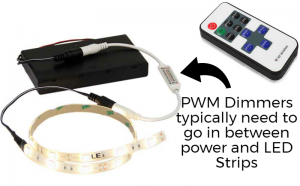 Buying a pricey AC dimmable power supply.
Both options are adequate in providing quality dimming, but still might not be right for everyone. Using a PWM dimmer in-series typically works better from a remote dimmer. Using a PWM wall dimmer requires excessive wiring and limits the load that can be handled. AC dimmable power supplies are great if there is already a common residential dimming setup within the home, otherwise this route can be very expensive.
Mean Well developed a unique AC to DC switching power supply that transmits a PWM style constant voltage output. This is a way to beat the system as the PWM output can be controlled by non-PWM dimmers like our affordable 0-10V dimming control. Let's see how this power supply works to dim LED strip lights in a way otherwise not possible. Continue reading →