Welcome to our comprehensive review of the LunaLED LED light fixture from LEDdynamics! As a leading innovator in the lighting industry, LEDdynamics has a reputation for designing products with careful consideration and user feedback, putting customer satisfaction at the forefront of their development process. This remarkable linear LED fixture promises unparalleled brilliance and efficiency, making it an exceptional addition to the world of lighting solutions. Join us as we explore its benefits, features, and real-world performance, shedding light on its potential applications. Whether you are a business owner seeking energy-efficient illumination or a homeowner looking to elevate your space, this review aims to provide valuable insights for your informed decision-making.
Product Overview:
Addressing Common Lighting Problems: When it comes to choosing the perfect under-counter LED light fixture, customers often encounter a range of challenges, from inadequate brightness to complicated installation processes. LEDdynamics took these issues to heart and designed the LunaLED to solve the following problems:
Problem #1: Cheap, Low Light Output LEDs
One of the most prevalent problems with some LED fixtures is the use of subpar LEDs that result in lackluster brightness and inefficient illumination. Many users have struggled to find LED lights that truly light up their spaces.
Solution: Best-in-Class Nichia LEDs, 2-Watts & 400 Lumens/ft.
With LunaLED, LEDdynamics has chosen industry-leading Nichia LEDs to ensure exceptional performance. These powerful LEDs deliver an impressive 400 lumens per foot, flooding your surroundings with a brilliant and consistent glow that outshines traditional lighting alternatives.
Problem #2: Spots from Each Individual LED
Traditional LED fixtures often suffer from visible spots caused by the individual LEDs, creating uneven and distracting lighting patterns that detract from the overall ambiance.
Solution: White Frosted 120-Degree Dome for Uniform Illumination
LEDdynamics has incorporated a white frosted 120-degree dome into the LunaLED design. This innovation transforms the individual light points into a smooth, uniformly lit semi-circle from edge to edge. Say goodbye to annoying spots and revel in a visually soothing, evenly diffused light that sets the perfect atmosphere.
Problem #3: Installation and Connections
Installing LED fixtures can be a daunting task, especially when dealing with complicated wiring, soldering, or tricky connectors that require time-consuming effort and technical know-how.
Solution: Plug and Play with 2.1mm Connection & Easy Configuration

LunaLED offers a hassle-free installation experience with its convenient plug-and-play functionality. Using a common 24V power supply, the fixture features a user-friendly 2.1mm connection, simplifying the setup process and saving valuable time. Moreover, the fixture can be easily configured to connect one unit to another, allowing for seamless expansion and customization.
Problem #4: Difficult-to-Use Metal Track/Lens
Some LED fixtures are burdened with cumbersome metal tracks or lenses that make installation cumbersome and limit flexibility in mounting options.
Solution: Lightweight, Easily Installed with Double-Sided Tape or Clips
The LunaLED's ingenuity lies in its lightweight lens, which also serves as the fixture that securely holds the light strip, ensuring a lightweight design. Meticulously crafted for convenience and versatility, the fixture's lightweight nature allows for effortless installation using double-sided tape or clips. With the freedom to choose the most suitable mounting method for your specific space, the LunaLED effortlessly blends into any environment.
Ordering, Unboxing, and Set-up:
Ordering the LunaLED fixture from LEDSupply is a breeze; follow these simple steps to tailor your LunaLED to your specific needs.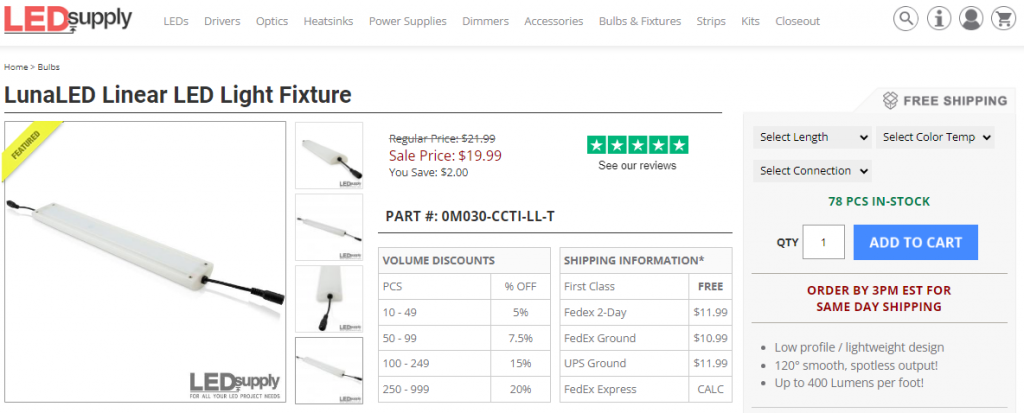 Step 1: Select the Length, Color Temperature, and Connection
Length Options: LEDSupply offers the LunaLED fixture in five different lengths, providing flexibility to accommodate various spaces. Choose from the available options of 6 inches, 1 foot, 2 feet, 3 feet, and 4 feet, ensuring the perfect fit for your lighting requirements.
Color Temperature Choices: Tailor the lighting ambiance to your preference with three distinct color temperature options. Select from Warm White for a cozy and inviting atmosphere, Neutral White for a balanced and natural glow, or Cool White for crisp and energizing illumination.
Connection Configuration: The LunaLED fixture caters to different installation scenarios with its versatile connection options. Opt for the "Power Input Only" if you need a standalone power source for a single strip. Alternatively, choose the "Power Input and Power Output" configuration to facilitate seamless power jumping from one strip to another, making expansion and customization a breeze.
Step 2: Common Accessories for Powering and Mounting
As you finalize your order for the LunaLED fixture, LEDSupply provides valuable suggestions for common accessories to complement your purchase. These accessories include power supplies, jumper cables and mounting options, making the ordering process a one-stop-shop for all your lighting needs.
Unboxing the LunaLED Fixture
Once your order arrives, the excitement begins as you unbox the LunaLED fixture. LEDSupply takes great care in packaging and presenting their products, ensuring your LunaLED arrives in pristine condition.
Easy Set-up Process
Setting up the LunaLED is a straightforward and hassle-free experience. The fixture's plug-and-play design, combined with the customizable connection options, streamlines the installation process. Whether you're a seasoned DIY enthusiast or a beginner, you'll appreciate the simplicity and convenience of getting your LunaLED up and running in no time.
Real-Life Application: Illuminating Under-Cabinet Spaces at LEDdynamics Facility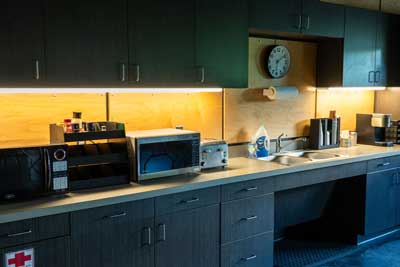 To truly understand the performance and quality of the LunaLED fixture from LEDdynamics, let's explore a real-life application at the LEDdynamics facility. In this example installation, the LunaLED was used to illuminate under-cabinet spaces, and the results were nothing short of impressive.
1. Seamless Integration with Under-Cabinet Spaces
The facility's under-cabinet application served as the perfect canvas to showcase the LunaLED's exceptional capabilities. Since there was no lip on the cupboards, the fixture was placed approximately in the middle of the cabinet. Due to the LunaLED's low profile, it blends seamlessly into the cabinet's design, becoming barely visible to the eye.
2. Incredible Aesthetics and Smooth Light Output
Thanks to the LunaLED's innovative design, the light output in the under-cabinet area was both smooth and uniform. The absence of any distracting hotspots or visible individual LEDs created an immaculate and visually appealing illumination. The LunaLED delivered the perfect balance of brightness and ambiance, transforming the under-cabinet space into an inviting and captivating area.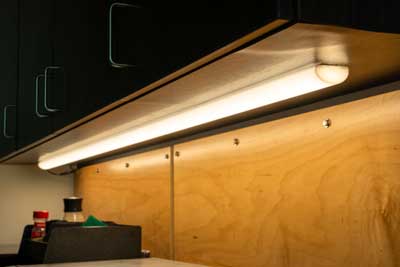 3. Quick and Simple Installation Process
The facility manager at LEDdynamics lauded the LunaLED for its ease of installation. With its plug-and-play functionality and lightweight build, setting up the LunaLED in the under-cabinet application was a breeze. The quick and simple installation process not only saved time and effort but also showcased the LunaLED's user-friendly nature, making it an ideal lighting solution for both professionals and DIY enthusiasts alike.
Conclusion:
In conclusion, our experience with the LunaLED fixture from LEDdynamics has left a lasting impression of excellence. Designed with customer feedback in mind, this LED light fixture successfully addresses common lighting problems, showcasing best-in-class performance and innovative features.
Key Strengths:
The LunaLED boasts powerful Nichia LEDs, delivering an impressive 400 lumens per foot, ensuring ample brightness for any space. The white frosted 120-degree dome provides a smooth and uniform illumination, eliminating any distracting spots or hotspots. With a user-friendly plug-and-play design and versatile connection options, installation is quick and hassle-free, even for those new to LED lighting. Additionally, its low profile and lightweight build allow for easy and discreet mounting options, enhancing the aesthetics of any environment.
Key Weaknesses:
While the LunaLED proves itself as a top-tier lighting solution, one potential limitation lies in its availability in fixed length options. For some projects, custom lengths might be preferred, requiring careful consideration during the planning stage. However, this minor limitation is easily outweighed by the LunaLED's exceptional performance and adaptability.
Recommendation:
Based on our evaluation, we wholeheartedly recommend the LunaLED fixture from LEDdynamics. Its impeccable lighting quality, user-friendly design, and versatility make it an ideal choice for a wide range of applications. Whether you're upgrading your home lighting or enhancing your business space, the LunaLED will undoubtedly elevate your lighting experience to new heights.