LEDSupply offers many high power LEDs from the likes of top manufacturers such as Cree and Luxeon. These surface mount LEDs are not finished products, rather the light source for whatever lamp or light emitting product you plan to build. These component LEDs are mounted on a 20mm star board—a small aluminum based circuit board (MCPCB). In order to illuminate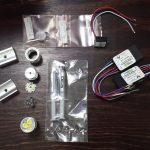 these LEDs and keep them running safely there are multiple components needed: LED drivers, power supplies, optics, and heatsinks…just to name a few. With multiple working parts, not to mention all the wiring, comes the need to put it all together into a finished product without it looking like a crazy science experiment. That is where dynamic LED housings can come in handy, making for a sleek LED module with multiple purposes.
LEDs need a heatsink—if you do not know why take a look at this post. A heatsink housing is a heatsink that can hold the LED and optic all in a clean, cylindrical housing. This housing not only protects the LED from outside elements but also dissipates the heat and keeps the LED temperature under control. This $10 part can really make LED projects easier while giving them a professional finish.
LED Heatsink Design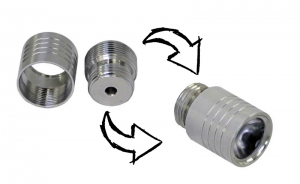 This combination heatsink and housing was specifically designed to hold a 20mm Carclo optic lens and a 20mm LED star board. The Dynamic LED heatsink housing evolved from our original LED housings. The housing is still a two-piece 6061-T6 machined billet aluminum design, but instead of sliding together, the Dynamic housing screws together. This makes the LED module dynamic as it can easily come apart to make changes to the LED and optic.
The completed unit is small and lightweight. The sleek design includes 4 small channels around the diameter of the sleeve to increase surface area and help in passive cooling of the LED. The housing diameter is .99" with the 1-Up sitting at 1.46" tall and the 3-Up sitting at 1.26" tall. The 1-Up is slightly larger as the TIR optic for the 1-Up LEDs sits taller than the 3-up.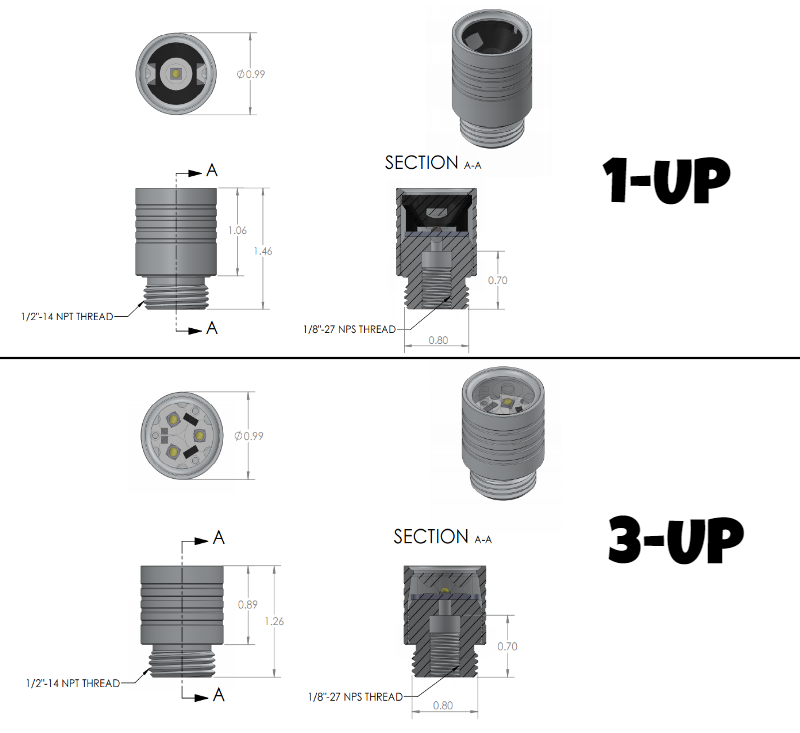 1-Up and 3-Up Variations
The main difference between the 1-Up and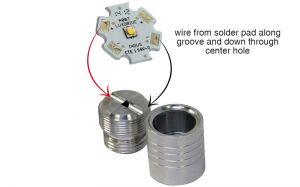 the 3-Up housings is the size and the way they are wired within the unit. The 1-Up housing works with any of our Cree or Luxeon 1-Up LEDs. There is a small channel (see right) grooved into the top of the slug to allow 24 AWG stranded wires to go from either side of the LED, run underneath and then out the 1/8 center hole. The 1-Up housing then has enough room for a 20mm Carclo optic holder and optic to fit on top.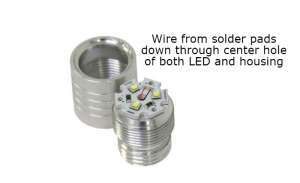 The 3-Up housing works with any of the Cree or Luxeon 3-Up LED boards. These LEDs include a center hole in the board that matches up with the center hole on the slug. This allows for 24 AWG wire to run from the LED solder pads down through the center hole and out the back of the LED housing. Note that if there is no hole, one can be drilled through the exact center. The height of the 3-Up is shorter as there is no need for an optic holder and the 3-up optics are about half the height of the 1-Up optics.
LED Module Assembly
In the video to the right the dynamic threaded connection is sampled. The two-piece LED housing consists of a slug and a sleeve. The slug, where the LED sits, has male threads that screw into
the female threads within the sleeve. Before assembly, the LED must be wired in the correct manner as discussed above. The wires should be set in place and worked down through the 1/8" center hole. The LED needs to then be mounted on the slug with either a thermal grease or epoxy, sitting the optic on top afterwards. Once the LED is set on the slug, apply grease to the threads on both pieces and finally screw in until making a snug fit. The LED and optic will self-center as the pieces thread together. Arctic Silver Thermal Grease has been found to work best for heat transfer in this LED housing assembly.
Powering the LED Module
It is important to note that the Dynamic heatsink housings are LED modules only and not LED light engines. This is because they do not include an LED driver. Just like any raw, component LEDs, these modules will require an appropriate constant current power source: an integrated circuit or LED driver. There is plenty of information on selecting the right LED driver here. My recommendation for drive current is: 350mA for a 3-Up and 700mA for a 1-Up. That is about as much power as the heatsink housing can handle, if you need to bump it up from there you should consider moving to a larger heatsink.
Larger Heatsink Option – LED Light Engine Housing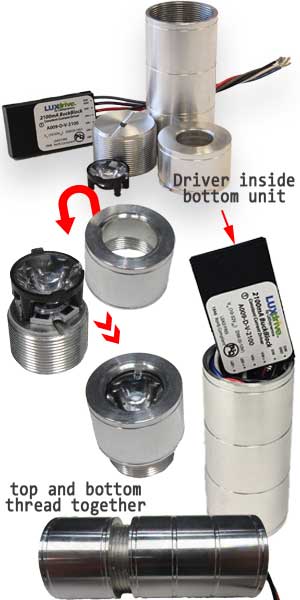 If you need more light output and need a larger heatsink then I would recommend one of our Dynamic LED Light Engine Housings. These heatsink housings are machined similarly to the smaller module housings with the addition of an area in the bottom to hold your LED driver. The ability to include a driver in these units makes them a complete light engine. The heat sink holds your LED, optic and constant power source so that all you need to do is supply a safe DC voltage to light it up.
The Light engines come in 5 and 10 Watt sizes. They are offered as standalone heatsinks or can be purchased in a full LED light engine kit.
LED Light Engine Heatsinks
5 Watt LED Kit
10 Watt LED Kit
Mounting Accessories
There is a ½" NPT thread on the base of the housings for mounting purposes. In the center is a
3/8" threaded hole for a 1/8 IP threaded nipple (see right). This helps with mounting in a few different ways, take a look at the LED module mounting accessories below.
This seamless threaded nipple has a 3/8" outer diameter with the common 1/8" center. This size is commonly used in lamps so if you are retrofitting an old lamp it could come in handy. It is offered in 1, 1.75 and 2-inch sizes and comes with a washer, lock washer and nut. This will easily screw into the base of the LED housing and can be bolted in elsewhere.
This swivel mount is 2 1/2 inches long and has a 3/8" male and female thread on either ends. This makes it work perfectly with the Dynamic heatsink housing and the threaded nipple. The inner 1/8" center will allow wires to pass through and the swivel will help adjust your LED light module 180 degrees.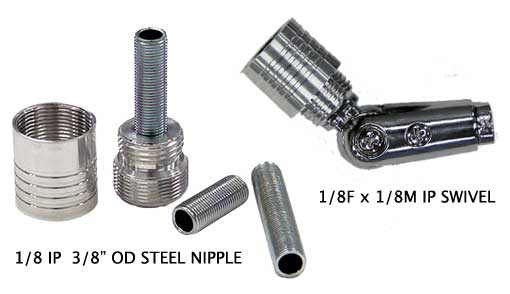 Copper Pipe Fitting:
This copper fitting will screw onto the base of the LED light and can then be adhered into copper piping. This would make for a cool industrial looking light if copper pipes were used in an application and these could mount at T-Connectors or at the end of the pipes themselves. The options are limitless with this and could really make a nice fixture within any room.
Finishing Accessories
The LED light kit fully houses the LED and optics, protecting from direct harm but it is not fully waterproof. If the LED module is going to be directly exposed to elements, use some of the following to protect:
LED Seal: this silicone spray sealant dries fast and clear, making everything it coats water resistant. A healthy amount of this on the LED kit will keep it working safely outdoors.
Clear Epoxy Casting: this clear resin works great with the housings if they are going to be fully submerged in water or need to be placed in the ground (as in paver lights). This clear casting will pour over the whole LED light kit and will dry clear, encasing the LED module in a clear resin. Some of our long time customers have used this for making flounder gigging lights and have had great results with no yellowing and minimal light reduction.
Polish: If you really need that chrome finished look this polish works great on the housings, make them really standout or match to chrome finishes.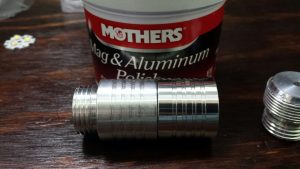 Customer Applications
There are plenty of applications for this small, versatile LED heatsink housing. LEDSupply offers it as a kit (fully built LED module) here, just choose the LED, LED color and optic you want inside. These LED light kits have been used in many different applications, here are some ideas with pictures of DIY projects.
Under Cabinet LED Lights
Using the LED light housings to put under cabinet can make for some great DIY puck lighting. The hardest part is mounting the heatsinks up into the cabinet so they are flush with the bottom and not sticking too far out. In the pictured project an extra piece was added to help hide the housings up within the cabinet. These LEDs used with an AC line driver mounted inside the cabinets would work great to provide the task lighting needed under cabinets.
DIY LED Lamp Projects
These LED heatsinks work great as the light source within homemade lamps. With the clean look and mounting accessories they can be used in many cool lamp designs. This lamp was used on a custom wood base and came out looking fantastic. With the accessories and fittings there are limitless options for industrial style lamps and fixtures to be made with these LED modules.
Bike Lights
These small housings work great for bike lights. With motorized off-road bikes the LED module can use a low voltage driver and hook up to the battery system to provide a bright spot light when you need it. Likewise, it can be used on regular bicycles if a battery source is provided as well.
Paver Lights
Using the LED modules with a casting resin can allow them to sit in the ground for paver lights or cool landscape lights outside. Checkout how they were used here in a 9/11 memorial just outside of New York City.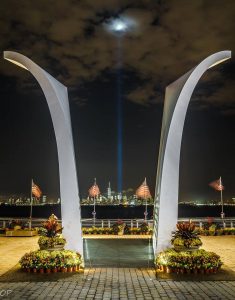 So many possibilities…
As mentioned many of our customers will use the LED modules as a base design for flounder gigging lights. These need to be made waterproof with the casting material described above but then can be driven higher than normal as they will be underwater and will therefore have a better cooling system if surrounded by cold water.
Many others use the LED light housings for machine vision. Adding this to a machine will greatly improve vision and could easily be attached to a long chord to reach tough places when needed.
They are also great LED modules for signage. Light up a wood base sign so it can be seen after dark!