LEDs started small (in size) and keep getting smaller! This 'miniaturization' of the semiconductor market is allowing lighting manufacturers to reduce the size of their products. To aid that effort, LUXdrive, a division of LEDdynamics, Inc., has developed a new product, to add to their line of constant current low voltage LED drivers, called the MiniPuck.
LUXdrive is well known for building low voltage DC/DC LED drivers. They make the BuckBlock, FlexBlock, PowerPuck, BuckToot, MicroPuck, BuckBullet and BuckPuck. These drivers are all small, but not as small as the MiniPuck. The new MiniPuck is the perfect step-down converter for designs looking to save space; it's total volume is less than one cubic inch (more later)! Another variation from their other drivers is it uses PWM for dimming, where previous models dimmed either by 0-5V or 0-10V. Before going further into the MiniPuck features and specifications, lets first take a closer look at LUXdrive.
Benefits of LUXdrive products
LUXdrive was an early innovator in the field of LED lighting and integrated circuit (IC) design. The BuckPuck, as previously mentioned, was released about 10-years ago and continues to be a strong seller. Their products and IC design come directly from the US. This gives LUXdrive a close-up view of their work and the ability to mfg the highest quality products. Plus, they have knowledgeable support staff and are always available to answer questions. Aside from their publicly released products, LUXdrive also specializes in custom designing ICs. Many high-profile lighting companies flock to them based on their skill in custom making LED drivers. We also help to facilitate custom driver design; so, if the MiniPuck or any of their other standard drivers don't fit your application or product, please contact us with your requirements and we can help quote you a custom LED driver. Ok, back to the MiniPuck:
How Does the MiniPuck Work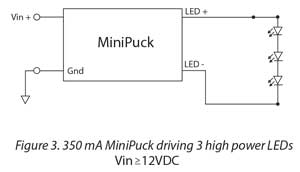 The MiniPuck uses a 'Buck' converter. This means that it steps down the voltage from the input to match the output load. It does this while keeping a constant current output to your LEDs. And, when the forward voltage of your LEDs change relative to temperature, the MiniPuck will automatically mirror its output to match. LUXdrive describes it in their datasheet, like this: "All MiniPuck versions are designed to supply their rated current to one or more LEDs, independent of input voltage. For example, a 350mA MiniPuck will drive up to six series LEDs, with a 3V forward voltage per LED totaling 18V, with a VIN of 24Vdc. Due to the nature of a buck regulator, the input voltage must always be higher than the forward voltage of the LEDs."
Important Specifications of the MiniPuck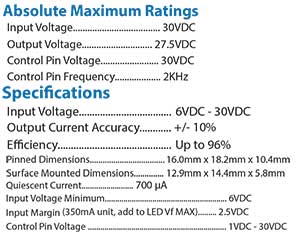 The MiniPuck is best described as a low voltage LED driver. In this case, low voltage means the MiniPuck operates from 6VDC to 30VDC. And, also worth nothing, there is an input margin of 2.5VDC. For example, if you have a 9VDC LED, then you need at least 11.5VDC to operate the driver. The absolute max output voltage is 27.5VDC.
The output current of the MiniPuck can vary and what you choose will depend on your LEDs, heatsink and how much light you want. The standard choices are: 350mA, 500mA, 700mA and 1000mA.
PWM dimming is a feature of the MiniPuck. The control pin voltage specifications are 1VDC to 30VDC. And, the max pin frequency is 2KHz.
Features of the MiniPuck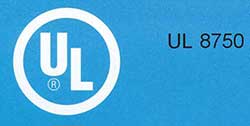 LUXdrive's experience in IC design has given them the feedback to provide the best features available for low voltage drivers. You will find they have incorporated numerous safety features to help their product out-perform the competition, even in the harshest environments. For example, in the case of under powering, there is a safety feature that locks out under voltage. There is also over-temperature (thermal shutdown) and short-circuit protection. To further protect the MiniPuck, LUXdrive has used a UL94-V0 level plastic case and this potted version (pinned) is UL 8750 rated.
PWM dimming, from 1 to 30VDC, can be controlled by applying voltage to the PWM control pin. On the documentation in diagram 4 a microcontroller is shown. It can deliver a logic high signal causing the MiniPuck to be 'off' and a logic low signal for it to be on. A square wave frequency of 100Hz-2KHz should be used with a minimum of 100 nanoseconds on-time and off-time. They note, also, that 2KHz should not be used as the internal capacitance of the circuitry may give unexpected results.
The MiniPuck is 96% efficient. Taken from the documentation is a chart below, that shows the efficiency when driving a specific number of LEDs:
The MiniPuck is Small
Actually, the MiniPuck is very small. LUXdrive has decreased the size of the MiniPuck by 20% when compared with standard drivers; it's foot-print is 0.79" x 0.66" x 0.43". Miniature! Additionally, the unit can be purchased as a pinned version or surface mount, thus providing even more versatility. Take a look at the images below to see the difference.

Prototype or Final Product
The experience and reliability of LUXdrive, combined with the size, options and price of the MiniPuck, make it an ideal choice for prototyping and final designs. If you would like to find out more about the MiniPuck or purchase them, then please use this link to visit the MiniPuck product page.