'How do you dim LED Strips?'
This is a common question we receive multiple times a day. Simple 12V LED systems (like the flex strips) can be dimmed, but it requires the right power supply and setup. Through the years there have been two options for dimming LED strips: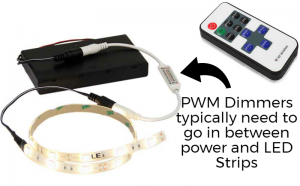 Buying a pricey AC dimmable power supply.
Both options are adequate in providing quality dimming, but still might not be right for everyone. Using a PWM dimmer in-series typically works better from a remote dimmer. Using a PWM wall dimmer requires excessive wiring and limits the load that can be handled. AC dimmable power supplies are great if there is already a common residential dimming setup within the home, otherwise this route can be very expensive.
Mean Well developed a unique AC to DC switching power supply that transmits a PWM style constant voltage output. This is a way to beat the system as the PWM output can be controlled by non-PWM dimmers like our affordable 0-10V dimming control. Let's see how this power supply works to dim LED strip lights in a way otherwise not possible.
What is PWM Dimming?
PWM stands for pulse width modulation. This is just a fancy term for a certain type of digital signal. Pulse width modulation is used in a variety of applications, but here we use it to control and dim LED lights.
PWM offers a full range of brightness by varying how much time the signal is high (ON) or low (OFF). The signal from PWM can only be ON or OFF at any given time. This means the LEDs will be receiving the full voltage, or receive no power at all. This is different from analog dimming as analog dimming varies the output power to dim the LEDs (i.e. providing 10V instead of 12V to alter brightness).
Altering the Duty Cycle (brightness) with PWM
Pulse width modulation style output acts as a simple switch, turning the supply ON and OFF at a rate so fast that our eyes don't notice the LEDs flickering. The measure of PWM brightness is described in a term called Duty Cycle.
Duty cycle is the proportion of time when the circuit is ON relative to the entire run time. Duty cycle is measured in percentage, 100% being the maximum brightness (fully ON) and lower percentages resulting in low light output from the LEDs.
If the signal spends half of the time on and the other half off, we would say the PWM signal has a duty cycle of 50%. The lights should be at about mid-level brightness and the signal resembles a square wave. When the percentage is above 50%, the signal spends more time in the ON state than the OFF, and vice versa if the duty cycle is below 50%. Here is a brief explanation in terms of the signals: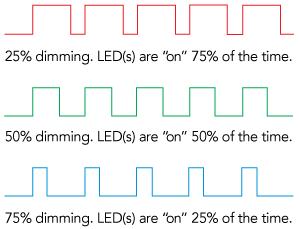 Mean Well's PWM Output Power Supply
The Mean Well PWM comes in 40-120Watt models that accept universal AC input and offer constant voltage outputs that are commonly used in LED lighting (12, 24, 36 etc.). The power supply transmits a PWM style output that can directly drive LED strips of all kinds.
How to dim LED strips (and other LED lights)
The PWM series from Mean Well outputs a PWM style constant voltage output. If there is no dimmer connection the output will be 100% all the time. The power supply offers 3-in-1 dimming function to alter the duty cycle of the output, therefore dimming the LED strips. The duty cycle can be changed via 0-10V, 10V PWM signal or resistance between DIM+ and DIM-.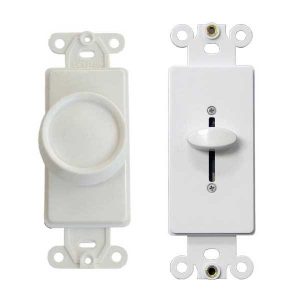 This brings a whole range of new options to dim LED strip lights. First it is possible to use a simple 0-100K Potentiometer. This would be the cheapest option in which the variable resistor would alter the duty cycle, dimming and brightening the LED strips.
The best and most professional looking option is using a 0-10V dimmer. Our 0x019 dimmer can easily hook to the two dimming wires on the power supply and provide a smooth and quality dimming functionality to your LED strip lights. The dimmer is offered in rotary knob and vertical slider options.
Video of dimming LED strips with wall dimmer:

NOTE the dimmer brings the LED strips extremely low but not completely off. To cut power completely, it would be best to hardwire the power supply to a switched outlet in order to totally cut power when you need.
Waterproof Power Supply
The PWM is packed in a shockingly heavy duty case. The PWM series conforms to IP67 level, allowing it to be used in high dust areas and extremely humid environments. This combined with the class II design and double insulation, weather-resistant cable (SJTW) on the input side make this perfect for various types of lighting systems. The enclosure is a 94V-0 flame retardant plastic case design. The interior is then fully potted in silicone which enhances heat dissipation and allows PWM to meet the anti-vibration demand up to 5G.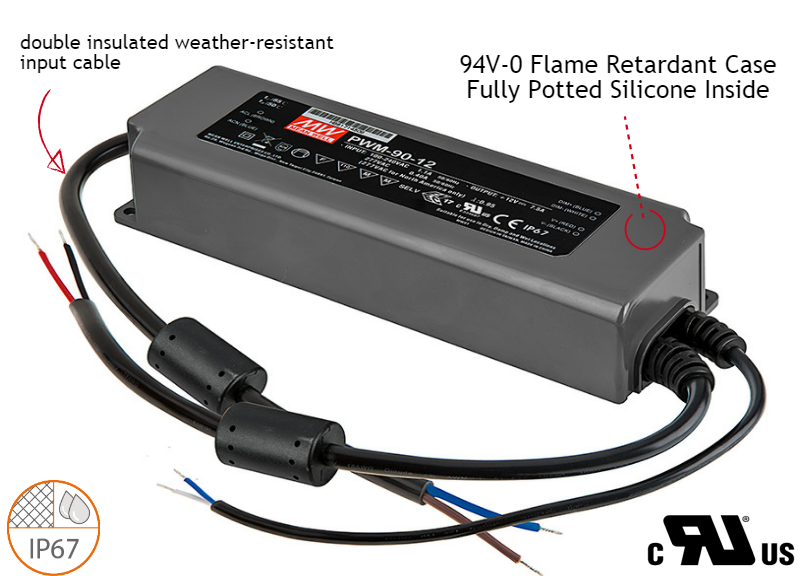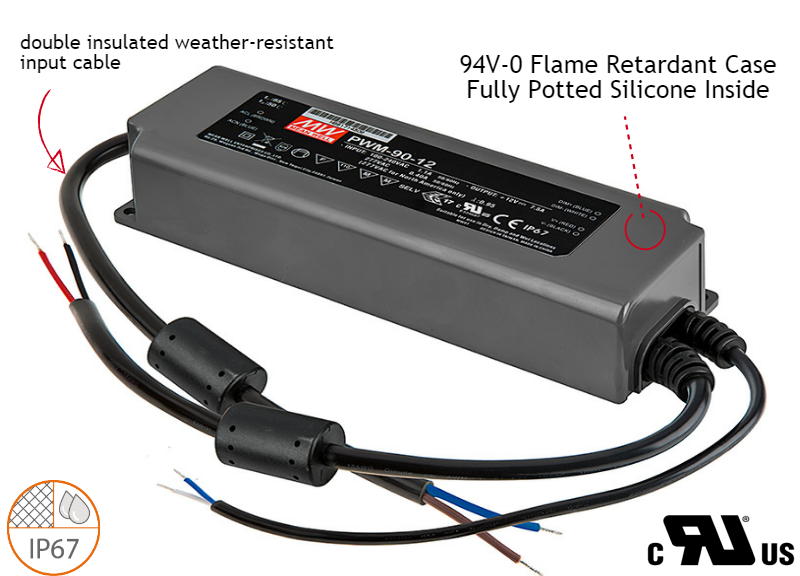 When to use the Mean Well PWM for LED strip lights
This 3-in-1 dimming power supply is perfect for LED strip lights. Mean Well has packed a ton of features into this power source and made it fantastic for a wide range of applications. Every LED lighting system will have its own needs and obstacles. Here are some that the PWM output power supply can help with:
When you are sick of running wires all over the place for dimming. With in-series PWM dimmers and AC dimmable power supplies there can be a lot of wiring running in different directions. With the PWM, there is your input wires connecting to line voltage. Output wires connecting to the LED strips, and Dimming wires connecting directly to the dimmer or potentiometer. This design is super simple as you can see from the video above.
When you need to dim LED strips from simple wall setup. Our 0-10V dimmer is the perfect solution to providing a full dimming range to LED strips without breaking the bank or your back from too much wiring. This dimmer looks sleek and is super simple to setup. Just connect the gray wire to the white wire and the purple to the blue.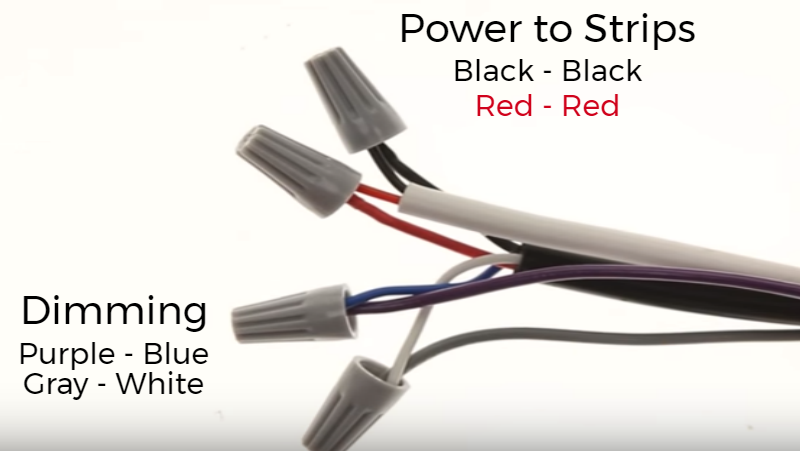 Working with LED strip lights outdoors. LED strips can be waterproof, allowing for their use in harsh conditions. That is why the PWM power supply was also designed to withstand wet and dusty conditions while operating under high temperatures if need be. This adds flexibility in placing the power supply and what kind of situations you can use it in.
Power Supply Protections:
IP67 Level Waterproof
Class II power unit, no FG
Class 2 Power Unit
Short circuit / Over load / Over Voltage / Over temperature
94V-0 Flame Retardant Case
Helps in dimming much longer LED strip lengths than alternative methods. Many PWM dimmers and controllers for LED strip lighting have wattage limits of around 72 watts or so. With the PWM and the 0-10V dimmer you could power up to 120 Watts of LEDs and dim them seamlessly with just one dimmer. That is almost double the wattage that was previously offered to dim LED strips.
For more Mean Well Power Supplies check out our full buyers guide here!