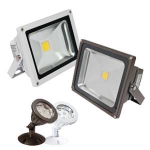 Do you waste money on lighting? Maybe you have family members who constantly leave lights on or you might have a business with outdoor lighting and those bulbs are on all night. Are you still using energy hogging incandescent bulbs? Have you upgraded, but to compact fluorescent lights instead of LEDs – aren't you annoyed when those CFLs take several minutes to reach full-brightness? If you want to find a simple way to stop wasting and start saving, follow this post, '3 Easy Money Saving LED Lamp Projects', and enjoy all the excellent features and savings from LEDs.
LED Flood Lamps
If your home or business uses outdoor area lighting at night then you should immediately start budgeting for the purchase of our LED flood lamps. We carry eight different types and sizes of LED flood lamps to fit a wide variety of needs, but in general you will see an 80% reduction in energy consumption.
For example, lets say you currently use a 100-watt halogen for area lighting, the replacement for that would be our 1600-lumen 20-watt LED Flood Light (LS-FL-20W). The 20-watt flood light uses a high-quality BridgeLUX LED in either warm-white (3000K) or neutral-white (4500K). The fixture is c/UL/us listed, IP 65 rated, available in a white or dark bronze finish, has an adjustable head, yoke bracket and comes with a 3-year warranty. Installation is simple (instructions provided) and the rugged design will ensure the light lasts a long time.
A popular LED flood lamp for homes is our 180-degree adjustable dual-head 18.8-watt LED Flood Light (LS-2H). This lamp saves 85% in energy costs, is c/UL/us listed, available in neutral-white (4400K) and also comes with a 3-year warranty. The dual-head allows you to point light in two different direction, each with 180-degree adjust-ability. This flood lamp also has a white and dark bronze finish option.
Here is a link to our full-selection of LED flood lamps – please stop and take a moment to consider some of the advantages of using LED flood lamps: you'll never have to borrow and/or climb up a latter again, 85% energy savings and an 'instant' on at full-brightness. We look forward to hearing from you or seeing your order for our affordable LED flood lamps.
LED Down Lights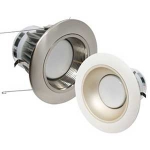 Recessed down lights often use inefficient bulbs and home owners everywhere are seeing dramatic cost savings and improved light quality by replacing those old 'can' lights with our LED down lights. Offering over ten different sizes, we are able to provide LED down lights for a wide variety of new construction and or retrofit applications. An immediate 85% in energy savings is achieved, many of the down lights include Energy Star ratings, adjust-ability, trim color options, assembly instructions are included along with accessories to make installation fast and easy for the average homeowner. Don't worry, warranties are included, ETL, UL and Title 24 certifications are included as well and have peace of mind that the LEDs are from name brand manufacturers.
One of the most versatile LED down light solutions is the Interchangeable 5 or 6-inch LED down light with white trim (LS-A56-30K-WH). The LS-A56-30K-WH model is extremely affordable, uses a brilliant warm-white 3000K LED, is Energy Star rated, UL classified, dimmable, and includes a 5-year warranty. Click to visit the A56 LED down light for pricing and availability.
A big seller for remodel jobs is the 3-inch Remodel Can and Trim LED down light. This LED is extremely small, includes a non-IC remodel housing and built-in driver. The cut-out template and familiar remodel housing with junction box accepts 120V via one of the eight 1/2" knockouts. There are ceiling clips that hold the light engine in place and like the other items, this bulb has 88% energy savings. Like many other of our LED down lights, it meets Title 24 requirements, is Energy Star rated, dimmable and includes a 5-year warranty.
If you have recessed lighting, please consider the benefits LEDs offer and visit our LED Down Light section and call us to help you sort out the details.
LED Lamp Retrofits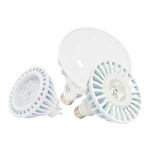 Our LED Lamps make the third LED project the easiest installation of the three projects. LED lamps are either screw-in retrofit bulbs or bi-pin plug in lamps. Installation is fast, easy, provides instant savings and offers all the features that come with LEDs. We offer almost every bulb you would find in your home: BR40, BR30, PAR38, PAR30, PAR20, PAR16, MR16, GU10, A19 and Candelabra lamps. To get a better look and feel for these bulbs you can view them in our LED lamps section.
Standard features with many of these lamps are Energy Star ratings, lighting facts labels, instant-on, dimmable, c/UL/us listed, RoHS complaint, over 25,000 hour life and approximately 70-80% savings in energy.
For example the BR30 lamp we offer is Energy Star rated, c/UL/us listed, dimmable, RoHs compliant, 12-watts and produces over 800 lumens. All the designs provide a beautiful white traditional finish, to closely match the bulb you are replacing. Light output comes from the best in LED manufacturing and a range of color temperatures to match your preference. As an added bonus, depending on your local energy guidelines, often our bulbs are available for substantial rebates with your state government.
Whether in your home or business, many likely have lighting that is costing them more then an LED alternative and should consider making a long-term investment into cutting energy costs with one, two or all three of our Easy Money Saving LED Lamp Projects. Here is a link to all our LED lamp categories if you want to see more details. As always, no matter how complex or easy your question might be, please take the time to ask. We would love to help more and more convert to LED lighting.