LED Heatsinks & Housings
---
LED Heatsink Category Description
Heatsinks and housings give your project a clean enclosure while maintaining a low temperature – critcial for LEDs.
Our fully-stocked heat-sink section includes a variety of LED Housings for sale. Start with the most complete selection of LED housings online, like Star LED Housing, which fits 1-Up and 3-Up LED configurations. Two different diameter and length of housings are available to provide adequate heat-sinking for 3-Watt, 9-Watt and 15-Watt applications. The LED Light Housings are designed to be complete luminaries, with each piece of the housing machined from aluminum. They are sold without LEDs, Optics and LED Drivers, but the same housings and all the LED components required are available in our LED Kit Section; additional kits include the MakersLED Heatsink Kit.
Don't forget about our Aluminum stock, which includes Aluminum Flat Bar, Angle Bar, Square Tube, U-Channel and full size Aluminum Sheets.
Review the complete menu of heatsink components and brands to build your own LED array.
---
Top Selling Heatsinks & Housings: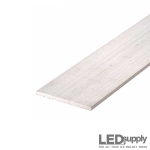 1/8" thick, 1" wide, 6061 T6511 aluminum
Product ID : AFB1X125
$3.29
Sale Price: $2.99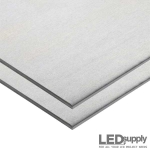 1/8" thick, 12" X 12", 5052-H32 aluminum
Product ID : A12X12
$18.69
Sale Price: $16.99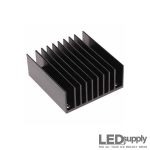 Black anodized aluminum, 10C/W, 61mm X 58mm X 24mm, RoHS
Product ID : 102-1489
$4.39
Sale Price: $3.99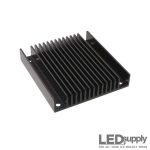 Black anodized aluminum, 10C/W, 61mm X 58mm X 11.50mm, RoHS
Product ID : 102-1488
$3.84
Sale Price: $3.49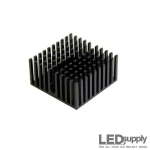 Black anodized aluminum, thermal adhesive, 35mm X 35mm X 18mm
Product ID : HS13137
$5.49
Sale Price: $4.99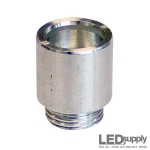 1-Up aluminum LED star housing for holding an LED, optic & optic holder
Product ID : ALK-20M-1UP-EH
$10.73
Sale Price: $9.75
3-Up aluminum LED star housing for holding an LED & optic
Product ID : ALK-20M-3UP-EH
$10.73
Sale Price: $9.75
Aluminum heatsink and housing for a star LED, optic and LED Driver
Product ID : ALK-LH-15W
$28.88
Sale Price: $26.25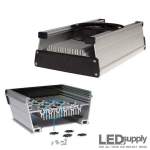 Anodized LED heatsink kit, with fans, lens, hardware & cut-to-length
Product ID : MAKERSLED
$27.46
Sale Price: $24.96
1