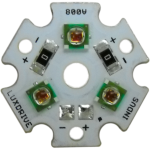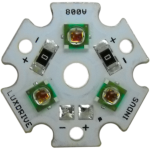 The Cree XLamp XP-E LED used the same proven technology from Cree's XR-E line. They improved upon the design with an 80% size reduction and providing 69% more luminous flux than the XR-E. Cree was able to increase the performance by reducing the space between the die. At LEDSupply, like all our surface mount LEDs, we reflow these onto a 20mm LuxDrive metal core printed circuit board (MCPCB). This electrically isolated star has four solder pads for easy installation. The hexagonal shape makes it possible to place these very close, increasing the light output per unit area. We offer in 1-up and 3-up options that are compatible with Carclo optics.
The XP-E has since been replaced by the more efficient XP-E2 which we offer in a variety of colors. Why are we talking about the XP-E then? That is because we were able to get our hands on some XP-E options I know our customers will love. We now offer these XP-E's in Photo Red (Deep Red) and Far Red (Infrared). We have custom light manufacturers ask about these colors a lot for different reasons that we will touch briefly on below…first, lets get into the technical specs.
The Photo Red, or Deep Red as some will call it, is 650-670nm. The forward voltage at driving currents are as follows: 350mA = 2.1, 700mA = 2.3 and 1000mA = 2.5. The Far Red, better known as Infrared LEDs run at wavelengths of 720-740nm. Their forward voltages at the same driving currents are 1.9, 2.1, and 2.25. These forward voltages will triple for the 3-up options obviously as there will be three of these LEDs per board.
We have been offering a Deep Red from Luxeon for a while now that is very popular. This Cree XP-E Photo Red will be a competitive alternative to this LED and can actually get more out of the LED as it can be run at up to 1000mA unlike the Luxeon that can only be run as high as 700mA. The infrared XP-E is our first surface mount LED that runs at the 720nm-740nm wavelengths. Our Osram infrared LED is a high 850nm so will be used for different purposes.
Applications
So why are so many customers asking for these colors and why did we bring them in? Glad you asked.
Photo Red
This Photo Red will significantly improve grow light applications. Wavelengths around the 660nm range are supposed to significantly help in the photosynthesis process used in horticulture. With our grow light kits and grow board offerings this will be yet another option for LEDSupply customers to add and improve on their indoor garden yields.
This Photo Red is also used in Reef Tanks. The 650-670nm range typically is used in Algae Scrubbers, which should not be confused with an actual scrubber trying to wipe away algae. The Algae Scrubbers I am talking about are actually a machine that uses light around these wavelengths in order to grow Algae in Reef Tanks. This is good for the fish and removes undesirable chemicals from the water. Photo Red is a perfect wavelength for growing this algae so we will be keeping our reef tank customers extremely happy with this new release.
Lastly, some find that a higher wavelength red is more aesthetically pleasing to the eye. This is for theater techs, light for art, lighted scenes, etc. A lot of these customers find that this red stands out more and helps scenes stand out more as it is a more true red, some find the other reds that LEDs give off at lower wavelengths have too much of an orange hue.
Far Red (Infrared)
The Far Red LED can also work in grow lighting, actually hand in hand with the photo red. The far red will help in photosynthesis especially if you are using the Emerson Effect which is the increase in the rate of photosynthesis after chloroplasts are exposed to light of wavelength 670 nm and 700 nm. So basically after you have exposed the plants to the photo red, you can then move to the far red in this growing method. I've seen where these far red LEDs can also be used in night heat lamps. This is basically where growers don't want as much light but still want the heat for the plants throughout the night hours.
We are extremely excited that we are able to provide these to you, the customers, as we know some of you have been looking for these for a while now. These will improve grow light and reef tank applications as well as maybe spark some ideas for custom built headlamps. As always we are excited to see what you all do with them so feel free to direct any questions or just share with us how you used our products at sales@ledsupply.com or by calling (802) 728-6031. Now get out and see what we can do with these new LEDs.