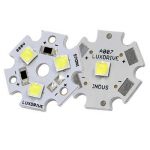 This week we launched the Cree Xlamp® XP-L LED. This is the first commercially available single die LED to boast up to 200 lumens per watt at 350mA. Even at it's extremely small 3.45mm x 3.45mm size this LED packs a punch delivering up to 1226 lumens! This XP-L LED enables an immediate performance increase of 50% or more as an upgrade for lighting designs based on Cree's market-leading XP-G LEDs. This LED sticks with the Cree XP footprint and is actually a hybrid of the previously released Xlamp XP-E and XM-L emitters; it combines the XM-L die inside the XP-E package.
Mike Joye, President at Auroralight, summed it up well with showing the excitement the LED industry has over this Cree XP-L, "We're excited about the new XLamp XP-L LED because its next-level performance enables us to create the next generation of light output and efficacy for our directional lighting products. Since XP-L uses the existing XP footprint we can expand our product lineup quickly and without the burden of increased development time and cost that would be expected for such a significant performance enhancement."
Not only is the XP-L the brightest member of Cree's high-density class discrete LEDs but it also holds the industry's highest optical control factor (OCF). OCF measures the impact that LED size and performance have on direct lighting applications. With the highest OCF, the XP-L will be huge for lighting manufacturers as Mike Joye expressed for Auroralight. This will allow them to improve the performance of existing designs in the XP footprint while reducing size and the overall cost of these new applications. Lowering the cost is huge as the new designs will be more energy efficient (saving money in the long run) but also be less expensive for initial purchase which is one of the areas that LEDs need to improve as many are turned off by their initial cost.
The XP-L LED is characterized and hot binned at 1050mA and 85°C. This makes it very easily replicated for your LED application and makes sure you get all those lumens that Cree boasts about.
LEDSupply currently offers this game changing LED in Cool, Neutral and Warm White options in 1-Up and 3-Up arrays on a high-performance LUXdrive 20mm metal core Indus Star printed circuit board (MCPCB).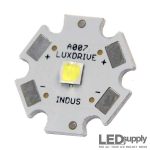 The XP-L 1-up has one XP-L emitter on the 20mm hexagonal shape MCPCB 'LED Star' that is electrically isolated with a thermal design to help lower the LED junction temperature – the LED Star has four solder pads for easy handling and wiring and is compatible with either 20mm or 26.5mm secondary optics from Carclo. The Cree 1-up XP-L is sold at $6.99.
LEDSupply's 3-up XP-L holds three emitters on the LED Star, packing more LEDs and light onto the same sized star for those applications that require more amount of light. There are two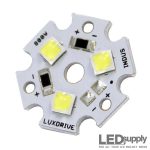 solder pads on the star for wiring and the 3-up is compatible with Carclo 3-up secondary optics. The Cree 3-up XP-L can be bought for $18.99.
The Cree XP-L LED options can be bought here.
Stay tuned for more product updates, thanks for checking in.
-LEDSupply Team