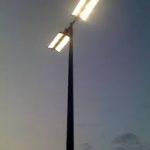 Greener, more efficient, less hazardous outputs…we've heard it all in the push to become a more environmentally friendly (greener) country. Another agenda that usually comes hand in hand with this is more economical, in finding ways to save money, lower tax rates and be as efficient as possible with our money and resources. That being said it is time to look at some areas in which this country and our local communities (it starts here) can do to make these goals come true. Obama and the Department of Energy (DOE) launched the Presidential Challenge for Advanced Outdoor Lighting under the Better Buildings program to acknowledge the need to improve in this area.
Outdoor lighting in the U.S. this year alone will consume enough energy to power 6 million homes. Now even if this statistic doesn't catch your eye how about the idea that energy to power outdoor lighting costs cities about $10 billion annually. This was first written by Dan Utech, the Deputy Assistant to the President for Energy and Climate Change in a blog entry.
The Answer
With the growth of LED lighting there has come great success, and taking this technology to the streets just might be the answer. In switching to LEDs, local governments can cut their outdoor lighting bills by 50% or more! Obama recognized this and made a challenge to retrofit 500,000 poles with energy efficient lighting (mainly LEDs) by 2016. Just last week, however, Obama multiplied this goal by three in calling for 1.5 million LED street lights by May 2016. Seems like a big jump but apparently there was enough interest from states and cities to triple the original goal…no complaints here, the more LEDs the more savings!
The DOE plans to use the Better Buildings Outdoor Lighting Accelerator to work with municipalities to speed the adoption of high-efficiency lighting. This will not only save on energy but also reduce carbon pollution across the nation. As the challenge strengthens more and more are jumping on board, given that streetlight systems can account for up to 60 percent of cities electric utility bills this should not come as a big surprise.
The Influencers
The original cities to take up the President's challenge include: Detroit, MI; Little Rock, AR; West Palm Beach, FL; Huntington Beach, CA; and Kansas City, MO. Now with the goal tripled the White House announced that participation has increased to ten cities along with two states – Tennessee and Rhode Island.
The DOE will work beside these cities and states to select solid-state lighting (SSL) technology that meets the specific local needs of each. On top of assisting in networked lighting the DOE will help in finding funding for the LED street light retrofit projects. The DOE will have some help from other agencies getting involved. The Mid-American Regional Council, the Southern California Regional Energy Network, and the Southeast Michigan Regional Energy Office are a few that the White House has specifically named.
The challenge has also received responses from the SSL industry. Sensity Systems, an LED conversion company focused on intelligent street light networks praised the agenda. Their CEO, Hugh Martin estimated there are about 530 million high powered lights (streetlights, parking lot lights, etc.). If all were converted to LEDs he projected the United States could save about $94 billion a year in energy savings and maintenance. He also can see the LED changeover going further than just energy savings saying, "We're delighted with the President's support for accelerating the change to LED lighting in our cities. As his Administration knows, there's a great opportunity in this conversion that goes far beyond energy and maintenance savings and brings additional benefits to our US citizens." Although most sensor streetlight projects are still in trial period in the US he believes that someday sensor equipped LED lights could gather traffic, weather, and parking spot data. The DOE is pushing the adoption for a variety of applications, mainly with an outdoor focus. Their published Gateway report on outdoor lighting with less glare is just an example.
Bringing it Home
The numerous upsides to retrofitting streetlights with LEDs is exciting to see. Keep an eye on these cities and states as the project picks up support. It will be interesting to see the difference this makes locally and on a national level as more and more begin to take up the challenge. From the energy savings to the other benefits we can hope that all our streetlights are changed over to LEDs in the future. As technology and lighting controls improve the savings can only increase. So take a stand in your community, showing the Better Buildings Outdoor Lighting accelerator and all the resources it brings.