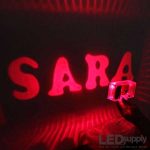 Ingenuity…Creativity…Resourcefulness…
These are just a few traits that LEDSupply sees time and time again from customers through their LED projects.
If you haven't visited or purchased from LEDSupply.com before; we support our customers with top-of-the-line LEDs, LED drivers & general LED supplies for their LED projects. If we are lucky, often we get to see the results of their projects via pictures and videos. We love seeing this work and thought you might appreciate seeing too – here are 7 great DIY LED lighting projects from us and from you.
1. A popular LED project is combining an Ardunio controller with 5mm LEDs into an LED cube. We are working on our own DIY LED cube project that will make it easier for more people to build, but still there are different levels of complexity that make it possible for almost anyone to build one. This project we are sharing was posted to our LED projects community on Google+: Continue to LED cube project.
2. Lots of All Terrain Vehicle (ATV) enthusiasts have come to us over the years looking for LEDs to light their way. We have seen people build bicycle LED lights, mountain bike lights, motorcycle headlights, dirt-bike headlights, 4-wheeler lights, lawn tractor lights, golf-cart lights and more. The project we are sharing uses a Cree LED inside an LED housing, which originally came from Thumper Talk dirt-bike forum. Here is a link to the project on our site: Continue to LED project.
3. A huge following of Salt Water Reef Tank enthusiasts have come to us for assistance with building their own LED tank lights. The first project we were involved in that recieved a lot of attention was in 2009. Our customer used Cree LEDs and constant current LED drivers from LUXdrive to build a 4-foot long LED Reef Tank light. We added the DIY project to our website and included a link to the original build: Continue to LED project.
4. Recently we have seen traction building within the indoor growing market. Many growers are turning to LEDs for safety, reliability, and energy savings. As LEDs have improved in lumen output, they have become a realistic option for growers. Many of our customers are using the MakersLED heatsink combined with Luxeon and Cree LEDs and constant current drivers to build themselves a long lasting LED light for growing. Here is a link within our website that shows off a 3-foot long, 300-watt, LED grow light: Continue to LED project.
5 & 6. Early this year customers submitted their DIY LED projects for an LED contest. Some of the contest entries were:  solar power outdoor lamps, airplane navigation lights, LED light sabers, outdoor flood lights, reef tank lights, grow lights, marine flood lights, bike lights, helmet lights, headlamp lights, under-cabinet lights, modified flashlights, desk lamps, floor lamps, flounder giggling lights, vehicle lights and more.
We wanted to highlight two of them:
Video of headlight application called "LED Angel Eyes":
Forum post on a LED Flashlight modification: Continue to LED Project.
7. One of our engineers wanted to make a LED projector light for his daughter and came up with something simple that we shared on our site. He designed his to project her name, but It can be designed to project any design or image onto a flat surface. The choice of LED color is the customers as well as the choice to build the kit yourself or have us build it for you. The kit uses a single high-power LED run from two AA batteries and a MicroPuck LED driver. Everything but the spray paint and materials for making your design are provided with the kit. We do provide step-by-step instructions and a video showing the process from start to finish.
Here is the Video:
Click here to purchase this LED Kit
In our LED resources section are LED application photos, there we show off pictures of LED projects; feel free to check that out here: Continue to LED pictures.
Once again, we love seeing these projects sent to us: sales@ledsupply.com
Part of our mission at LEDSupply is to support and help our customers develop their ideas into reality. Don't hesitate to contact us with any questions you might have about your next LED project. Also, please comment with any positive feedback you have. Looking forward to seeing whats next for LEDs!