The last couple of days of LightFair 2015 have come and gone. I was able to make it around to a majority of the booths to scope out the products and see what we could offer to make LEDSupply an even better resource and shop for 'all your LED project needs.' I will briefly run over a few products below and check up next week to post a more in-depth wrap-up of my trip here at LightFair International 2015.
Strip Lighting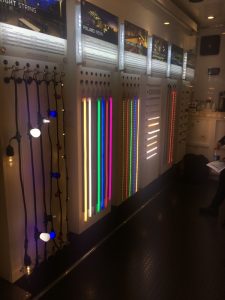 I was able to drop by our friends and suppliers of American Lighting's booth during my trip to see what was new and they sure did impress. With a lot of different linear options, an area that we are trying to improve upon, this is no surprise. We will soon be carrying their Rope Light which is a very cost-effective lighting option for many linear applications. We will be offering in white colors and blue. The rope is a round, 1/2″ diameter piece that we will cut to length for you. They run at about 50 Lumens per meter with LEDs every 1″ and are run straight off of 120VAC. These will be a great addition to our site and I'm sure they will go fast as a lot of our LED Strip lights have been flying out the door. These strips aren't as bright but are great for accent lighting or making something pop in your space.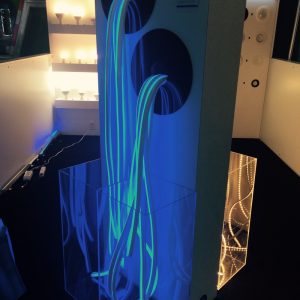 The second strip they had which really caught my eye and I hope to offer once inventory is restocked is their Neon Flex Strips. These strips, as you can see from the picture below, are nice and smooth. You cannot tell where the LEDs are within the strip and these things are really bendable. I watched the sales rep literally bend them in half without even thinking twice about it. These would be great for signage as they are easily curved and bent to how you would need and are just a clean-looking fixture. They easily can fit into an aluminum channel for mounting or they offer clips as well. Stay tuned on these as I really would love to offer them. 
Optics
We have had some interest in getting some optics for the Cree CXB LEDs and I may have found a supplier at LightFair. I found a few different optics that could work including one that connects to a holder that makes it adjustable. So as you move the optic up and down within the holder the light focuses and spreads out, making for a multi-purpose optic that could definitely be very helpful in some applications where more than one setting is needed.
I was also able to find a cool RGB optic that could work with the Cree XML RGBW and MCE RGBW LEDs. It had a certain design within the optic that made for smooth transitions between colors and so you couldn't see each individual primary color through the optic. This made for a much better color effect with RGB LEDs.
Stay tuned as we begin to work through some of these products we have found to hopefully bring them to the store for you in the near future.
T8 Replacement Bulbs
Lastly, I must touch on an exciting new direct T8 Replacement tube from our friends over at EverLED. We have been offering the TR and VE models of their T8 tube since it became available to the market back in 2007, but now with the drive for T8 replacements and better costs they have come up with a new design. This design is much sleeker, not including the brushed aluminum that was needed in the TR and VE models. The Nichia LEDs inside are surrounded by a diffused plastic specifically made for these tubes that make it have a nice smooth finish where you cant see the LED hot spots.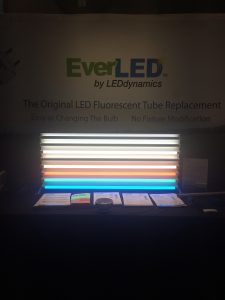 As said these tubes will have a much lower price point in the $20-$30 range and are manufactured all in the United States. Each tube runs at about 16 Watts and will give off about 1700 Lumens. They are direct drop-in replacements for all electronic ballasts, making for easy installation and instant savings. These are not quite on the market yet but you can be sure to find them on our site the second they become available.
I hope you have enjoyed this quick wrap-up of some products that you'll hopefully be seeing on LEDSupply soon enough. I sure enjoyed my time here in New York for the LightFair. I was able to meet up with a lot of different people and take a look at what others had to offer, gaining a lot of insights and knowledge. I'm excited to take what I've learned back to LEDSupply so that we may enhance your (our customers) experience in the future. As always feel free to give us some feedback on what you've heard about new products and what type of products you'd like to see us add. I'm off to enjoy the last night in NYC with the company and prepare for the travel back up to Vermont in the morning, but thank you for following. Signing off.