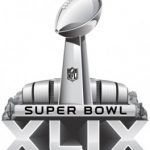 Say what you will about Super Bowl XLIX, yes it may be the first Super Bowl and postseason meeting between the Patriots and Seahawks, yes Tom Brady becomes the first Quarterback to make it to 6 Super Bowls, yes there might be some more 'ball checks' to make sure the appropriate air pressure is met, and yes the coaches may have some history (Belichick was hired in 1999 to replace Pete Carroll). Even without all the headlines over this match up, the Super Bowl will make history on February 1, 2015 as it will be the first time that this iconic game will be played under LED lights.
The University of Phoenix Stadium recently chose Ephesus Lighting, a company that specializes in energy-saving lighting solutions for commercial and entertainment purposes, to replace their stadium lighting with a new LED system. Stadium management was sick of the high maintenance costs and poor lighting so they replaced 780 of its inefficient metal halide lights with 312 Ephesus Stadium LED fixtures. Even with using less than half the amount of fixtures they still doubled the amount of light on the field (from 148 foot candles to 277 foot candles). The standout statistic to us is how this new LED system reduced system wattage by 929,000 watts; moving from the 1.24 million watt metal halide system to the 310,000 watt LED system. This is projected to cut the stadiums energy consumption for lighting by 75%!
In addition to using much less energy, the new system also delivers a much better quality light for players, live spectators and those watching from home via HDTV broadcasts. The system offers brighter, more uniform light to the field while also eliminating shadows on the playing surface. Superbowl 2015 will give The University of Phoenix Stadium a chance to show off their new system to the huge audience that will be watching the broadcast. The lighting is very friendly to broadcasters, giving them greater camera zoom levels and more detailed slow motion replays. So thank the good people at Ephesus when you recognize the more accurate color reproduction and clearer picture from your HDTV at home. Seems like a pretty solid alternative to attending the game in person…especially when average ticket costs are around $4,000 plus the other expenses you know will follow. So kick back with your family and/or friends and enjoy the best viewing experience, right from home.
The new LED system also gives the stadium much more flexibility. Typical stadium lighting systems (like the old metal halide fixtures) need a 20-minute warmup period until the lights are operating at full capacity. The LED lights can be switched on and off instantly, giving a big advantage for entertainment and light shows (Halftime anyone?). Remember Super Bowl 2013? A blackout occurred and caused a long delay following halftime in the big game. If something similar happened on Super Bowl Sunday this year, the LEDs could be turned back on immediately…no lengthy break as we wait for the lights to heat up.
The Ephesus Stadium Pro solution (powered by Cree LEDs) also included wired DMX controls on each fixture that interface with the control system. This provides operators with instant control to simply switch between different lighting levels, allowing for quick transitions and the ability to create 'unique fan experience effects.'
So when you sit down on Super Bowl Sunday don't forget to enjoy the company, enjoy the food, and of course enjoy the game, but try and see if you can notice the difference that the LED system brings to the game. No matter what team you cheer for, we all can celebrate energy savings and improved game visibility. I've got a feeling that similar systems will be taking over most arena and stadium lighting in the near future and Super Bowl XLIX is a perfect coming out party. Enjoy the big game folks, in a much brighter and efficient way.
For more information check out Ephesus' Case study on The University of Phoenix Stadium's new lighting system.