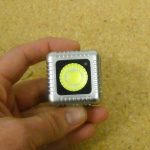 The Lume Cube is a small, but very powerful LED flash and video light you can take on the go. The super small, 1.5" cube design, allows you to pack 1,500 Lumens of light wherever you may need it. Throw it in your pocket and you have it whenever, no need to carry a ton of lighting equipment everywhere you plan to shoot. That isn't even what we are most excited about, the real kicker is that you can control the Lume Cube right from your phone. As a matter of fact, with the Lume Cube Pro smartphone app, you can control up to 5 Lume Cubes via Bluetooth, giving you total control over your lighting setup. Five Lume Cubes at the same time? That's right, a total of 7,500 Lumens you can control from 5 different lighting points, straight from your phone! (if I haven't convinced you of the importance of this product in flash photography…then keep reading)
The Lume Cube can basically act as an LED panel light like you would have in your photo studio. They can be used as an external flash for photos, or as a continuous light source for video. I first reached out to Lume Cube when I found out about the product through an article on GoPro and have become more and more impressed since, especially when I got one of these in my hands and could test it out. There are so many reasons that you are going to want the Lume Cube, whether it be just for studio lighting or to shoot action videos.
Out of the Box
This is what you will receive when you open up your Lume Cube (packaged extremely well I might add):
1 manual
1 lume cube
1 powering cable
and 1 sticker…to rep the CUBE!
*In the dual and quad packs, you will get 2 or 4 of each!
The Design
The Lume Cube is offered in 3 different color options: Gun Metal Grey, Silver, and Black. The build of the unit is actually surprisingly solid. I knew it would be pretty stable as it is waterproof rated down to 100′, but wow, just from picking up the cube you can tell this is built well and built to last. I would have no concerns in taking this out and using it mounted with your GoPro or camera, even if you plan on roughing it up a bit.
I was curious as to how they would make the unit waterproof as it would have a charging port somewhere, they did this by putting a threaded plug on the back. This plug will unscrew using a flat-nosed screwdriver, key, or even a coin. There is a rubber gasket around the base of the plug that seals it so moisture cannot get through. The video below will show how to take it out for charging use. ALWAYS put the plug back in after charging and before using the light! If you're skeptical about how rugged this design is, let the below tweet put those feelings to rest.
The answer is yes, you can freeze a @lumecube and use it while frozen. Because you know…… https://t.co/Vul7oKqXxA pic.twitter.com/8eCdj7Qt53

— Simon Pollock (@gtvone) February 2, 2016
Manual Buttons
The main way to interact with your Lume Cube(s) is through your iOS or Android app, which we will cover later. But as far as physical controls, there are two buttons located on the top of the unit. These buttons allow you to change modes manually, however, if you want to change advanced settings you will need to have your phone handy. The below video runs through how to use the buttons on the Lume Cube, as well as taking out the plugin order to charge it.
Unlimited Mounting Options
As if having all this light in a small enough package to fit in the palm of your hand wasn't enough, the good folks at Lume Cube added a standard ¼ 20 thread to the bottom of the Lume Cube. This is a standard size that is used for most photography lighting so it makes finding stands and such that much easier. Finding a Light Stand, tripod, or accessory arm will be incredibly easy. Lume Cube even has a couple of mounts of their own: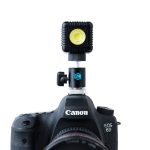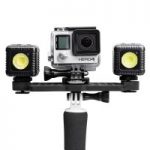 Hot Shoe Mount – for use with DSLR cameras, fits right into the shoe of the camera. Adds A LOT of light to the standard camera for fantastic flash photography!
GoPro Mounting Arm – this mount holds two Lume Cubes and a GoPro that can mount on all GoPro accessories in order to add light to your action shots.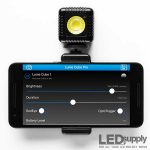 Smart Phone Mount – this mount easily slides and clips onto multiple-sized smartphones, either Android or iPhone. Add up to 1500 Lumens of flash and video lighting to your everyday camera with this simple option.
No Mount? The light is small enough that you can also hold it, or find a good spot within the picture for this tiny light.
LED Light Source
For such a small design, the light coming out of this is very impressive. The Lume Cube is capable of putting out 1,500 Lumens of a 6000K cool-white light. This is very powerful, so be careful not to look straight at it and damage your eyes. The light output is dimmable between 0-1500 Lumens which is great because you aren't always going to need that full brightness, in fact, most of the time you will probably want it dimmed down a bit.
Battery Life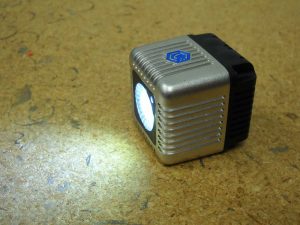 The battery life of the light seemed to be limited when I first saw the numbers. At full brightness, it will only run about 20 minutes or so. However, at 90% brightness, you can get 60 minutes+ and at just 50% brightness you can get upwards of 2 hours. The Lume Cube is crazy bright, as we have said before, so really around half brightness will be the average amount of light you use from it anyways, making this battery life more than adequate. If you still need more, however, the Lume Cube will work with any external battery. Take note that when operating the Lume Cube at 90% or more, it will become hot and shut down after 30 minutes or so in order to cool down. This is a safety feature added in so you don't cook the LED.
Connected via Bluetooth. Controlled right from your App!
The main way to interact and control your Lume Cube(s), is to use the iOS/Android App. There are two apps, the free one and a 'Pro' version that will cost you $2.99. As you'd expect, the free version is limited and doesn't allow for some of the more advanced features to be messed with. In my opinion, just cough up the $2.99 and use the Lume Cube to its full potential. The video below shows how to connect and control your Lume Cube straight from within the app.
In the 'Pro' app you can have a lot of fun customizing your LEDs. This app allows you to adjust flash duration, light output, turn red-eye reduction on, use the optical slave control, and the ability to control 5 separate Lume Cubes at once. These features will allow you to come up with some pretty sweet lighting setups without having to take a lot of time and energy. The ease of use and seamless integration with the app is really what have me raving about it!
Using the Lume Cube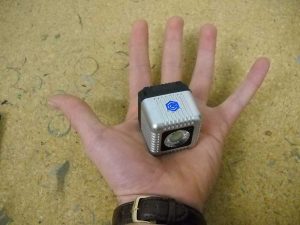 The versatility of this light is what really makes it stand out to me. The fact that you can just throw a few of these in your camera bag and have them wherever you go to enhance your shots is amazing. I'm not sure if it has ever been this easy to get this quality of light for outside action shots and underwater shots as well. The use of the optical sensor and hot shoe mount with DSLR cameras will attract many more experienced photographers, whereas the use of a simple smartphone app and GoPro will attract even the users just looking to shoot fun action shots.
The biggest thing I would change is to make the optical sensor more sensitive and in an area where it can pick up other flashes. Right now it is on the front so a flash would need to be directed towards it for the slave flash to work correctly. It will basically only work with a SpeedLight as of now, which helps those with a nice camera, but it would be much handier with some sort of on-camera trigger for those shooting straight from their phones or a smaller camera.
With these issues aside, this LED light is still a great light for photographers, especially those on the go. At 79.99 for a single, $149.99 for a dual, and $299.99 for a quad the price isn't too bad, especially for what you are getting and how these small lights could even replace some of your panel lightings for the studio.
Imagine how easy it would be to throw a few of these around your shot to get the light you need, where you need it. Controlling all this light straight from an app allows seamless controls like we haven't seen before. The possibilities are endless with this small light, see where you can take it, I'm excited to see what can be done!