Authorized Distributor
LEDSupply is proud to announce that we have recently become an approved dealer of Phihong products. What does this mean for you? It means you will soon have access to Phihong constant current LED drivers and 12V switching power supplies. We are confident this will help with many lighting applications as selling Phihong's line greatly expands our options for off-line (AC input) LED drivers.
A Name You Can Trust
Phihong is a global leader in power solutions. They have a full product line of their own but also are an OEM company that deals with many large fixture manufacturers to build custom drivers specific to their needs. They truly are all over the globe with design labs, manufacturing facilities and sales support centers in California, New York, the Netherlands, China, Japan and Taiwan. Having a long history in developing helpful power solutions for lighting, they have built a reputation on delivering excellent quality goods and services. With the growth of LED lighting, they have developed many different series of power supply adapters and drivers for LED applications both indoor and outdoor.
Phihong has continued to expand their line of constant current and constant voltage drivers specifically for LED luminaires. Phihong Vice President, Keith Hopwood summarized Phihong's future focus, "The overall focus of the lighting industry is changing to encourage more economical and environmentally responsible alternatives to current applications. By leveraging our experience in electronic ballast production and energy-efficient product design, we see powering LED lighting as a natural progression for Phihong to expand its existing lighting business." So there you have it, a company committed to LED lighting and bettering the driver technology, easing the transition from incandescent bulbs to LEDs throughout your home.
The Off-Line (AC) Approach
When explaining LED drivers, you must always know there are DC input (low voltage) drivers and there are AC input (off-line) drivers. We have many low voltage options for use with LEDs, especially with our LuxDrive offerings. But what we noticed when talking with customers and dealing with different applications, was that we didn't have too many options for drivers running straight from line voltage. Luckily, that is where Phihong came in.
Phihong constant current drivers are compatible all over the world, as most of them take low line AC (100-120VAC) and high line AC (200-240VAC). This is pretty sweet as it will work all over, no matter what your countries line voltage may be. So basically what these drivers do is take your AC input, straight from your line source, and then have an output DC range that will work with your LED array while keeping them at a steady, safe current. These drivers have an advantage over low voltage drivers like the LuxDrive product line, as they cut out the need for a DC switching power supply. This will cut down on the cost and size of your unit!
An important thing to note when looking around for a driver that will work for you is that off-line drivers tend to have a higher output voltage range. For the driver to work, your LEDs forward voltage must be within that range. Since most of the ranges are more than 3VDC (except the PDA006B-700C, which ranges from 2.5Vdc – 7.5Vdc), these drivers will not work with just powering one LED. If you need just a single LED, I suggest using a low voltage driver. If you have a string of LEDs, however, then you will be all set with Phihong's output ranges. To another extreme, in the past we have had a problem with similar MagTech drivers actually not having large enough ranges for bigger projects, but with Phihong, we are set to carry some off-line drivers with large voltage ranges and wattage capabilities. This makes larger LED arrays much easier to power without having to purchase a crazy amount of drivers for just one light.
Off-line drivers also have a reputation for not having as many dimming features. With Phihong, as we will go over below, this is not a problem as they have done a lot of work to give multiple options for their drivers. This gives more options to those looking to make the switch to LEDs.
Drivers for both Indoor and Outdoor Lighting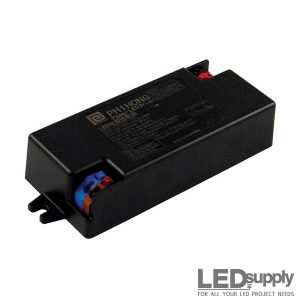 Phihong offers models for indoor use in compact plastic housings that meet IP20 specifications. Their small form factor makes them easy to incorporate into a fixture and they have terminal ports where connections are made to and from. They work great for applications with a string of LEDs or when using just a few high-intensity LEDs for display lighting, indirect kitchen lighting, accent lighting, etc. Indoor models will be available in drive currents of 350-700mA and range from 1.75 Watts to 30 Watts.
The models you can use for both indoors AND outdoors are IP67 rated, coming in full isolated potted plastic or metal casings. This makes sure they are waterproof on all sides as well as protected from unwanted dust. As said, these will work great outdoors but they will also work indoors for down lighting and such. They come in a puck style driver or a butterstick design (see below). They range from 6-150 Watts and there are options for 0-10V dimming or triac dimming. Common applications for water resistant LED drivers like these are outdoor signage, street lighting, flood lights, architectural lighting designs, etc.

LED driver dimming options
An important factor with many LED drivers is how they are able to dim all that light. LEDs are extremely bright, even too bright for some applications which is why there needs to be a way to dim them down at times. Luckily Phihong took this into consideration with their line of drivers, as they have multiple options. They also have many non-dimming options, so if you know you don't need dimming at all, they have you covered.
A very common dimming option for use with multiple LED units is 0-10V dimming. A 0-10V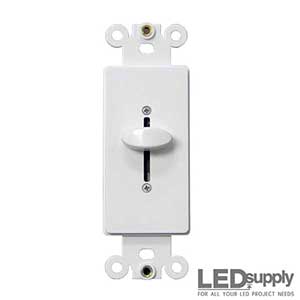 dimmer has a DC voltage control signal that varies between zero and ten volts. The LED systems working with a 0-10V dimmer and driver should scale the output so that at 10 volts (turned all the way up) the light should be at full lumen output, and at 0 volts (turned way down), it should be at its dimmest level. 0-10V dimming is so popular because it is simple and efficient. Since LEDs operate at the same voltage and current whether dimmed or at full output, dimming may actually increase the lifetime of the LEDs because it will reduce the operating temperature inside the light source. Phihong 0-10V dimmable LED drivers come in 25, 40, 60, 80, 100, 120 and 150 Watt options, all rated for outdoor and indoor use.
Phihong has recently dove into the area of triac dimming as well. Triac dimming is the most popular form of dimming in residential areas, being widely used for incandescent or halogen lighting. It usually is not recommended for LEDs as it is resistance-based and LEDs offer very little resistance which usually causes the diode to flicker and decrease its lifetime rating. Phihong, holding quality first, has actually done a lot of studying and technical work to make this new line of TRIAC dimming drivers for residential lighting applications. They are compatible with almost all leading edge, trailing edge and smart dimming technologies. The most amazing part is the drivers do this while providing great efficiency and flicker (and shimmer) free performance for indoor and outdoor use. These drivers are covered by a three year warranty and come in 10, 15 and 25 Watt options.
Phihong Vice President, Keith Hopwood gave us more insight on this new line and what it brings to the table, "Designed to work with all types of residential dimmers, our newest series of Triac-dimmable drivers features a proprietary design that eliminates many of the problems lighting designers experience when using conventional LED drivers, such as flickering, shimmering, and reduced dimming range. Compatible dimmers for the new series include: Lutron's Diva, Skylark, Nova, Glider, Maestro and Radiora2. As well as Leviton's Diva, Rotary, Sureslide and Illumatech series." There are other compatible dimmers listed in the data sheets on the drivers product pages, these are just the more popular ones. You can see that these drivers carry you over the obstacle of using a smart, TRIAC dimmer and provide a quality light (flicker free!).
12V Switching Power Supplies and Adapters
As we touched on at the beginning of the post, Phihong has been in the power supply game for a long time, which means they have much more than just constant current LED drivers. They also make constant voltage, switching power supplies that we will be adding to our large power supply inventory. They are dubbed switching, because they plug right into your wall outlet, taking line voltage, and then switching that AC power and outputting a constant DC voltage. All of the Phihong power supplies we will carry have a 12VDC output and are protected against short circuits and over voltage.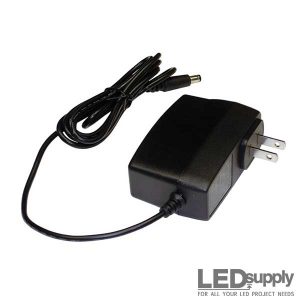 Phihong makes wall plug adapters that we will be carrying. These are super compact, think a cellphone charger, and are double insulated while meeting DoE Level VI efficiency standards. LEDSupply will be offering these power supply adapters in 12 and 24 Watt options.
In addition to the wall adapter models, we have two bigger desktop models to choose from. A 12VDC, 36 Watt power supply will be available in a universal, 2 wire input adapter as well as a 12VDC, 120 Watt power supply in a universal, 3 wire input adapter. A switching desktop power supply looks like one you would charge your laptop with. It has a power chord going to your outlet which leads to a spill proof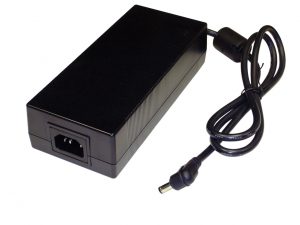 box which switches your line voltage to DC. There is then another wire with a 2.1mm barrel jack to plug into your lights.
These Phihong power supply adapters are great for LEDs that need constant voltage. They can work directly with our LED flex strips, giving them the 12VDC they need while keeping them safe. Take note that they should not be used alone with high power LEDs as they will not control the current and will burn them out. With high power LEDs, you need to either use a low voltage driver with one of these adapters or use an AC input constant current LED driver like the models above.
The Phihong Advantage
Phihong will greatly improve our driver offerings, especially with more options for AC input and dimming. They are a reliable name in driver and power solutions, and as our customers, I'm sure you will love them. They have top class support all over the world and Phihong doesn't hold back with added features to their drivers.
Phihong offers their constant voltage and constant current drivers with safety features including: high efficiency & reliability, RoHS compliant, UL compliant, over-voltage & over-current protection, short & open circuit protection, power factor correction and brownout recovery. Phihong has a proven track record of product excellence with their own line as well as custom designs they make as an OEM for many manufacturers. Phihong LED drivers are products you can trust with warranties to prove (range from 3-5 years) and we are proud to have them on board.