The Cree brand develops the highest-quality LED lighting. Being a market leader, Cree LEDs define the metrics by which all other LEDs are measured. When you choose Cree LED luminaires you are getting the innovation and proven technology that makes the industry's most reliable and best performing LEDs. Cree is constantly improving on their technology, coming out with upgrades and new models. This is great as it keeps the LEDs up to date with the newest technology but it can be confusing when trying to buy a Cree LED and then seeing how many different options there are. Below we will run through each Cree LED we carry and give you a brief overview of the LED and how it stands out from the rest, hopefully aiding you in finding what LED is best for your application. If you want more general information on LEDs and how to understand all the specs and information on them then I suggest you check out our extensive guide to LEDs here first.
Cree XLamp
Here at LEDSupply we offer the Cree Xlamp LED series as just the diodes (bare emitters) or mounted on one of our metal core printed circuit boards (MCPCB) in 1-Up, 3-up and 4-up options depending on the LED. Below we will go through each one showing the features as well as go over the different options available.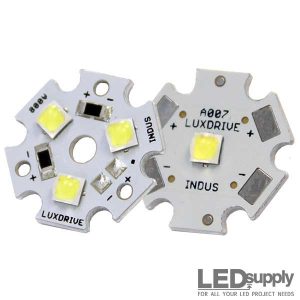 Cree XP-L
The Cree XP-L high density LED is the first LED to put out up to 200 lumens per watt at 350mA. This crazy light output along with its breakthrough efficacy give the XP-L a 50% increase in performance over the previous market leading Xlamp XP based LED. The XP-L uses the same footprint as the XPG-2 but has increased the light emitting surface (LES) and maximum drive current (3A) making it so it can be driven at higher currents, therefore being capable of outputting much higher lumen numbers. The XP-L is capable of over 1,000 lumens, boasting next generation output, while also having the highest optical control factor. This LED allows lighting manufacturers and at home do-it-yourselfers to improve the performance of any lighting design while creating smaller and less expensive systems that were not possible before.
Basically if you are looking for the brightest LED and the most bang for your buck, this is your LED. Cree has really beefed up the competition with this one with the improvements in output and efficiency. Back when we first put the XP-L on the site we did a more in depth review that you can find here.
Specs:
Available in: 1-Up & 3-Up Star Boards
Colors Available: Cool White, Neutral White & Warm White
Max Drive Current: 3000mA (3A)
---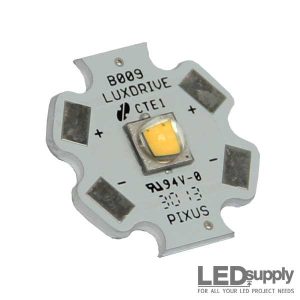 Cree XM-L2
The XM-L2 is more similar to the XP-L LED than you may think. So much so that we actually compared the two in an in depth post here. The XM-L2 actually has the same diode as the XP-L, the only difference is that the XM-L2 has a larger dome over the diode, making for a larger footprint. This is great as it gives fantastic light output and efficacy. The downside to this LED over the XP-L really only comes into play if you want more LEDs in a small area. Since the footprint is larger for the XM-L2 diode it is not able to be placed on a 3-up MCPCB like the XP-L LEDs. So if you are just looking for a single LED this is comparable to the XP-L but if you want more LEDs in a smaller area I would look to the XP-L first. As with most Cree diodes if you see the part end with a 2 it most likely means this was an upgrade from an old diode, in this case the XM-L2 marks a 20% increase in performance over its predecessor, the XM-L. The XM-L2 also comes in an RGBW option if you have a need for changing colors or mixing them, adding another great option to this LED.
Specs:
Available in: 1-Up Star Boards
Colors Available: Cool White, Neutral White, Warm White, RGBW (color mixing)
Max Drive Current: 3000mA (3A)
---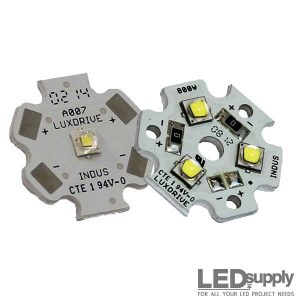 Cree XP-E2
The original XP-E diode was an upgrade from the Cree XR-E. This was a significant upgrade as Cree found a way to limit the space in between the die in order to make an 80% smaller footprint and bump the luminous flux up by 70%. Before I move onto the XP-E2 I must note that we still carry the XP-E model in two special colors, Far Red and Photo Red. So if you are looking for an IR LED this is the one for you. There is a good review on these two colors and how they can be used here.
Now when the XP-E2 came out to replace the XP-E, Cree announced that they used a different type of technology to create this new diode. The XP-E2 uses silcone carbide (SC3) technology. By using a different substrate this LED boosts both lumens per watt and lumens per dollar. The white XP-E2 LEDs are designed for indoor or outdoor applications and give off some great light.
There are also colored XP-E2 LEDs available. Now if you want colors, this is the Cree LED that has many different color options to choose from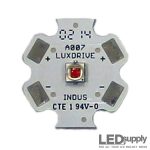 for those applications that need some more color. Not only do we have single colors for the XP-E2 but you can also mix and match the colors by doing a custom 3-up Cree LED Star. We also have an RGB option if your application needs color mixing. With Cree's technology the XP-E2 is 88% brighter than alternative color LEDs, so if you are looking for bright colors, look no further, this is the LED you are looking to buy.
Specs:
Available in: 1-Up & 3-Up Star Boards, QuadPod (4-Up), Bare Emitters
Whites: Cool, Neutral and Warm White
Colors: Red, Red Orange, PC Amber, Amber, Green, Blue, Royal Blue, RGB, Photo Red and Far Red (XP-E)
Max Drive Current: 1000mA (1A)
---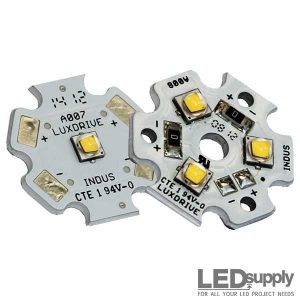 Cree XP-G2
The XP-G2 has a similar story to the XP-E2. This was an upgrade over the original XP-G but Cree used the new SC3 technology to boost the performance. The Cree XP-G2 was the brightest LED we had for a while until the XM-L2 came out. Even after the XM-L2 it was still the brightest diode with the smallest footprint, but now with the XP-L those days are gone. The XP-G2 does however have a very small diode, having the same dimensions as the XP-L (3.45mmx3.45mm) but is actually more discrete as the XP-L dome sits higher up than the XP-G2. This makes it so the XP-G2 can be used with optics to make a tighter spot light. For this reason, the XP-G2 is used in a lot of headlight or flashlight builds. So if you are looking for an LED to get the tightest spot and build a flashlight or similar product than this is a great place to start. Take a look here to see how we used it to create a bike light.
Specs:
Available in: 1-Up & 3-Up Star Boards, QuadPod (4-Up), Bare Emitters
Colors Available: Cool White, Neutral White & Warm White
Max Drive Current: 1500mA
---
Cree XT-E
The Cree XT-E diode also uses silicone carbide technology, making it yet another quality LED for efficiency and brightness within the Cree LED family. Although the XT-E is older, it is still used in many applications. The main advantage is the price. Now with newer Cree diodes out there to buy you can actually get the XT-E at a great value starting at just $3.67, nearly half as pricey as the XP-G2 and XP-L. If you want to build a low cost system with quality LEDs this is the way to go.
The Cree XT-E is also offered in Royal Blue and offers more light output than the XP-E2 and Luxeon Rebel Royal Blue colors. Not to mention, the XT-E can be driven at higher currents than these LEDs at 1500mA making the output that much more higher.
Specs:
Available in: 1-Up & 3-Up Stars
Whites: Cool & Warm White
Colors: Royal Blue
Max Drive Current: 1500mA
---
Cree XHP35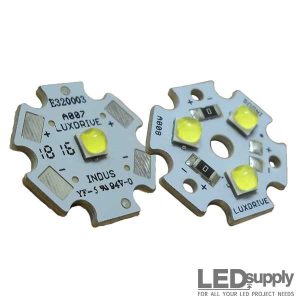 The Cree XHP35 brings a whole new standard for performance across the XP platform. This high power emitter boasts 50% more light output than the previous highest performing single-die LED. It is able to do this by using a new 12V monolithic power die built on Cree's SC5 technology platform. This die is built to deliver extremely high power performance at drive currents at or less than 1 Amp! The LED has a much higher forward voltage than most, at roughly 12V, but the chip offers advances in chip architecture along with an advanced light conversion system optimized for best thermal and optical performance.
Specs:
Available in: 1-Up and 3-Up Stars
Colors Available: Cool-White
Forward Voltage: 12V
Max Drive Current: 1050mA
---
Cree CXB
The Cree CXB is a high density (HD) LED array. We offer this LED in a 6mm and 9mm optical source that we will list the specs for below. The CXB uses LED technology to deliever the same intensity and light as a 20 Watt Ceramic metal Halide (CmH) bulb. The CXB accomplishes this by packing hundreds of die into the small light emitting surface. This LED can be used for street lights or spot lights and will greatly reduce system costs.
CXB 1310 Specs:
Colors: Cool & Warm White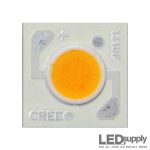 Optical Source: 6mm
Forward Voltage: 18V
Lumen Output: Up to 1445 Lumens
Max Drive Current: 1050mA
CXB 1520 Specs:
Colors: Cool & Warm White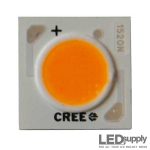 Optical Source: 9mm
Forward Voltage: 35V
Lumen Output: Up to 2177 Lumens
Max Drive Current: 900mA
---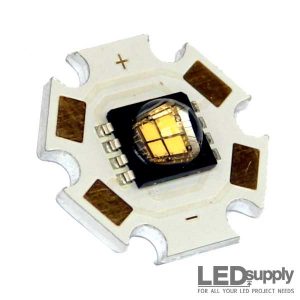 Cree MC-E
The MC-E LED is actually a multi-chip module that is re-flowed to a 20mm MCPCB. The MC-E was originally designed to put out high lumens by reducing the distance between the diodes. By putting the LEDs closer together the MC-E creates a small optical source that offers superior optical control. The MC-E reduces system costs because an application will require less components. The LED is driven at much lower currents as well, maxing out at 700mA, so this LED requires less power, saving on electricity.
Specs:
Available in: 20mm MCBCB
Colors: Cool White, Neutral White, Warm White, RGBW (color mixing)
Max Drive Current: 700mA
---
So there you have it. Our full line of Cree Xlamp LEDs are some of our best sellers. Hopefully this breakdown has served you well and helps bring a little bit of clarity to all the different models. If you have any questions about your specific application or want to chat about which Cree LED is best for you to buy feel free to use the comment section as an open dialogue with us. Thanks for tuning in!