So now that they're in house and ready to go it's time to officially introduce the MakersSLIM heatsink kit! This is made by our good friends over at MakersLED, the designer and manufacturer of the original MakersLED Heatsink kit. They have kept the same technology that made the original such a hit but have slimmed it down and added some key features that will aid in thermal control, making for an even better LED lighting fixture!

Size
As the name says, this baby is slim. This slimmed down heat sink sits at 1.5 inches thick and 6.2 inches wide! That is pretty much half the size of the original MakersLED heatsink that measured at 3.15″ thick, 6.45″ wide. For those of you worried the more sleek version won't be able to transfer heat effectively enough, fear not, this new version is thermally optimized and has been strategically designed to provide 392 square inches of surface area per foot! The MakersLED uses the same 6063 heat sink grade aluminum but they didn't skimp on the finishing touches, tempering and anodizing for added durability. You'll notice the big differences between the Slim and the Original being their size and color, they actually added the black anodized finish for better heat radiation, not just for a better look (although it helps with that too).
Not just the heat sink, a FULL Kit!
The MakersSLIM LED heatsink kit comes with everything you need for mounting and finishing the fixture. When you purchase the MakersSLIM Heatsink kit at LEDSupply you will receive:
(1) Cut to length MakersSLIM heatsink [.5′ – 4′ lengths]
(1) 1/16″ [1.5mm] clear acrylic splash guard
(2) plastic end caps
Stainless steel hardware for assembling exposed parts (splash guards, etc.)
(4-40) screws and nuts for mounting, enough for 25 LEDs [per foot length]
Nylon washers for 25 LEDs [per foot length]
*6 inch heat sinks will come with enough hardware for 12 LEDs

t-Slot Technology: Easy and Flexible Design
Thankfully, MakersLED has stuck with the t-slots that were used in the original heatsink. The t-slots make it so easy to mount your LED set up within the heatsink. The MakersSLIM has one upped the Original again here, adding 2 more lanes for LED mounting. The MakersSLIM has 7 rows for mounting whereas the Original only has 5.
As we said, the t-slots are there to make it really simple to configure your LEDs on the heatsink (see example below). Not only is it easy to set up, but it is easy to break down and set up new LEDs if you decide you want a different diode, color, or brand. With this fixture you don't have to be locked down to your original choice of light and in an ever improving LED industry, that is HUGE!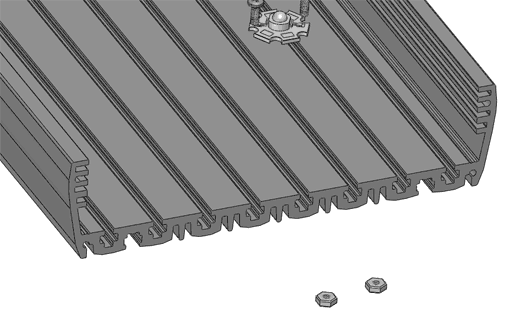 You can see how the screws mount in the grooves of the LED star and easily screw into the nuts which are sitting in the slot. We also include sets of washers to go in between the screw and the MCPCB to further protect the circuit board. Screws actually help reduce thermal resistance to the LEDs as they provide more pressure with the heatsink, aiding in cooling even more. We would recommend using a thermal grease at the base of every LED star.
So how many LEDs can this heatsink handle?
With seven rows to mount LEDs, this heatsink has enough area to hold 85 LED stars every foot, however, it is not in any way recommended or practical to keep this many LEDs cool in such a small area.
Heat Sink Wattage Recommendation (per foot)
33 watts without a fan
85-100 watts with a fan
*if your system needs more wattage you should go check out the MakersLED Original Heatsink

All Sold Separately
This kit works with all of the other MakersLED products.
Hanging Kit – 2 Y-Hanger Cables, 7′ of adjustable cable
Controller – simulates sunset, sunrise, moonlight etc., used a lot for reef tank lighting
In addition MakersLED has come out with an all new driver, the MakersDriver 5up Pro, that has just been added to our site here. This 5 channel driver can drive up to 70 3V LEDs at 1000mA,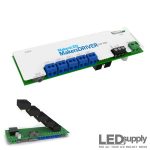 over twice that of the previous driver. It works with this 5 channel dimmer which can candle 14 LEDs per channel! This is a great driver for larger projects as it can also self power a fan.
There is no fan being sold for the heatsink directly but those with a 3D printer are in luck, MakersLED has a 3D models for a fan cover along with all the other plastic parts of the heatsink here.
Our Conclusion: Go for it!
This is an awesome upgrade to the MakersLED heatsink line and is perfect for many applications where you don't need the bulk of the original heatsink. We would recommend the MakersSLIM for applications with passive cooling (no fan needed). With pricing of about $29.99 per foot this is an affordable option for your next LED project!