Xitanium
Shop here for a complete listing of Xitanium products.
ABOUT US VIDEO!
WATCH NOW

WHY SHOP WITH US?
Low Prices
Knowledgeable Support
100K+ Orders Shipped
Free Shipping
Bulk Discounts
2,000+ 5-Star Reviews

LEDSupply is built, owned and operated by a select few, all with technical backgrounds and over 50-years combined experience in the LED industry. Click
here
for more about us.

Shipping Info
FREE SHIPPING on orders under 13oz - NO MINIMUM
LEDSupply does NOT profit from the shipping or handling of your order!
Orders received before 3PM EST will be safely packaged and quickly shipped the same business day. If your order is NOT shipped the same business day, LEDSupply will offer a 5% discount off your next order.
All orders SHIP FROM:
296 Beanville Road
Randolph, Vermont 05060
See respective ZONE maps below for SPECIFIC delivery time to your location:
Any order that does not qualify for free shipping, will by default include a discount of equal value to the free shipping offer.
The shipping offered is meant to provide the widest variety of shipping options at the lowest price:
FREE USPS First Class SHIPPING on orders under 13oz
$11.99 2-Day SHIPPING on orders under 2lbs
$10.99 FedEx GROUND SHIPPING on orders under 2lbs
$11.99 UPS GROUND SHIPPING on orders under 2lbs
$29.99 Standard Overnight SHIPPING on orders under 2lbs
$39.99 Priority Overnight SHIPPING on orders under 2lbs
Real-Time Rates are calculated for all International shipments
*Base Rate + $1.99/lb for orders over 2lbs
USPS Priority Delivery Zone Map: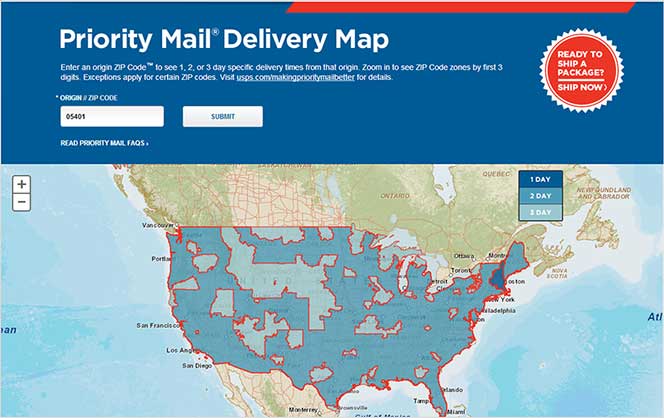 FedEX Ground Delivery Zone Map: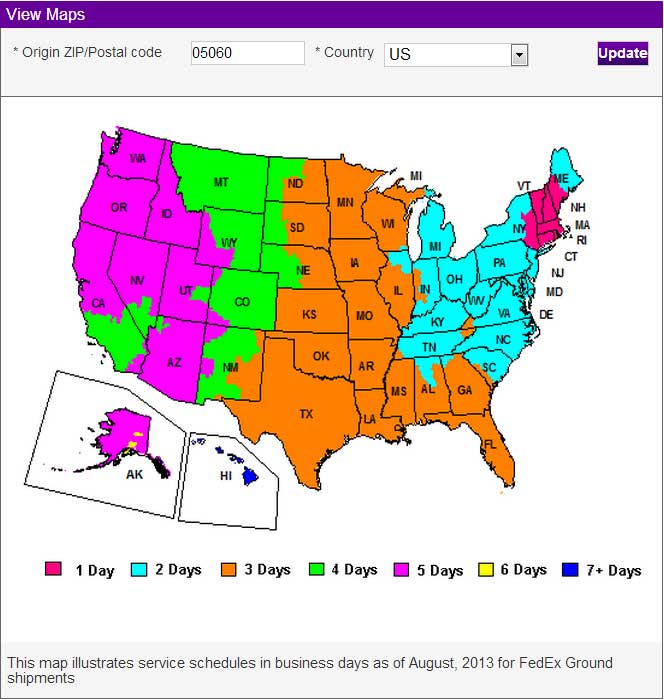 UPS Ground Delivery Zone Map: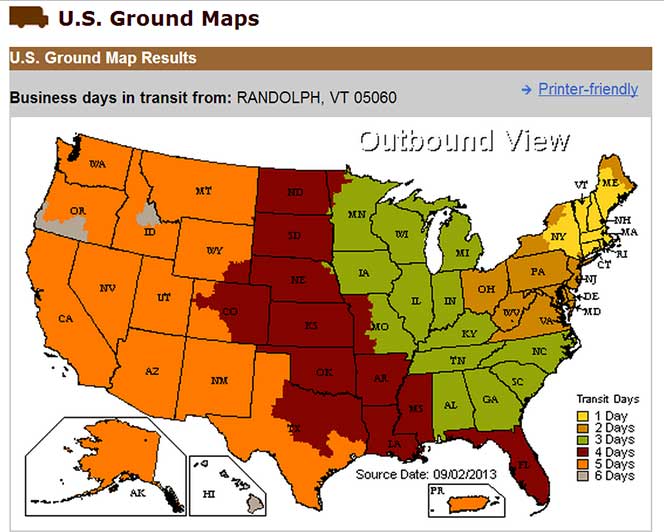 (802) 728-6031

296 Beanville Road
Randolph, VT 05060