How to Make a LED Beast Gaming Set-up

Project Overview

Skill Level:
EASY

Estimated Time:
1 Hour

Cost:
From $35-$75
Tool & Materials
Tools
Scissors
Screwdriver
Wire Strippers
Solder Iron Optional
Heat gun Optional
DIY Project Video
Overview: This set-up used our 12Vdc 2.0A switching power-supply that plugs directly into a standard outlet and has a barrel plug connection on the output side that can be directly connected to the RGB controller. The output of the controller connects to the RGB LED Strips and that completes the circuit.
Instructions
Before starting it helps to overview a few details:
LED Flexible Strip Wattage: 7.2 Watts/Meter
LED Flexible Strip Voltage: 12Vdc
Wattage is equal to = Volts X Amps
RGB Controller: Line-of-Sight IR Remote, 12V 6A Input MAX, 15 Color Combos & 4 different Lighting Effects
---
Step 1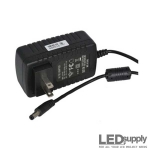 The first step is to determine the number of linear feet or meters of LED strip your project requires. This project uses 6-feet or 2 meters. With 6 linear feet or approximately 2-meters the power consumption will be 14.4-watts. A 12Vdc 2Amp power-supply provides 24-watts, which is greater than the 14.4-watts required.
---
Step 2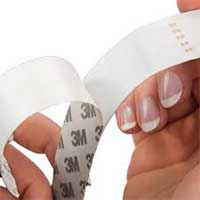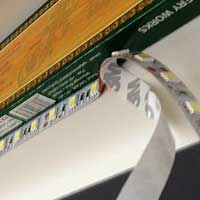 Step 2 is to adhere/mount the LED strips to a surface. The strips come standard with a strong 3M double-sided adhesive. In short increment simply peal the backing off the tape and stick the strips to a clean surface.
There are alternative methods used by some that have included plastic screw-in holders, large staples and hot glue.
---
Step 3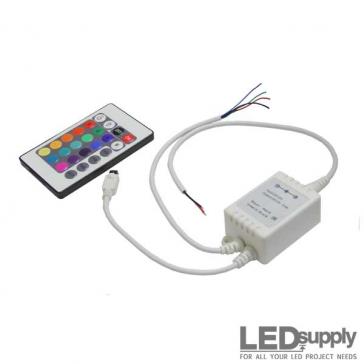 Step 3, time to find a location for the RGB controller that allows connection to the power-supply, the strips and at the same time puts the IR sensor in a good spot for line-of-site control with the remote. The RGB controller uses barrel plug connections for input and output; the controller also has tabs for mounting with screws if necessary. Feel free to use tape to mount the controller and or the IR sensor.
---
Step 4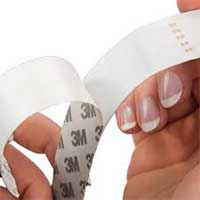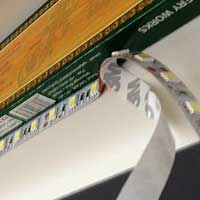 Step 4 is making the connection from the RGB controller to the LED Strips. Match the output colored wires from the controller to the corresponding colors on the LED Strips. Red-to-red, green-to-green, blue-to-blue, and the black-to-yellow (ground). These connections can be made by soldering/heat-shrinking, butt-splice connectors, or wire nuts.
---
Step 5
Step 5 is the final step and is simply plugging in the power-supply and connecting the output of the power-supply to the input of the RGB controller. Use the remote to turn on the strips. Double-check that the remote can see the IR sensor and that the plastic battery protector has been removed.
---