How to Light Shelves with LED Flexible Strips

Project Overview

Skill Level:
EASY

Estimated Time:
1-5 Hours

Cost:
From $25-$250
Tool & Materials
Tools
Scissors
Exacto Knife
Screwdriver
Wire Strippers
Solder Iron and Solder
Project Drawing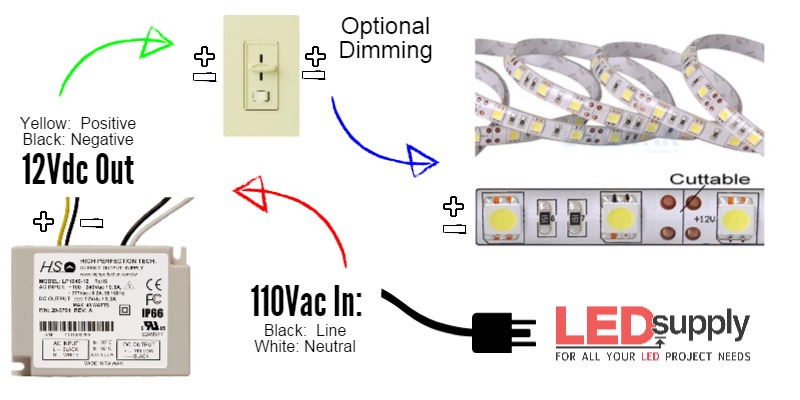 Overview: Power from 110Vac can be taken two different ways. Often the easiest method is to use a switching power-supply that can plug directly into a standard outlet. For example, our 12Vdc desktop or wall-wart switching power-supplies plug into an outlet and the output cord has a barrel plug connection that can be combined with a screw-in terminal plug to make clean solderless connections (pictured below). The second method is hard wiring 110V line voltage with a switching power-supply. The example we are showing is a hard wire with a switching MagTech 12Vdc output power-supply capable of 40-watts. With the line voltage connected directly to the MagTech power-supply, the output power is converted to 12Vdc and is able to connect directly to the dimmer or directly to the LED strips. Connections can be made via butt-splice connectors, wire nut connectors or wire nuts. The basic set-up is simple (shown above), convert 110V to 12Vdc and connect the power to the strips.
Instructions
Before starting it helps to overview a few details:
LED Flexible Strip Wattage: 7.2 Watts/Meter
LED Flexible Strip Voltage: 12Vdc
Wattage is equal to = Volts X Amps
---
Step 1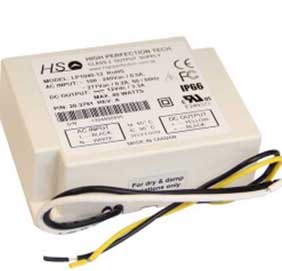 The first step is to determine the number of linear feet or meters of LED strip your project requires. Knowing the length of strip gives the required information to determine what size power-supply is needed. We know from above that each meter of strip consumes 7.2 watts. So, if we have 12 linear feet or approximately 4-meters than the power consumption will be 28.8-watts. The other known is the voltage of the power source must be 12Vdc, which gives enough information to figure the amperage. By dividing the Wattage (28.8W) by the voltage (12Vdc), we get the minimum amount of amperage required to power 12-feet of strips. In this case, a 12Vdc 2.4Amp power-supply would equal 28.8-watts, but really some extra power is a good idea. We carry a 12Vdc 3.0A power-supply that would provide 36-watts, which is greater than the 28.8-watts required.
An important consideration to note is the forward voltage drop through these strips. Due to the forward voltage drop, 12Vdc is only enough the run a length of 16.4-feet (1-reel). If your total length of strips exceeds 16.4-feet (which it often does), then you must power the remaining length directly from the power source. For example power can't pass through 16.4 feet of strip and then to another strip. Power for the remaining strips must come directly from the power source.
In the images are some example of power-supplies and screw-in terminal plug accessories to help make your project easier. It doesn't matter whether you hard-wire the power-supply or plug it in, that choice is up to you.

---
Step 2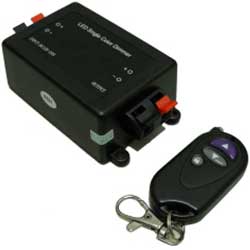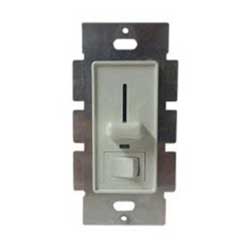 Step 2 is to decide if you want dimming. If not, the 12Vdc output power is connected directly to the LED strips, easy enough.
If you do want dimming there are remote options. The remote options are all found here.


---
Step 3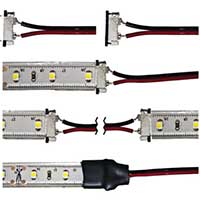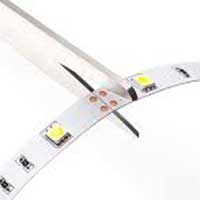 Step 3, time to cut your strips to length. The LED flexible strips we offer are sealed in silicone for a waterproof seal, come with double-sided 3M adhesive tape, can be purchased in 3-foot increments up to an entire reel (16.4-feet), and are easily cut every 3 LEDs or approximately every 4-inches. The strips can be cut with normal household scissors.
After measuring and cutting the LED strips, it is time to add wire to the end of strips where power will be passed from one strip to another.
Because the strips are sealed in silicone, you will need an exacto knife or razor blade to slice back the silicone for access to the gold solder pads. If you aren't concerned about moisture then you can completely remove the silicone and connect your wires. Alternatively, if you don't want to make these connections you have the option of running the wires of every strip back to the power-supply. Our method of adding wires to the end of a strip is to carefully cut underneath the silicone closely to the solder pad surface without disconnecting the silicone completely and using a heat-shrink material to cover the connections after soldering.
The wire connections between strips can be connected with butt-splice connectors, wire-nut connectors or soldered and heat-shrunk.
---
Step 4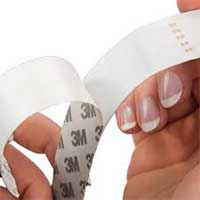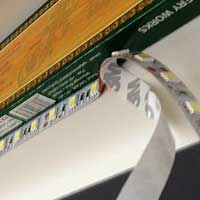 Step 4 is to adhere/mount the LED strips to a surface. The strips come standard with a strong 3M double-sided adhesive. In short increment simply peal the backing off the tape and stick the strips to a clean surface.
There are alternative methods used by some that have included plastic screw-in holders, large staples and hot glue.
---
Step 5
Step 5 is to make finish all connections. Start with making connections between strips. Next, make connections from power-source to strip(s). Lastly, make connections from 110Vac to dimmer or strips. If hard-wiring make sure power is off when making connections.
---
Step 6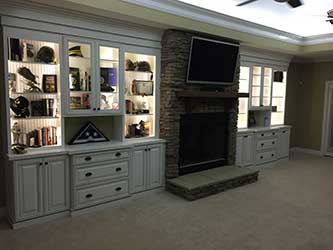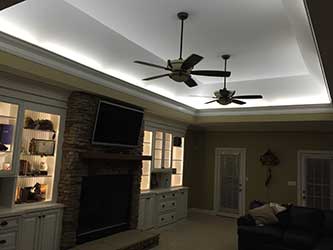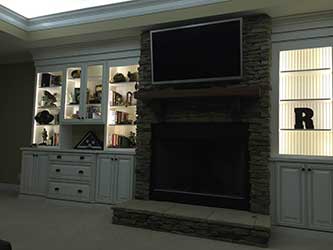 Step 6 is to double-check the whole set-up and test my turning on power.
---