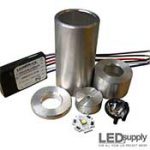 The lighting industry is currently in one of the biggest shifts of its time. There's no coincidence that the 2014 Nobel Prize in physics recently was awarded to three scientists for the invention of the efficient blue LEDs and that 2015 has been coined the International Year of Lighting by the United Nations. The incandescent bulb is now obsolete due to its inefficiency and there are changes on the horizon that are impossible to ignore.
LED lighting is now commercially viable and provides the best and most efficient lighting available. The LED market is still largely untouched but with constant breakthroughs driving the rate of adoption, the use of LEDs in all kinds of lighting applications should continue to grow. Innovations such as high-power LEDs and lumen density have increased the light emitted by single LEDs, making it so systems can use less LEDs for the same amount of light, therefore cutting down on the costs of the 'other stuff' needed for these applications (board area, LED optics, drivers etc.)
As a top LED supplier, we are dedicated to keeping up with some of the newest LED technology in order to have everything for your LED project needs. We are proud to offer the largest selection of LEDs, high power LED strips, LED drivers, optics, heat sinks, bulbs and kits across all styles and price points. In order to stay a top LED supplier we also understand the need to be a resource to our customers. We want our customers to understand the newest technologies and help them find the perfect products at the right price.
We understand that the majority of our followers and customers are do-it-yourselfers who are using our products to come up with a variety of different applications. We also understand, however, that there might be a bit of an educational gap on LEDs and the 'other stuff' you need to make it all work. This is why we have our DIY section and are dedicated to expanding on it in 2015. These DIY posts serve as a guide and inspiration for our customers and are complete with pictures and instructions on how to complete LED projects of all difficulties.
We expand on this educational mindset with our offering of LED kits, ranging from led grow light kits to reef tank light kits. All our LED Kits provide a complete set of LED components to help you save time and assure a successful end result for your LED lighting project. Choose from a 'fully assembled' kit or 'components only' kit and just to be sure things go smoothly, we include a complete LED placement, wiring and drilling schematic.
Our most popular LED kits are the LED Housing Kits, which are totally customizable and offer plenty of choices that will help you find the perfect solution for what you need. These kits come in 1-up or 3-up options and can come in 3-watt, 9-watt, and 15-watt housings. Below you will see a screen shot of what you will see in our store when ordering and then a brief guide on the options available. After choosing your LED housing and heat sink you will select the options that you desire: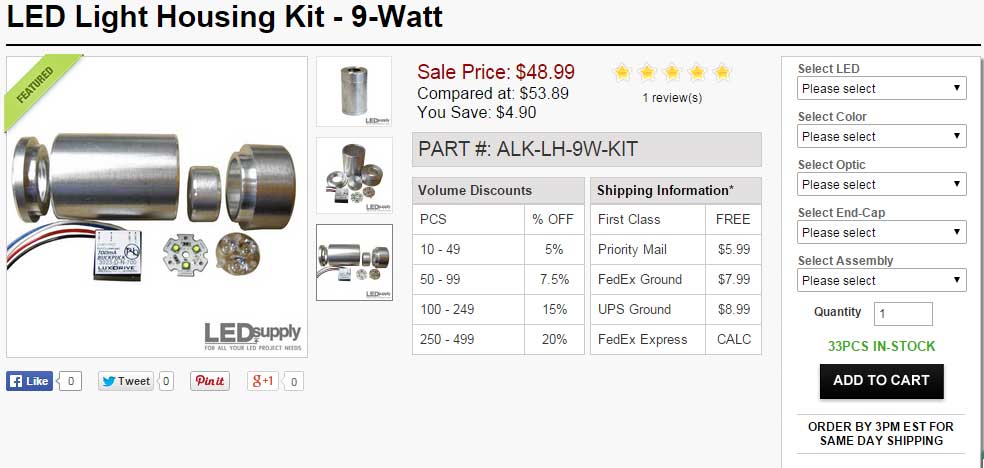 Choose your LED: 3-up and 1-up options include top quality high power LEDs like: Cree XPE2, Cree XPG2, CREE XT-E and Luxeon Rebel LEDs.
Color: You got light, but what color? Choose from warm to cool whites, reds, oranges, greens and blues.
Select your LED Optics: Select how your want your light dispersed with our optic options that range from full elliptical light to a more condensed spot light.
Select end cap: Choose the end cap for your kit depending on wiring and where you need to place the light.
Select Assembly: We will gladly assemble for you but if you are feeling ambitious feel free to get the components alone and we will send you the kit components with instructions on how to make it all work.
This kit will come with a LuxDrive LED driver to provide the correct amount of constant current to your lighting fixture.
One of the biggest drawbacks to LEDs is the price point which is why we here at LEDSupply work on cutting the cost and giving the best overall value to our customers. As an incentive to purchase all of the required items from LEDSupply, we normally offer at least a 5% discount when buying all the LED products as a 'LED kit' versus buying the items individually.
We are constantly trying to update our DIY and Kit offerings to aid you, the customer. We will always be researching and chasing after the newest technology, which we believe will produce higher light output and system cost reductions that will lead to even newer designs. We continue to plug away at this everyday but we still would love input from our customers and followers. Feel free to contact us at sales@ledsupply.com and let us know some DIY or Kit ideas you'd like to see offered in the future. We also encourage you to facebook or tweet us with how you've used our LED kits and products for your LED projects. We look forward to a great 2015 and will continue to light the way for you to the best LED solutions.