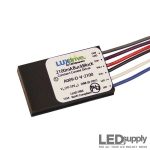 Lets start with answering your question, with a question…sorry.
Do you know what and how many LEDs you are using?
Qualifying the question makes the answer easier and actually there are a few more questions that have to be answered in order to select the right driver module.
What type of power are you using? batteries…household…etc.
Are there any limitations to the project? Cost, Size, Efficiency, Performance, etc.
What about features like: dimming, miro-processoring or pulsing?
Our LED Driver selection has answers to these questions. We have low voltage DC input drivers from LUXdrive and household AC input voltage drivers from MagTech. Both come in variety of sizes, output currents, wattages and with features like dimming.
For example if you are using low voltage DC power and size is an issue, then the LUXdrive line of LED drivers would be an ideal choice. All those products have an extremely small form factor and come with regular buck circuits, buckboost circuits and with or without dimming.
If your power is 110VAC, then the MagTech line of drivers would a great option. These drivers come in a wide range of outputs, with and without dimming options and are also extremely small in size.
Always use a constant current driver!
For more details and help with a selection, we have provided an LED Selector tool, here. If that doesn't answer your questions always feel free to call us, we work with these drivers every day and can help save you time. (802) 728 6031