LED Housing Kits
LED Housing & Light Housing Kits come with your choice of LED, Optic, Driver & more - there is also the option to have your kit pre-built or shipped as components only.
The LED housing kits fit a 1-Up or 3-Up LED and Carclo Optic. The housings are machined from 6063 billet aluminum and slides together with a 1/2" NPT threaded bottom. A heat transferring epoxy, like Arctic Silver, is recommended to attach the two pieces of the housing.
The LED Light Housings are designed to be complete luminaires; each piece of the housing is machined from 6063 billet aluminum and when epoxied together will fit a High-Power Star LED, Optic, Optic Holder and LuxDrive LED Driver. The End-Cap is where the unit is powered from and comes in two options (see documentation). Power requirements are dependent on which LuxDrive LED Driver is used, but 12VDC is most common. Two different diameter and length of housings are available to provide adequate heat-sinking for 3-Watt, 9-Watt and 15-Watt applications.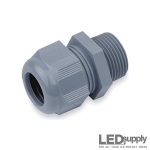 Liquid tight, 1/2" NPT conduit, 1-cord connector, nylon 6 material
Product ID : CORDGRIP-1
$3.29
Sale Price: $2.99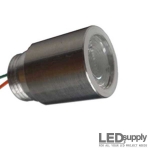 Includes: 1-Up aluminum LED star housing, LED, optic, optic holder & 6" leads
Product ID : ALK-1UP-EH-KIT
$16.23
Sale Price: $14.75
Includes: 3-Up aluminum LED star housing, LED, optic & 6" leads
Product ID : ALK-3UP-EH-KIT
$16.23
Sale Price: $14.75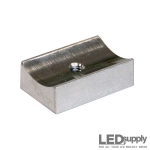 Concave base for mounting an LED Light Housing with a 1/4" X 20 thread
Product ID : ALK-BASE
$7.98
Sale Price: $7.25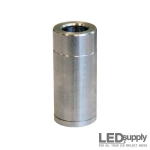 Includes: 15-watt aluminum housing, LED, optic, optic holder & driver
Product ID : ALK-LH-15W-KIT
$58.29
Sale Price: $52.98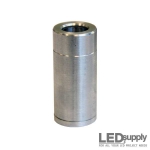 Includes: 3-watt aluminum housing, LED, optic, optic holder & driver
Product ID : ALK-LH-3W-KIT
$38.49
Sale Price: $34.99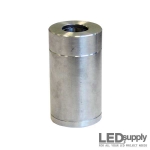 Includes: 9-watt aluminum housing, LED, optic, optic holder & driver
Product ID : ALK-LH-9W-KIT
$53.89
Sale Price: $48.99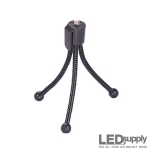 5" Mini-Tripod, flexible legs, 1/4"X20 standard camera mount screw & belt grip
Product ID : MINI-TRIPOD
$6.59
Sale Price: $5.99
1