PowerPuck - Constant Current LED Drivers
The LuxDrive™ 2008B PowerPuck modules are current regulated drivers for powering LEDs. Unlike standard power supplies, which deliver a fixed voltage to the output, the PowerPuck uses proprietary drive electronics to deliver a fixed current. The output voltage will vary as required to maintain the specified output current with differing forward voltage drops of LED junctions.
The standard offering is a 1.5" diameter by .5" tall puck with mounting bracket. The unit is supplied with 24 AWG 6" colored leads. For additional details please view respective product pages by clicking on the selections below.
2008 series from LUXdrive™, non-dimming, mounting brackets & 6" wire leads
Product ID : 02008B-1000
$18.13
Sale Price: $16.48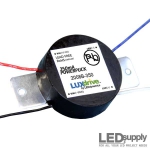 2008 series from LUXdrive™, non-dimming, mounting brackets & 6" wire leads
Product ID : 02008B-350
$18.13
Sale Price: $16.48
2008 series from LUXdrive™, non-dimming, mounting brackets & 6" wire leads
Product ID : 02008B-700
$18.13
Sale Price: $16.48
1